It has been a pretty safe bet that Apple would dominate any other Brand in any market it entered with devices but Samsung has made sure this time that it would make Apple iPad Mini share shelf space with its tablet Samsung Galaxy Tab 2. Both the brands have come forward with very best of their products. So, to chose between iOS 6 runned Apple iPad Mini and Android 4.0 ( Ice Cream Sandwich) OS supported Samsung Galaxy Tab 2 is a task that would be tedious.
In any way the choice is difficult with both the gadgets having their own merits and demerits. Taking in consideration the different strengths and weaknesses of both the devices here's a comparison that would help us assist you in taking your decision.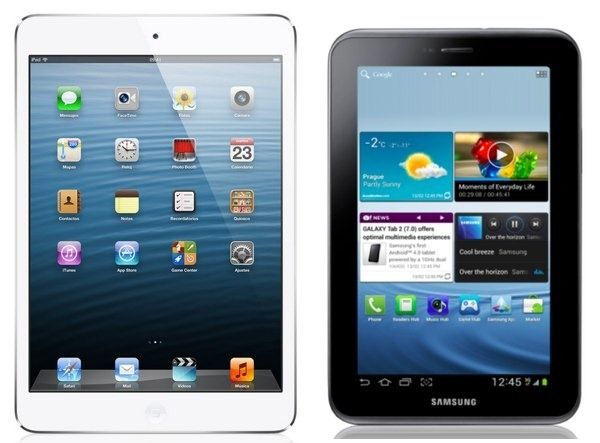 Design
Apple iPad Mini and Samsung Galaxy Tab 2 both posses a candybar form factor. While Samsung galaxy Tab 2 measures 193.7*122.4*10.5 mm in dimensions and has a weight of approximately 345 gm.
The iPad Mini measures 200*134.7*7.2 mm in its dimensions and results in a weight of 312 gm, which is lighter than the Samsung 7-inch Tab. Apple has designed its Tablet as slim as a pencil.
Apple iPad Mini is available in Black and White color options while Samsung Galaxy Tab 2 is available with a single Titanium Silver back color.
So, Apple has been pretty smart to design its gadget to lure the buyers than Samsung this time.
Display
Samsung Galaxy Tab 2 features a Touchscreen PLS LCD display with TouchWiz User interface (UI). The display resolution is 600*1024 pixels and possesses a pixel density of 170 pixels per inch.
Apple ipad Mini has a 7.9 inch LED Multi-touch Display. The screen Resolution involves 768*1024 pixels along with a pixel density of 163 pixels per inch which is slightly less than the Samsung tablet.
Connectivity
Samsung Galaxy Tab 2 arrives either in a Wi-Fi version or with a Wi-Fi + 3G version.It includes within itself a 2.0 USB port and 802.11a/g/b/n connectivity options.
The Apple iPad Mini comes with both Wi-Fi option and a Wi-Fi + cellular Options.
Still, there is absence of a USB Port and is capable of a Wi-Fi connectivity of strength 802.11a/g/b/n.
It can be said that on the connectivity front Samsung has made a much advanced gadget than Apple's iPad mini.
Camera
The galaxy Tab features a 3MP camera with features like Geo-tagging and Face detection. It also has a VGA front Camera.
While Apple iPad Houses within itself a slightly more powerful camera of 5MP. It also has an iSight camera which makes it capable to possess features like auto-focus, face Detection, Hybrid IR filter, Video Stabilization and geo-tagging.The tablet even has a FaceTime HD camera of 1.2MP The camera on the front has been designed for video calling over 3g networks as well as Wi-Fi. Apple iPad is also capable of capturing HD video in 720p.
Therefore, it can be said that Apple iPad Mini possesses more strength on the camera part that Samsung Galaxy Tab 2.
Verdict
It may be tough for the buyers to decide for a better gadget between Apple ipad mini and Samsung Galaxy Tab 2. But, for those who have Trendy Looks, a better Display and a Powerful camera on the top of their requirements' list must go for the Apple iPad Mini.
The ones who cannot make any kind of compromise on the Connectivity front must opt for Samsung Galaxy Tab 2. Also, Gaming freaks must go for the Samsung device for a better experience and a powerful performance with its processor.