The latest version of Android OS is now running on 28.4% devices globally. Jelly Bean (4.1&4.2 version combined together) is now standing before Ice Cream Sandwich in the Android platform rankings. Google is also expected to announce a new refreshed Jelly Bean 4.3 version of the OS in its I/O event this year.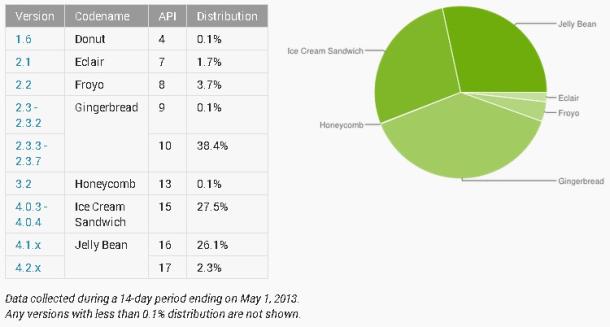 Credit – CNET
Gingerbread is still on the top position but losing its market share every month. The main reason behind Jelly Bean's higher share is the
Galaxy S3
; Samsung has sold around 50 million devices since the release. Now
Galaxy S4
is in the market and it is expected to push Jelly Bean on the top position in coming months. Google has also changed the way it used to collected Android version's data. Now it collects data when a user checks in the Play Store. Android 1.6 and 2.1 versions are almost out of the market now. While Froyo is still sharing 3.7% Android devices.