Jabra as we know is popular for its Bluetooth based hands free devices. The latest to be launched in this category is the new hands free speakerphone to be used in the car. It is appropriately called the Jabra Drive.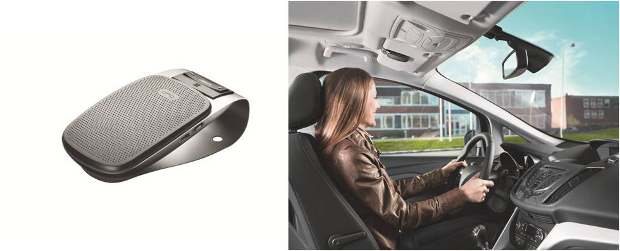 The features are as under:-
micro USB cable.
a charger to be used in the car.
a clip for visor where the device is set.
has multiuse technology that enables Jabra Drive to connect to two mobiles.
volume control is automatic which adjusts the volume at the best level.
clear sound with echo is provided .
noise cancellation technology
voice guidance technology will announce to you the status of its battery as well as bluetooth connectivity.
large sized control buttons have been provided.
has 30 days of talktime and 20 hrs standby.
A2DP technology for streaming music etc.
Ann Goh, head of sales, South Asia Region, GN Netcom (parent company of Jabra,) said, "The Jabra Drive also features A2DP technology, which allows users to stream music from their smartphone or Bluetooth-enabled MP3 player, podcasts, directions from GPS applications etc. Whether it's a phone call with dad, the latest hit song or directions to a soccer game, Jabra Drive transmits clear audio with ease. Our broad line of in-car speakerphones offers something for everyone and at every price point. Jabra Drive is available in India at Rs. 3,999. Jabra Drive appears to be a really smart and affordable device. It will be hugely popular will people who undertake frequent roadtrips. Being multi usable is an added bonus.