Mobile phones have evolved from a mere communications device to an essential part of our life replacing the need for having a separate device to listen to music, take pictures, watch videos, and much more. While the phones have become advanced, the way to transfer data from one's computer to the Phone is still the same- using USB cable, or some time connecting through Bluetooth. What if you lost your USB cable? And, Bluetooth is too slow for bulk data transfer. When most devices around us are moving towards wireless, why can't the data be transferred from computer to phone wirelessly and vice-versa? Let's see some apps in Android which lets you do that and much more!
AirDroid
With more than 5 lakh downloads, AirDroid is one of the most popular app for transferring data between a computer and phone.
How to Connect?
Open AirDroid app in your phone and for using full functionality of app, login at web.airdroid.com (QR code can also be used for logging in) or use it at lite mode from v2.airdroid.com. The website uses Https connection which allows you to be safe even on a public Wi-Fi network.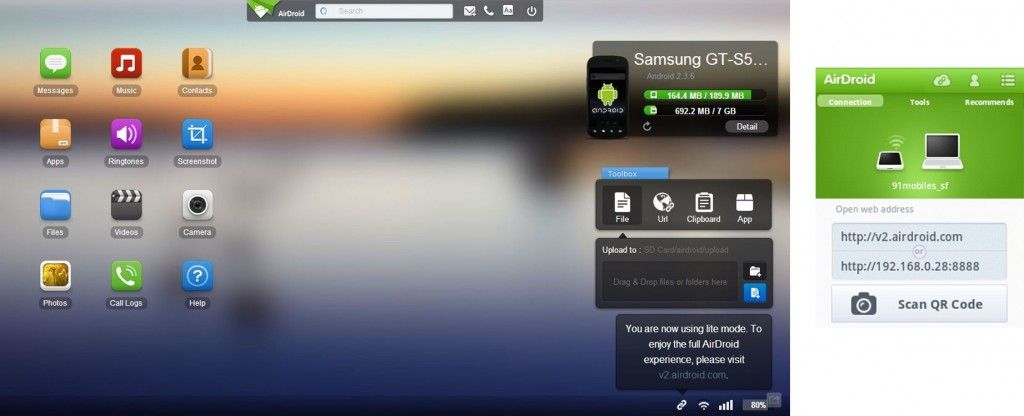 Features
Transfer files between phone and computer (supports drag and drop also). You can cut, copy, paste, search, rename or delete files on the SD card.
Group, search, create contacts, check and delete call logs.
Receive, send, forward or delete SMS message(s).
Install, uninstall, backup, search apps and do batch processing.
Pictures can be seen, deleted, uploaded, downloaded, set as wallpaper or watched as a slide show.
Search, preview, upload, download, delete and customize ringtones for phone calls, notifications and alarms.
Songs can be played, searched, uploaded, downloaded, deleted, or set as phone call, notification and alarm ringtones.
You can watch your real-time Android screen (root permission required) which allows you to take a screenshot or even record a screencast.
Watch videos from the phone directly on the browser (QuickTime plugin required).
You can also see device status with real-time ROM, SD Card, Battery, CPU and RAM status report & monitor with charts to demonstrate available/used/total resources, and one-tap memory boost.
Tasks Manager allows you to kill or uninstall running apps, batch operation supported.
Camera of the phone can be managed remotely for surveillance purposes.
Find phone feature can prove helpful in finding the phone.
One extremely useful option is that you can share clipboard text between computer and your phone.
SnapPea
While AirDroid is one of the most popular apps for wireless data transfer, in the coming days, SnapPea will surely give it a tough competition.
How to Connect?
Use web.snappea.com or SnapPea Windows app to manage your phone from computer. The phone can be connected both using Wi-Fi and USB. For connecting using Wi-Fi (the computer and phone should be on same Wi-Fi network), the SnapPea will provide a pass code to be entered in the app or website. Connection over USB is done automatically.

Features
Organize your apps, contacts, music, photos, and videos.
Manage text messages from computer.
Backup all the data from the phone. Backup can be auto-scheduled as well.
This features allows you to download apps from Google Play Store from the computer to the phone (very useful when your phone doesn't have a data connection)
Pocket.do
Like previous apps, Pocket.do lets you access your Contacts, SMS and Files of the phone.
How to Connect?
Open Pocket.do app from your app and login with you Google or Facebook account, you can also use QR code to connect your phone to computer (you'll required bar code scanner app). Then, visit pocket.do/connect from your browser and login. Your phone can be on same Wi-Fi network as of computer or on its own data connection to connect to the computer.

Features
Use your browser to send and receive messages via your phone.
Edit, delete or create new contacts from browser.
Pocket.do works great with all modern networks. It also works with Wi-Fi.
Access all the images you took on the phone from your computer. You can easily edit them and then share them on Facebook. Or create a private link to the picture gallery and share them with your friends.
Export your text messages with just a click to PDF.
You lost your phone, or you can't find it? Pocket.do may help you out. Just locate your phone on the map, or even track it, to see where it's going. Ring the alarm even if it is muted.
Want a remote surveillance of your home/room, leave your phone in the room and activate the spycam.
Shynk
Shynk is a website which lets you manage your phone's SMS, pictures and songs of the phone.
How to Connect?
If you are on the same Wi-Fi network of your computer, then visit shynk.com to manage your phone from the website. The website uses AES 256-bit encryption for all communication between Shynk's servers and your mobile device for security purposes.

Features
You can continue existing SMS conversation or start a new SMS, and be notified of new text messages while on the Shynk website.
Instantly send photos, videos, and documents on your phone to friends, anywhere — by email, Facebook, or reddit (sharing your content with friends through public URLs).
Use the Shynk web-based manager to browse files and access your phone remotely — from any device with an internet connection.
Quickly access your own private files and documents. Create and download .zip archives. Share files, photos, and folders.
Browsix
Browsix offers a great website with minimalistic interface and helps you to transfer files, images, songs or videos between computer and the phone.
How to connect?
Open Browsix from your phone and start it after giving your phone a name, then visit browsix.com to connect the phone with the computer. You've to be on same Wi-Fi network for making the connection.

Features
Synchronize files with your computer.
Listen to your music.
Watch the videos stored your phone.
Show your cool pictures and videos to your friends.
Send and receive SMS text messages.
Verdict
When it comes to official desktop suites for smartphone platforms, iOS and Windows Phone appear to have a clear edge over Android – they both have official applications for it. Irrespective of the fact that both these platforms have a dependency on iTunes and Zune, respectively, user's get a utility where one can manage pretty much all the aspects of smartphone with ease, all from a single interface. These apps just gives you the same experience of managing you data and other things wirelessly without any frills attached. If you want simple file transferring app between phone and computer, check
DropSpot
,
WiFi File Transfer
and
WiFi File Explorer
. Amongst these apps, our vote goes to AirDroid and SnapPea for their plethora of useful features and extremely intuitive user interface.
Download Links
AirDroid
SnapPea
Pocket.do
Shynk
Browsix