What's the maximum price you are willing to pay for a phone? Take for example iPhone 4. When it will launch in India, we expect the handset to be priced around Rs. 50,000/-. Damn expensive for a mobile smartphone. Alright, let's give it to the 'Apple' Brand and the experience that the device offers. We will shortly introduce you to the world's most expensive phone, the price tag of which will leave your jaw-dropped! Today, I came across this article which talked about 'Antilia' – Mukesh Ambani's new residential building – which has been constructed at a whopping cost of 8,000 crores ($2 billion)! That's what wealthy people do. Show off! They want to make a statement. They want to be spoken about. They want to be centre of attraction. Targetting this exclusive group of elite and wealthy people who want to make a statement, a Luxurious phone has been handcrafted using diamonds. Stuart Hughes, a company that creates luxurious and elite gadgets have launched the world's most expensive Mobile Phone called 'iPhone 4 Diamond Rose'. The sides of the phone is studded with 500 flawless diamonds which total over 100 carat! The rear side is formed using rose gold with the apple logo studded with 53 diamonds.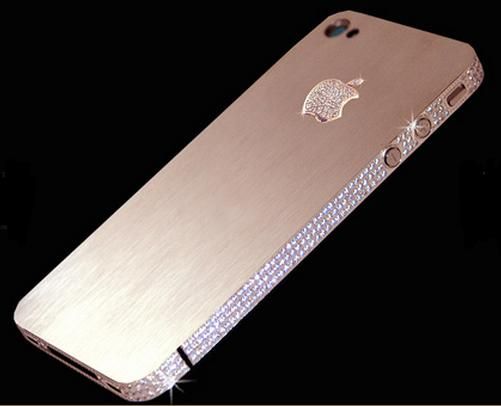 The main navigation is made with platinum and hold a single cut 7.4ct pink diamond. There will also be a replacement diamond which is a rare 8 ct single cut flawless diamond which can replace the pink diamond.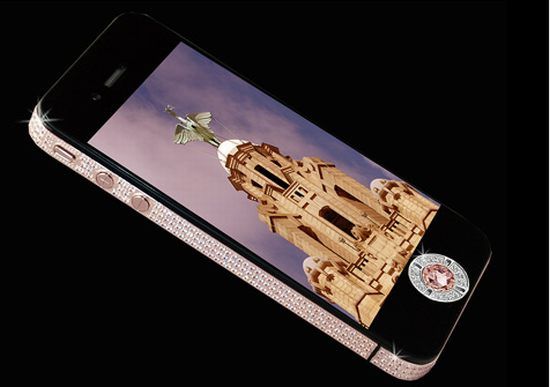 Now, you cant keep this elite device on some normal box. The chest which will house this unique handset is made from a single block of granite, in imperial pink with the inner-side lined with Nubuck top grain leather. The whole chest weighs a whopping 7 kilograms.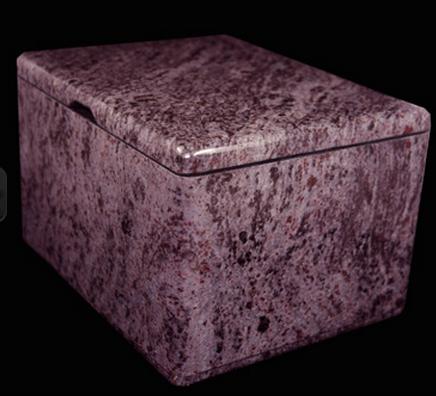 The handset will cost Rs. 35.2 crores ($8 million or 5 million GBP). The handset is apple 4 32 GB version. This is a limited edition (as if we cant guess :)) and only 2 devices will be ever made. We are guessing hard about the 2 people who are going to buy this fabulous, elite and luxurious device. Bill Gates? Mukesh Ambani? Vijay Mallya? Lakshmi Mittal? Mark Zuckerberg? (!). We will keep a loop..For now, let's enjoy the beauty of this device!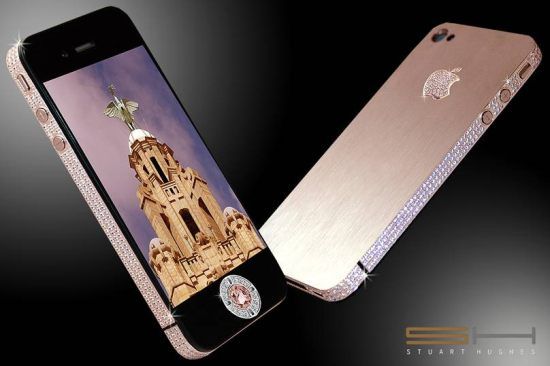 UPDATE: The phone was designed by Brit Stuart Hughes. He was commissioned by an Australian businessman who wanted him to make not one but two of them. So, the phone was made-to-order and wont be on sale! Liverpool-based Hughes told the Daily Mail: "It was a fantastic challenge and I am really pleased with the end result – the phones look superb. Phones are so popular at the moment and this is the ultimate design for one. It was a very exciting project." 'The diamonds are rare and difficult to source, stones like that usually have a very long history. 'It is amazing that someone is prepared to spend £5 million on a phone, I doubt it will get used because it is worth so much money. 'It would be a disaster if it was ever lost.', He concluded.