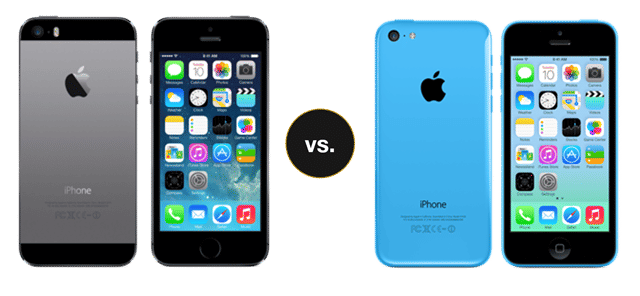 Without doubt, Apple's new iPhone(s) have created considerable buzz even before their launch. We bet, many of you were delaying your next mobile purchase to get an iPhone. It's obvious that both iPhone 5S and iPhone 5C are targeted for different consumers. But still you're getting confused which one should you buy? Worry not! We simplify your decision in this detailed comparison-
Basics
| | | |
| --- | --- | --- |
| Parameter | | |
| Dimensions | 123.8 x 58.6 x 7.6 mm | 124.4 x 59.2 x 9 mm |
| Weight | 112 g | 132 g |
| Screen Size | 4 inches LCD display | 4 inches LCD display |
| Screen Resolution | 640 x 1136 pixels | 640 x 1136 pixels |
| Pixel Density | 326 ppi | 326 ppi |
| SoC | Apple A7 | Apple A6 |
| RAM | No information by Apple | 1 GB |
| Storage | 16 GB/ 32 GB | 16 GB/ 32 GB/ 64 GB |
| Rear Camera | 8 MP iSight Camera with Dual LED arrangement | 8 MP iSight Camera with LED flash |
| Front Camera | 1.2 MP | 1.2 MP |
| Cellular Network | 2G/ 3G/ 4G | 2G/ 3G/ 4G |
| Connectivity | Wi-Fi a/b/g/n, Bluetooth 4.0, GPS | Wi-Fi a/b/g/n, Bluetooth 4.0, GPS |
| OS | iOS 7 | iOS 7 |
Similarities
Both iPhone 5S and iPhone 5C sport a 4 inch capacitive screen with LCD technology. As Apple says, they have a Retina Display, since the pixel density is pretty high and human eyes (read retina) can't discern the difference between pixels. Although, the screen in iPhone 5S is protected by Gorilla Glass coating against scratches and dust.
They support same connectivity options and run on iOS 7, which brings a lot of interface changes and additional apps.
Differentiations
Build Quality
While both the devices have same display, to keep the costs down the iPhone 5C is entirely made of polycarbonate body. Though Apple has managed to make this plastic look good, but nonetheless it might feel cheap when compared to the metallic chassis used in iPhone 5S.
Color my Life!
This is the biggest departure in Apple's history of making the smartphones. The iPhone 5C will be available in vibrant colors, unlike dull and professional colors sported by its predecessors. The colors are Green, Yellow, Blue, Pink and White. The colors of the device will also be complemented by the optional colorful covers which are having holes in them.
Not wanting to be left behind, the iPhone 5S also features a new color along with the standard Black (now called Space Gray) and Silver colors. Yes, to give it a exquisite touch, iPhone 5S will come in a Gold color.
Processor Power
iPhone 5C is largely based upon the previous generation iPhone 5 itself and hence has same Apple A6 chip in it.
On the contrast, the 5S sports all new Apple A7 chip which claims of double the CPU and GPU performance. The chip is also the world's first chip which supports 64-bit OS. This means that the iOS 7 (while also has 64-bit support) and apps can make use of increased bits for providing efficient performance.
Intelligent Sensors
Unlike iPhone 5C, the iPhone 5S has a Motion coprocessor M7 chip which works along with the A7 chip. The M7 helps the device to measure various data such as accelerometer, gyroscope and compass, thus improving the accuracy and battery life since the A7 chip is free to do normal tasks. M7 will also detect your if you're walking or running or even driving and thus suggesting the settings for the same. It also integrates with health trackers like Nike Fuelband to track these details and save them in the device.
Camera Capability
Both the smartphone have a 8 MP iSight camera at the back. But, the camera in 5S has a 5 element lens with larger sensor of 1.5 microns and f2.2 aperture. This translates to 33% better light visibility. iPhone 5S also has a True Tone Flash, which is actually a dual LED which works in tandem to set color temperature of the image from more than 1000 color variations based on the lightning conditions. Not only it's capable of recording Full HD videos at 30 fps, it's also able to record slow motion videos of 720p at 120 fps.
There is also several software enhancements in iPhone 5S such as Burst Mode, Best Photo and more.
The FaceTime camera at the front also gets some upgrades to HD recording capability and BSI sensor.
Enhanced Security
The iPhone 5S comes with a Fingerprint sensor tucked nicely under the ubiquitous Home button. The Touch ID sensor as its being called is used for users authentication for unlocking the phone. Users will also be able to make purchases on iTunes for apps, games, music, etc. with just a fingerprint.
Bottomline- Which One should you go for?
In the end, everything boils down to price, which according to rumors indicated that the iPhone 5C will be priced affordably and iPhone 5S will retain the flagship tag for the Apple. However, at current pricing of $549 and $649 for 16 GB unlocked version of the iPhone 5C and iPhone 5S respectively, there is not huge price difference between them. Unless you're huge fans of colorful plastics, we would recommend to go with the Apple iPhone 5S. Check our First impressions of both iPhone 5C and iPhone 5S to get more details about their features.