4/Jul/2011-3:10PM IST: Update: The Bid amount has drastically dropped to $1,525…!
An early-build prototype of iPhone 4 is being listed on ebay for sale. The current bid price is an insane $950,000. The bidding is wildly fluctuating between $100,000 and $1 million as we speak. This iPhone 4 prototype has a number DF1692 etched on the right-hand bottom – a number that corresponds to the employee to whom the prototype was handed out to

. There are quite a few differences between the iPhone 4 that is sold in retail today and this prototype version. I am not sure, if the bid will be successful. But it is interesting to see that even a prototype of Apple product has so much of buyer interest!
This was the original tweet from pytey – a member of iPhone Development Team that kickstarted the wild interest in this listing!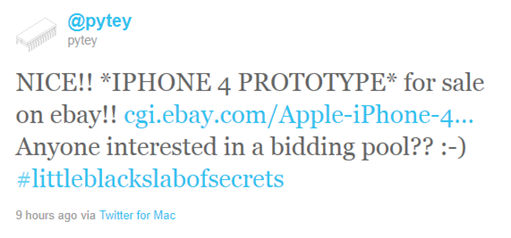 Gallery of Black iPhone 4 Prototype/Tester Edition