As speculated, iPhone 4 is officially available in India one year after the device made its debut! Aircel and Airtel have officially announced the subscription-linked iPhone 4 plans. Let's look at the price of the devices. iPhone 4 Price in india iPhone 4 16GB price in India – Rs. 34,500 iPhone 4 32GB price in India – Rs. 40,900 The leading mobile operators on India such as Airtel and Aircel have come up with some exciting offers. Both the offers are slightly misleading though. The offer appears as though the device is given for FREE. In reality, you have to purchase the handset for the MRP by paying upfront. Once you have the handset, you can claim for the discount on the prepaid or postpaid plans from Airtel and Aircel. Aircel has announced some moneyback plans when you buy iPhone 4 from them. Provided you take a postpaid or prepaid plan as mentioned below with them for 24 months. The complete plan is provided in this link.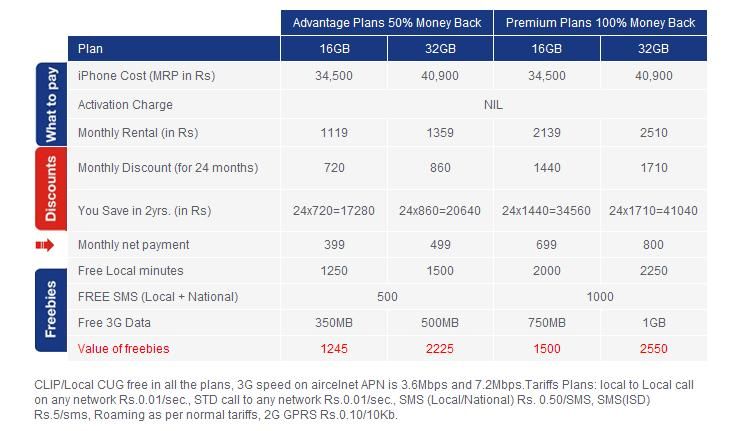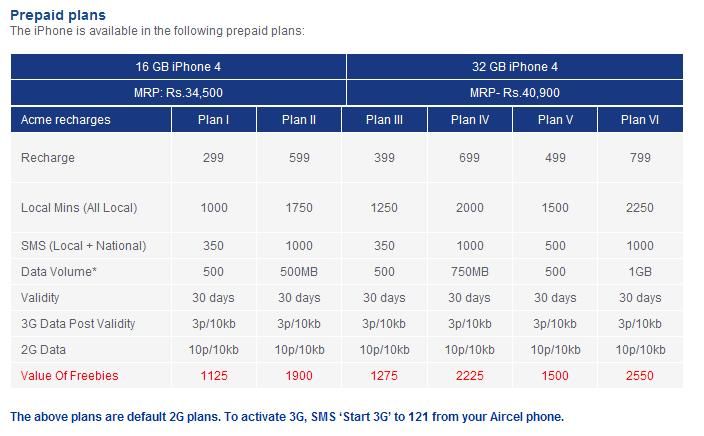 This is what Aircel has to say about this offer: "With Aircel's exclusive money back plans you can recover upto 100% of your iPhone 4 cost over a period of 2 years. With these plans, you get a fixed discount on your monthly mobile bills. This, when totalled over 24 months will add upto the cost of your iPhone 4. iPhone 4 is available at Aircel stores and other leading retailers. Please call 98410 12345 or 121 or SMS to 58000000 to fix an appointment to get a personalized demonstration at the nearest aircel store. Price start at Rs. 34,500 for the iPhone 4 16GB. You can also choose from a wide range of prepaid plans starting at Rs. 599". Aircel launched these handsets at midnight exclusively at the following cities: chennai, bangalore, delhi, gurgaon, hyderabad and kolkota. Bangalore # 383, HAL 2nd Stage, 100 Ft Road, BMP Ward 7, Jeevan Bheema Nagar, Bangalore – 560 038 Chennai No:5/542, Rajiv Gandhi Road, Burma Colony Old Mahabalipuram Road, Perungudi, Chennai – 600096 Delhi South Extension I Market, New Delhi – 110049 Gurgaon DLF Galleria, DLF Phase 4, Gurgaon – 122009 Hyderabad Shop No. 8-2-293/82/A/112, Road No:36, Jubliee hills, Hyderabad – 500034 Kolkata City Centre, DC-1G001, Sector I, Salt Lake, Kolkata – 700091 Airtel Offer Airtel offer seems to be less attractive than the one offered by Aircel. Airtel will give you a plan discount of 50% on 3G and 2G Plans. You can check out more details here.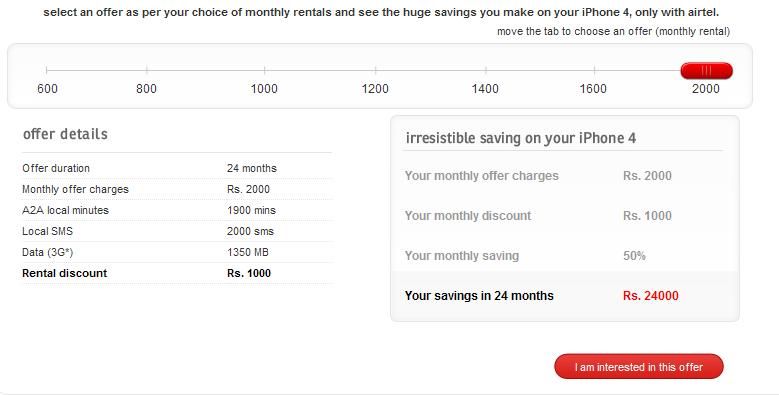 In case you dont want to take up the offers put up by these operators, you can buy one handset from any retail store or online store. We are waiting to see the good deals being offered by the retailers. We will keep you posted.