"Intel®'s latest-gen processors bring a ton of features to drive appeal among PC gamers"
Intel® enjoys a notable presence in the PC market with its chipsets. A majority of computers, laptops and 2-in-1s are powered by Intel® CPUs. However, that hasn't caused the company to slow down. In fact, it's been relentless in its pursuit of making future chips better than their predecessors. Its latest processor series, which is in the sixth generation and is codenamed SkylakeTM, is a result of these efforts. SkylakeTM processors promise immense advantages, but for now, let's focus on why they hold enormous potential for gamers.
Before we start, many gamers would be wondering why not go for a dedicated gaming console instead of a gaming PC / laptop. Well, in the end, it's your choice, but a computer offers you more capabilities than just gaming, plus you can customise it in the future with the addition of RAM or storage.
Without further ado, here's why SkylakeTM processors can be game changing (pun intended) for hard-core gaming enthusiasts.
Overclocking capabilities
The sixth-gen processor family from Intel® covers a whole spectrum of devices from ultrabooks to desktops, and hence differs in performance depending upon the target segment. However, if you're a serious gamer, you'd probably want to exploit the potential of the processor to the fullest, and that's where overclocking comes in. Unlike previous generations, with SkylakeTM, even standard CoreTM i3 chipsets will support overclocking, and not just high-end CPUs. SkylakeTM also gives you the flexibility of changing the mulitplier of the core to find the optimal clock speed for your requirement1.
A top-of-the-line CPU such as the CoreTM i7-6700K for example, which has a base frequency of 4.2GHz2, can be overclocked to as much as 4.8GHz3. However, a proper guide for enabling extreme performance needs to be followed, not to mention a proper cooling mechanism, so as not to damage the CPU.
Support for the latest RAM standard
For gaming, one also needs high-performance RAM to ensure smooth usage along with a powerful processor. The Intel ® Skylake TM processors support the latest-gen DDR4 RAM4 along with DDR3L technology. DDR4 RAM is not only more power efficient, but is fast as well, with the transfer rates starting from 2,133MHz.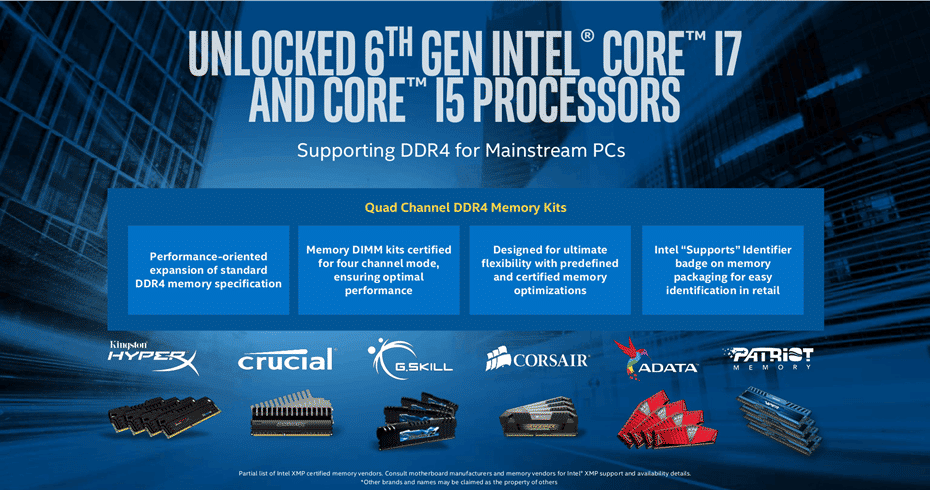 Image credits: http://anandtech.com/show/9582/intel-skylake-mobile-desktop-launch-architecture-analysis
Going a step further, Intel® also gives you the capability of overclocking the RAM with Extreme Memory Profile (XMP)5.
Appealing visuals
What's the point of gaming if you can't enjoy the graphics? Intel®'s latest range of high-end processors for desktops offer support for high-res 4K (3,840 x 2,160 pixels) displays, which means with a compatible screen, you can have an immersive gaming experience. A typical user keeps the screen at a distance of around 25 inches6, and a 4K display in this case would offer incredible detail, great sharpness and contrast, not to mention reduced banding.
The graphics would also get help from Intel®'s Gen9 graphics with 6th-gen processors.
Speedshift technology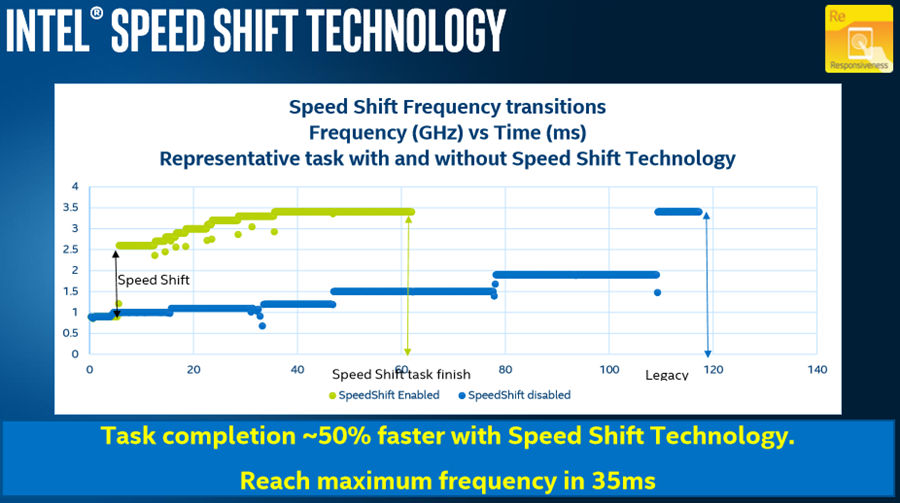 Image credits: http://www.winbeta.org/news/microsoft-intel-bring-speed-shift-technology-windows-10-fall
It's important to know that the clock speed we usually see in the spec sheet of a processor is its peak clock speed, and if the device is idle, the frequency is lowered to save battery. However, when you start a game, the clock speed needs to make a fast jump from its lower frequency to the P-state (performance state). Up until Intel®'s fifth-generation CPUs, this control was in the hands of the operating system. But with the Skylake TM family, Intel has brought this capability to the hands of the processor with Speed Shift technology7. In conjunction with the latest Windows 10 (build number 10586), the processor can quickly jump from a lower clock speed to the highest, thus allowing for better response time. This feature would be useful not just while gaming, but even with basic tasks like opening apps or switching between them.
It's evident that Intel®'s Skylake TM chips are going to level up the experience on PC gaming. Over the next few months, we're going to be seeing a range of gaming PCs and laptops from Intel partners hit the market, so if you're a gamer, there's no better time to upgrade than now.
Source:
1 http://www.intel.in/content/www/in/en/gaming/overclocking-intel-processors.html
2 http://www.intel.in/content/www/in/en/processors/core/core-i7-processor.html
3 http://www.anandtech.com/show/9533/intel-i7-6700k-overclocking-4-8-ghz
4 http://www.intel.in/content/www/in/en/gaming/serious-gaming.html
5 http://www.intel.in/content/www/in/en/gaming/extreme-memory-profile-xmp.html
6 http://office-ergo.com/wp-content/uploads/2010/12/Monitor-Viewing-Distance.-Ankrum-D.R..pdf
7 http://anandtech.com/show/9751/examining-intel-skylake-speed-shift-more-responsive-processors