"Priced at Rs 34,999, InFocus' offering is among the most affordable 50-inch TVs"
American manufacturer InFocus has been moving from strength to strength in the Indian smartphone market. In such a short span of time, it has launched a wide range of smartphones, priced between Rs 5,000 to 20,000, to target different price segments. But the brand doesn't seem to be content with just being a handset player. It recently introduced its LED TVs in the country, which just like its phones, seems to rank high on the value-for-money factor. We got a chance to check out its 50-inch LED TV, and here are our first impressions.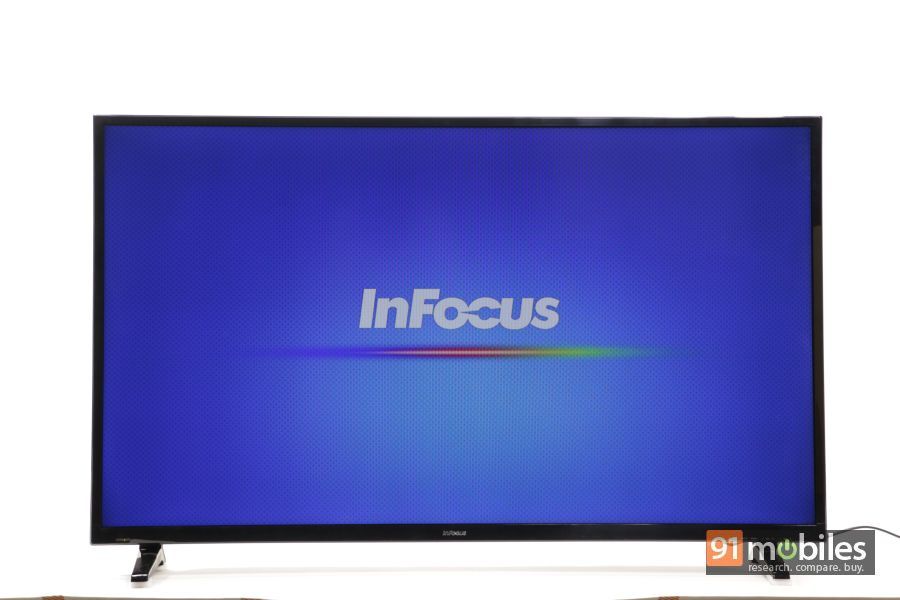 While smartphones is a crowded segment where consumers are price conscious, televisions is a different market altogether, since users tend to be loyal towards certain brands. To crack this, InFocus has not only priced its TVs affordably, it's also differentiating itself by offering free demos at homes. Prospective consumers would be able to get free demos (in selected cities), and then they can decide whether they want to purchase it or not. The 50-inch model, which we got in our test labs, is priced attractively at Rs 34,999.
Like most budget TVs, the InFocus TV has a standard design language, with a 50-inch panel dominating the front and glossy black thin bezels around it. The only other elements at the fascia is IR receiver, InFocus' branding and key controls like volume, power, channels, etc. You can hang the TV on a wall with the help of a mount or keep it on a flat surface with its stand. The good part is that the stand doesn't spoil the look of the TV. Entirely made out of plastic, the TV has decent build quality, even though it may not be the most stylish TV out there. Another plus point for it is the fact that it's built under the Make-in-India initiative at Foxconn's manufacturing unit.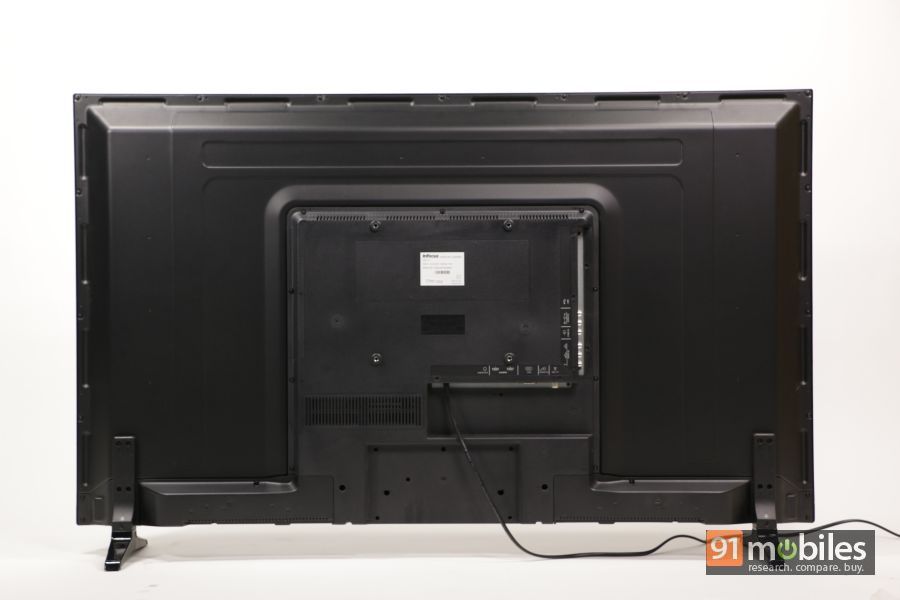 Being an LED TV, the InFocus II-50EA800 is quite slim, and weighs about 11.7kg. All the ports are available at the back, which sports a matte finish. Here you'll find the connectivity options – two HDMI ports, a USB port, composite video in and out, VGA and RF in. Sadly, there's only one USB port, which in today's day and age, seems too less. The placement of ports is also not the most ideal, as it's difficult to reach them, especially the HDMI ports which are available at the bottom.
The default media player supports the usual music and video files such as MP4 and MP3. There's no lag either while browsing or playing different files off a USB flash drive, and the resume capability works well too.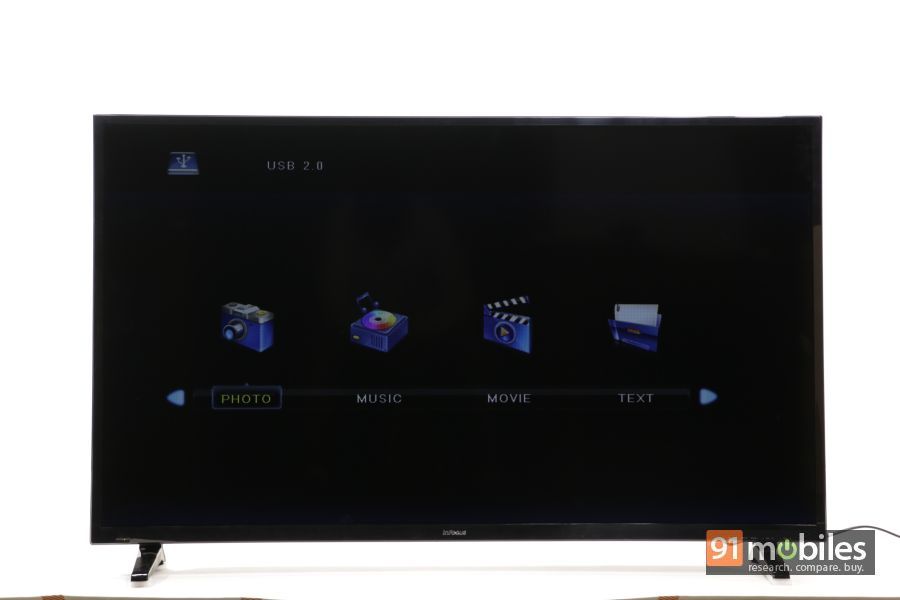 Talking about the display, the 50-inch DLED panel (direct LED) made by Innolux, bears a resolution of 1,920 x 1,080 pixels. The TV has a refresh rate of 60 Hz and contrast ratio of 5000:1. Taking care of the audio aspect are two speakers rated at 16W.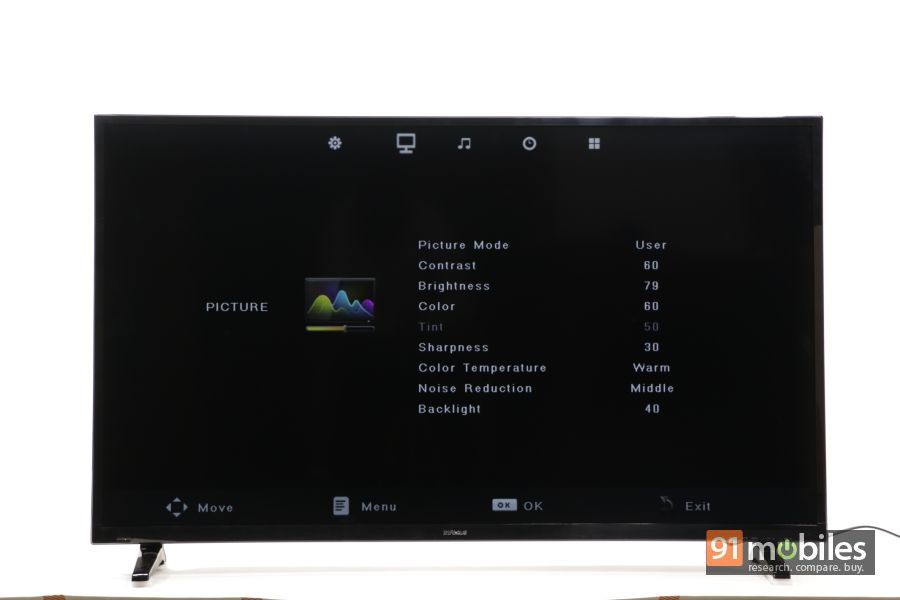 The remote bundled with the II-50EA800 seems to be standard. It's built from plastic, and the keys feel little tacky, but it does the job. You can also control media playback using it.
The UI of the TV is quite simple and user-friendly. You can choose between various picture modes like dynamic, standard, mild and user. Selecting the user mode lets you have control over contrast, brightness, sharpness, colour temperature, etc. You can also change sound modes – standard, music, movie, sports and user, with the last option giving you the ability to adjust bass and treble.

In terms of quality, the InFocus II-50EA800 is able to deliver good colours and is quite vibrant. Contrast levels aren't the best, but then the TV is able to justify that with its low price tag. However, 720p content isn't the best use of the TV, since on a large screen, the pixelation is quite apparent. For full HD content too, the viewer needs to maintain the suggested viewing distance between seven to 10 feet. Below that, the screen doesn't seem that sharp.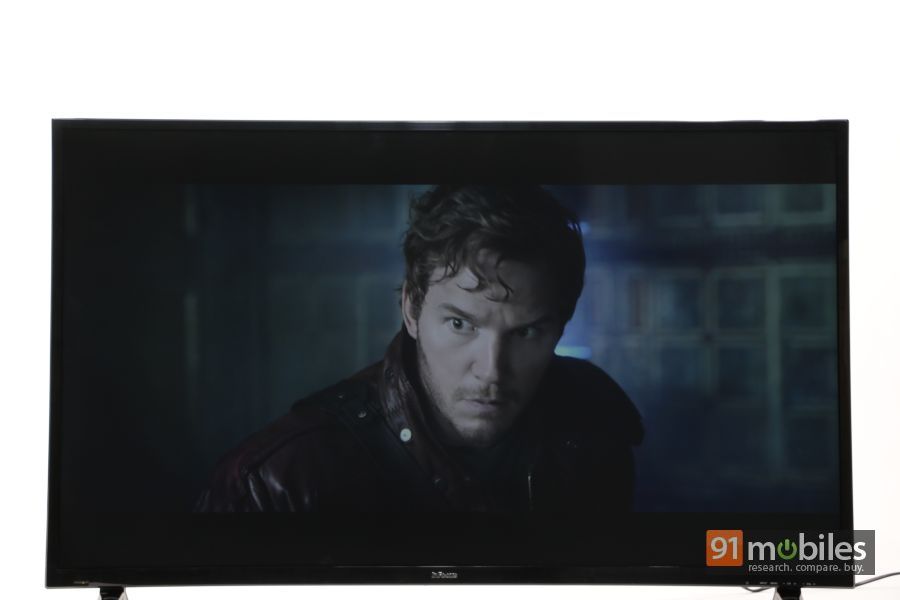 While we won't complain about the picture quality, the audio output leaves something to be desired. It has loud audio, but doesn't offer much in terms of bass and treble. Though of course, you can use the audio out port to connect to external speakers for a better experience.
Overall, the InFocus II-50EA800 is a neat attempt from the brand to compete with top-tier brands. The TV is able to stand out with its build quality, decent viewing experience and most importantly, the sticker price. While it's up against other Indian brands such as Micromax and Intex, it's worth checking out if you're looking for a large TV without burning a hole in your pocket.