The highly anticipated ultra-low cost Aakash Tablet is available for commercial sale in India. The so called $35 Tablet Aakash was initially announced for students in India. While the tablet was on distribution for students in IIT and other Educational institutions, they announced the UbiSlate7, a sophisticated and advanced version of Aakash.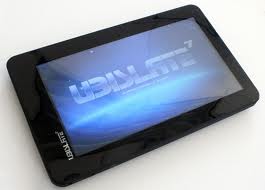 Hence, there is a price difference between the two. The Telecom and Education Minister, Kapil Sibbal, said at the launch of Aakash,
"The rich have access to the digital world, the poor and ordinary have been excluded. Aakash will end that digital divide."

The Aakash tablet is available on sale for Rs.2500 and the
UbiSlate 7
started for pre-booking. Users can either buy or pre-book either of the slates only thru online. However, the payment mode is on
Cash On Delivery.
Mr. Suneet Singh Tuli, CEO DataWind
says
'This is a made-in-India product. Thank you for giving me the opportunity to do this.' He adds, 'The final goal is to either provide the same features at a lower cost or provide better functionality and features at the same cost.'
Key Specifications of Aakash Tablet :
Hardware
Processor: Connexant with Graphics accelerator & HD Video processor
Memory : 256MB RAM / Storage (Internal): 2GB Flash
Storage (External): 2GB to 32GB Supported
Peripherals: 2 Standard USB port
Audio out: 3.5mm jack / Audio in: 3.5mm jack
Display and Resolution: 7 display with 800×480 pixel resolution
Software
OS: Android 2.2
Document Rendering
Supported Document formats: DOC, DOCX, PPT, PPTX, XLS, XLSX, ODT, ODP
PDF viewer, Text editor
Multimedia and Image Display
Image viewer supported formats: PNG, JPG, BMP and GIF
Supported audio formats: MP3, AAC, AC3, WAV, WMA
Supported video formats: MPEG2, MPEG4, AVI, FLV
Communication and Internet
Web browser – Standards Compliance: xHTML 1.1 compliant, JavaScript 1.8 compliant
Separate application for online YouTube video
Safety and other standards compliance
CE certification / RoHS certification
Click here
to order a device