"An analysis of the movers and shakers of the Indian smartphone arena"
The last one week itself has seen a flurry of quick launches in the Indian smartphone vertical, and we're seeing cut-throat competition within various price segments, the budget bracket being a key favourite. This rising trend brings about quite an intriguing question: who are the major players in the Indian smartphone sector? Add to this a hindsight analysis of the Indian phone market in 2015, and one can really analyse all that's happened in the mobile space.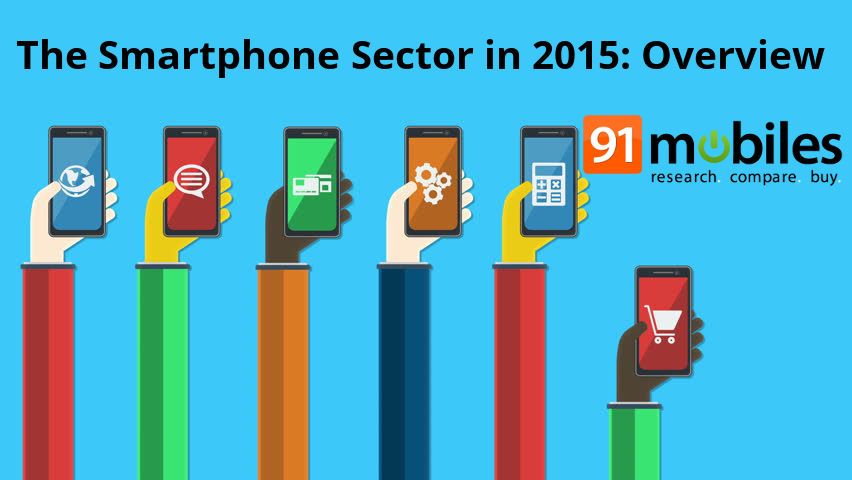 In this piece, we take a look at key trends and relevant statistics to really get an idea of which smartphone brand is winning, which ones are lagging in the race, and how the overall industry is turning out to be in India.
Market Research
Canalys Research
has some interesting numbers regarding the Indian smartphone market, and here are the vital findings from their report for 2015:
Samsung led the fray in 2015, with Samsung branded devices accounting for a quarter of the Indian smartphone market.
Micromax came in at second position, but its annual shipments fell by 20 percent. The reasons for this include inventory build-up in its distribution network.
The tag team comprised of Lenovo and Motorola came in at third place, and their combined shipments were shy of 3 million units. They were up by almost 60 percent when compared to the 2014 numbers, enabling them to overtake Intex in the smartphone shipment race.
Indigenous OEMs such as Intex, Karbonn and Lava suffered decline in shipments. According to Canalyst Mobility Analyst Rushabh Doshi, prrimary reasons for this include a tough competition with global players when it comes to product quality, making it harder for the Indian brands to push their products into the higher price brackets. Add to this the influx of Chinese brands such as Xiaomi and vivo, and you're looking at deep waters for the local brands.
The rise in popularity of online retail has been a major cause for vendors to grow quickly in the country, according to the report. The OEMs no longer have to invest time or resources in building their presence in India, and the barriers associated with building a complex sales channel has been reduced greatly.
Finally, the report noted that Chinese vendors are investing heavily in marketing to build brand recognition and gain a stronghold in the market.
Flipkart trends


Back in December, Flipkart had come up with #FlipTrends, an analysis of sales and trends from their e-commerce platform over 2015. In it, Flipkart noted that the
top brands
in the Indian smartphone sector in 2015 were Lenovo, Motorola, Xiaomi, Micromax and Samsung. This author guesses that Samsung rose in shipments owing to an offline + online presence, while Lenovo, Motorola and Xiaomi were mainly restricted to online sales of their popular devices.
The most popular phones in 2015, according to
Flipkart sales
, included the likes of
Lenovo A6000 Plus
(
review
),
Lenovo K3 Note
(
review
) and Motorola's
Moto G 3rd-gen
(
review
) taking the top three positions. Next in line were the Chinese players including the
Xiaomi Mi 4i
(
review
),
Xiaomi Redmi Note 4G
(
review
) and the Motorola
Moto E 2nd-gen
(
review
). Closing the list of top 10 popular handsets were Samsung's
Galaxy On7
and
J7
, Micromax's
Canvas Xpress 2
(
review
) and ASUS's
ZenFone 5
(
review
).
Where does Apple come in?


The analysis didn't record much regarding Apple's position in the Indian market, but according to a report in
The Economic Times
, Apple crossed the $1-billion sales mark in Indian operations for the first time in the year ended March in 2015. They apparently recorded a 44 per cent increase in sales, from Rs 4,500.35 crore to Rs 6,472.89 crore. The net profit was stated to have doubled from Rs 119.48 crore to Rs 242.85 crore.
For 2016, Apple wants to sell refurbished phones that are imported from China. The request for this was made from Apple to the Indian government, and if it succeeds it would allow Apple to sell certified, pre-owned iPhones in India. Along these lines, Apple is also hoping to set up a facility within the country where it could renovate the used mobiles being shipped from China.
This plan would enable Apple to gain a strong foothold in the Indian market, and allow it to target a budget conscious audience that still seems to shy away from the higher priced iPhones. A similar plan for selling refurbished iPads in India was rejected by the Environment Ministry's Technical Review Committee (TRC) in July 2015. Whether the plan to sell refurbished iPhones in India is approved or not is yet to be seen.
Overall market
According to
The Hindu
, mobile phone production in India reached about 100 million units. The major impetus for this has been the rise of dedicated smartphone manufacturing facilities and production plants being set up in the country by established OEMs instead of importing their phones from China.
According to Telecom Minister Ravi Shankar Prasad, an investment to the tune of Rs 1.44 lakh crore was made in the electronic manufacturing industry in India in December. This investment additionally opened up about 30,000 new jobs in the country, and has resulted in the mobile phone production in the country to rise by almost 95 per cent in the ongoing fiscal year as compared to the previous one.
The bottom line
According to this author, OEMs are yet to flex their muscles completely in the Indian smartphone sector, and 2016 will see quite a lot of interesting trends in the smartphone space. More Chinese players might come to Indian shores, and the Make in India scheme will see more smartphone production in the country, which will in turn open up new avenues for employment and reduce the costs associated with logistics (for the company) and probably the pricing of the phone (for the consumer).
As of now, we can only sit back and see the trends unfold as and when they happen. Without a doubt, India will now evolve from a mere emerging market to a broader arena that will see smartphone vendors battling it out to take the top spots.