Precisionmatch, a digital marketing data provider company recently published an infographic presenting the research trends among the Indian mobile consumers. Its a no-brainer that a good chunk of Indian consumers, especially urban population, does an intensive research on the internet before finalizing their next mobile. A close eye on what actually the consumers are searching could be a great strategic factor to consider for the mobile makers and related service provider.
The infographic presents some interesting data, a mix of expected and unexpected consumer behaviors. As per the report, Micromax Canvas 2 A110 remains the most researched handset in January 2013 beaten by Samsung Galaxy SIII in Fabruary 2013 by a mere 0.32%. While the Samsung followed by Micromax and Nokia remained the most researched handset brands, Sony seems to be gaining back its glory by holding the 4th position in the charts. Surprisingly Lava, which is aggressively launching value for money Android mobiles nowadays, is nowhere among the Top 10 researched mobile brands.
Another interesting trend reported by the infographic reveals consumers are more interested in either high end phones or the budget phones, mid range mobiles are getting least love from consumers. The infographic reports 'Rs 20000 and above' as the most researched price category followed by 'Rs 5-10k' and 'sub-5K' price segment. However we have different point of view here.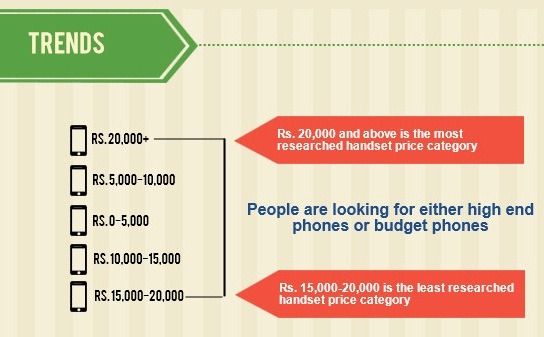 If we club the 'Rs 5-10k' and 'sub-5K' price segments, it makes 'sub-10k' the most popular category. Which means people are more interested in sub-10k brands. On the other hand, the report represent only online population. People researching and purchasing offline (especially based in rural area which forms a major chunk of mobile consumers) will obviously be much interested in the 'sub-10k' price segment. We guess this price segment has much better potential and this is the only segment where Indian mobile makers can play. 'Rs 20K and above' isn't their cup of tea yet.
Another interesting (and expected) fact here is the popularity of Samsung. Out of Top 10 researched handset models, 7 belong to Samsung or to be specific, Samsung Galaxy Series. This includes handsets of all price segments, starting from Samsung Galaxy Y to Samsung Galaxy Note II, making Samsung fav for all price groups. No doubt, no other company has encashed the growing mobile market as Samsung did.
At the end, you can't ignore the popularity of Android. Out of top 10 most researched, 9 handsets run on Android, Apple iPhone 5 being the only non-Android device. Long live Google 🙂
Full infographic (Credit: Precisionmatch)