Incase is a well-known company for manufacturing iPhone and iPad accessories, and it made its debut in the huge and happening market of headphones with its Sonic headphones. Now, it is a rather spontaneous thought that any company that just hops on to the headphone band wagon just because for its growth, cannot leave a good impression with what the headphones are actually meant to do, that is produce good quality sound for a pleasurable music experience. With a name like Sonic, is the pair of headphones from Incase a good sound provider. Let us take a look at it to find out.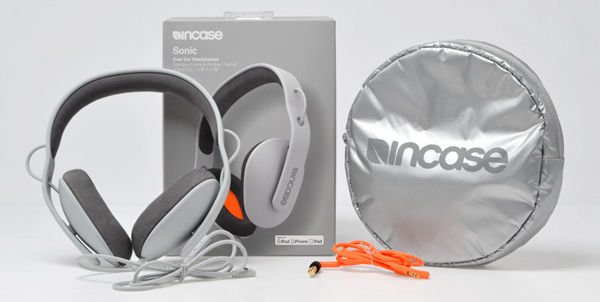 Design and features
The moment you will hold the Incase Sonic headphones, you will love them. It is a very well designed pair of headphones that has the right size, the right feel as well as the right style quotient. The cushioning on the headband is extremely luxurious and the suede-covered ear-pads give a very soft feeling that enhances the pleasure of listening to music with the Sonic. It has oblong oval shaped ear-pads that add to the comfort quotient as it cushions around your ears. All these soft cushioning and luxurious feel doesn't come at the cost of durability though. The Sonic is a really durable and hardy pair of headphones that will not give in easily with rough handling. It features a rubbery exterior that resists scratches and fingerprints very well and the nicely padded headband is extremely flexible. The Incase Sonic's pumps out music with the help of its 40mm diaphragm drivers, and has an overall strong built quality and extremely well handled design.
Fit and comfort
It feels great on both your ears and your head. The Sonic assures you of a secure fit by staying put effortlessly without any putting any undue pressure on your ears. Its pads, suede and foams provide great comfort. In short, it is very difficult to find such comfortable pair of headphones in the market. Incase Sonic does not have any fitting issues as well and will snugly fit on anyone's head. This pair of headphones is extremely recommended for long of music listening sessions.
Audio Performance
The Incase Sonic has an overall beautiful sound quality. The vocals are played in their original form with no unnatural or added effects. The instruments are also reproduced beautifully with a great separated treatment, where you can actually feel each invidual instrument's contribution to the track. Electronics are also reproduced exactly as they are meant to. The Incase Sonic plays all tracks of all the genres just right with clear and crisp sound. It has good punchy bass and also treats the midrange nicely. However, the only problem of the Incase Sonic is its treble treatment that becomes a nuisance at time. The high frequency sounds becomes screeching at times spoiling the otherwise pleasant music. Although this problem is not persistent and is only felt in some tracks with very high frequency notes.
Conclusion
At the price range of $200, the Incase Sonic is indeed a greatly designed pair of headphones with a good sound quality as well if you can just overlook the little treble problem.