Impecca announced the launch of its new, environment friendly, bamboo keyboard at the CES 2013. The key feature of this keyboard, beside its bamboo packaging is that it is a Bluetooth Easy switch keyboard.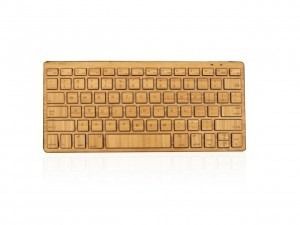 The keyboard is specifically targeted at tablets, iPhones, and other Bluetooth device owners who would like to switch to the keyboard for convenience. An Impecca representative claimed that the keys have been given a finish that will prevent the from looking used and worn out over a brief period of time.
This wireless device has a long-range Bluetooth up to 33 feet and is compatible with all bluetooth devices. Besides, bamboo is a lightweight material, which is likely to make the keyboard less heavy and easy to handle.
The keyboard panel is designed like the conventional QWERTY pad with additional features such as an array of special "hot keys" on the top panel. The keyboard is compatible with iPad, iPhones, Android, Android tablets, Microsoft Surface, Kindle, Nexus, and other Bluetooth-enabled mobile devices.. There is a bamboo panel affixed to the keyboard base which gives it a rake like incline, that is considered to be a suitable typing position.
Although created keeping in mind the enviroment friendly consumers, the stylish design and easy to use features makes the keyboard suitable for use in office, schools or by anyone looking for a sleek upgrade.
This Bamboo keyboard will be available from February, 2013 in the American markets at a price of $99. It would be interesting to observe the product performs considering it's quirky differentiation from the conventional keypads.