iPad and iPad 2 are gorgeous devices. Beautiful gadgets. But they are somehow limited in terms of internal storage memory which is available upto 64GB only. For most people 64 GB might be enough to last for a lifetime. But for a few, 64GB gets filled up fast; especially if they are media junkies who are in possession of number of high definition videos and photographs and music files. And there is another limitation. iPad does not have any standard usb ports. All you got in an iPad or iPod is that 30 pin dock connector slot. Thankfully, to overcome this limitation, Apple sells a camera connection kit which basically connects with this 30 pin dock and provides a USB connection on the other end. Using this new found usb connection, one can connect the ipad through usb-cable to desktop (mac or windows) and can control the files through iTunes. It is impossible to connect with an external hard drive without a computer. You have to go through iTunes.
Using the Apple Camera Connection Kit, the iPad is able to connect to SD cards and self-powered USB devices. However there is a size limitation of 32GB, making it impossible for larger USB hard drives to connect to the iPad.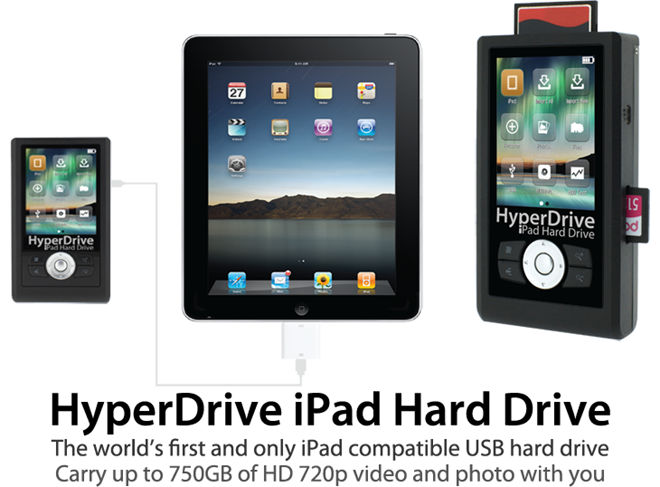 Sanho corporation based in Germany has come up with an external hard drive called HyperDrive that can work with iPad without the need of a computer. HyperDrive overcomes the limitation of 32GB mentioned earlier by turning individual file folders into virtual 32GB drives on the fly that is readable by the iPad! This HyperDrive comes with a 3.2 inch LCD screen and with a storage capacity of 750 GB. The HyperDrive connects with iPad can transfer photos, movies and other media. But only media files. Now you can carry around your media collection with you anywhere and can consume these media on your gorgeous iPad tablet screen. HyperDrive is claimed to be the world's first and only iPad external Hard drive. We would classify this piece of accessory as boutique and niche. Usecase for this gadget is rather limited and less common.
HyperDrive can be used as a standard plug-n-play external hard drive with any windows desktop. HyperDrive also comes with 2 memory card slots which can read 12 different memory card types and can read the data from the cards directly and faster!
Salient features of HyperDrive:
– Connects to the iPad to transfer photos, movies and other media
– Connect HyperDrive as a USB hard drive to the computer
– Import any data from memory card directly, without a computer
– Browse through RAW or JPEG photos on built-in 3.2″ color LCD screen
– Image slideshow, R/G/B/L histogram and EXIF display
– Advanced photo browser and file manager
– Manage all files that are stored on the HyperDrive
– Recover deleted, corrupted photos on the memory card
– Perform hard drive and memory card diagnostic checks
– Support multiple partitioned hard drive formats
– Hard drive and memory card benchmark tools
Adexmart is bringing this gadget first to India. There are two variations. 320 GB and a 500GB version. The HyperDrive 320GB is available for Rs. 18,890 and HyperDrive 500GB is available for Rs. 20,890. Check out these product if you are interested.