Huawei is planning to launch its high-end Android smartphone Huawei Ascend D2 in the Indian market and company has listed the phone on its official website as an upcoming model. The phone was originally announced back in Consumer Electronics Show this year and it comes with high-end features to compete against the flagship offerings from rival brands like Samsung and HTC in comparatively lower prices.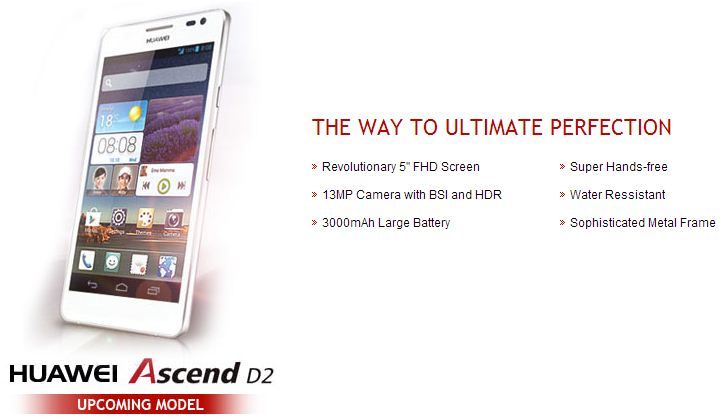 Features wise Huawei Ascend D2 comes with a 5inch full HD display with the resolution of 1920*1080 pixels along with 443ppi pixels density. It is running Android 4.1 Jelly Bean operating system version. It is powered by a 1.5GHz quad core processor along with 2GB of RAM memory. It is having 32GB of internal storage and weighs around 170grams. It is having 13MP autofocus rear camera and 1.3MP HD front facing shooter. Its 13MP rear camera is capable of shooting 1080p quality videos. Connectivity features of the phone include WiFi, Bluetooth, Wifi hotspot and Micro USB options. It is powered by a massive 3000mAh battery and it is expected to be priced around Rs. 30,000 in India. Overall, the core features of the phone are pretty impressive comparing to its expected price tag. In other news,
Huawei Ascend W1
is also listed on company's website under upcoming devices for Indian market. It is a Windows Phone 8 operating system powered device and it will be competing against the Nokia Lumia devices in the country. We will update you more when these phones will be available to buy in the country.