Recently we ran a contest on Twitter inviting your ideas on HTC One's successor. And encouraged by your responses we got into conceptualizing this smartphone. Without further ado, we bring you the concept design of HTC Two-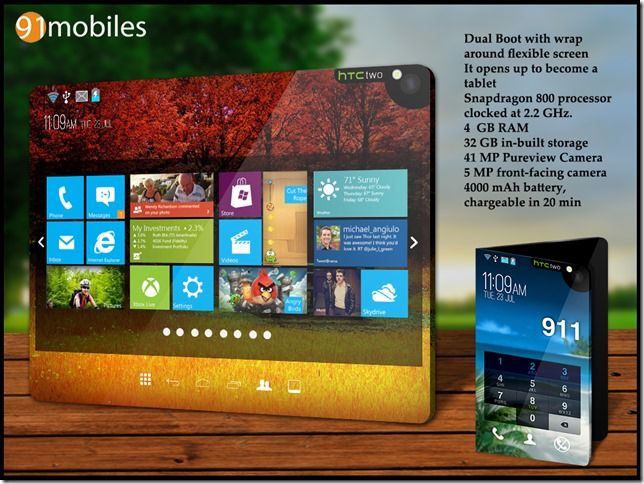 The smartphone literally uses the number two with almost all of its features, namely-
Dual Screen
In terms of hardware, the biggest and most unique proposition of HTC Two is its true convertible design. This design solves multiple purposes of using the device as a normal mobile phone with two screens back-to-back as well as opening them make the device as a full-fledged tablet. This design actually takes forward the concepts presented by Asus Transformer as well as Lenovo Yoga series of Hybrid computer enabling users to use them as a stand-alone tablet or computer.
Dual OS
Now, you must be wondering what those two back-to-back screens might be used for? Each of them will be running an OS and at one point of time only one of them will be activated, so that the other screen simply become as smartphone's back. Since, HTC already makes the devices running upon Android or Windows Phone 8 platforms, so the HTC Two will have Android and WP Operating System on those screens.
It's real goodness lies in the fact that when those two screens are merged to form a tablet, you'll can use either Windows or Android OS in it.
This is the most-suggested feature in HTC Two and if it turns out to be true, then it will certainly give a new dimension to the mobile world .
Dual-SIM
This is no-brainer as most of the devices selling nowadays comes with dual-SIM support, so the HTC Two will also allow two SIM.
Dual Screen, Dual OS, Dual-SIM.. What Else?
Worry not, even underneath the device will be a beast. It will have a 2.2 GHz quad-core Snapdragon 800 processor, which is the latest line of processors from Qualcomm. The processor will be accompanied by a 4 GB RAM making sure that there is zero-lag when navigating through the menus, playing games, doing processor-intensive tasks and playing 1080 p videos (the processor also supports playback of 4k resolution videos). In terms of memory, the device will have an in-built storage of 32 GB.
For photography enthusiasts, the device will be an awesome option with its 41 MP PureView camera at back. The camera will be supported by Xenon Flash ensuring great shots even in low-light conditions. For video-chatting purposes, it will have a 5 MP camera at the front.
From connectivity stand-point, the device will have standard options of 2G/ 3G/ 4G network support, Bluetooth 4.0, Wi-Fi, GPS with A-GPS and NFC.
When it comes to battery, it will be powered by massive 4000 mAh battery giving it battery life of more than a day. The battery will have a special feature of being able to charge within 20 minutes.
Enjoy some more designs of the concept: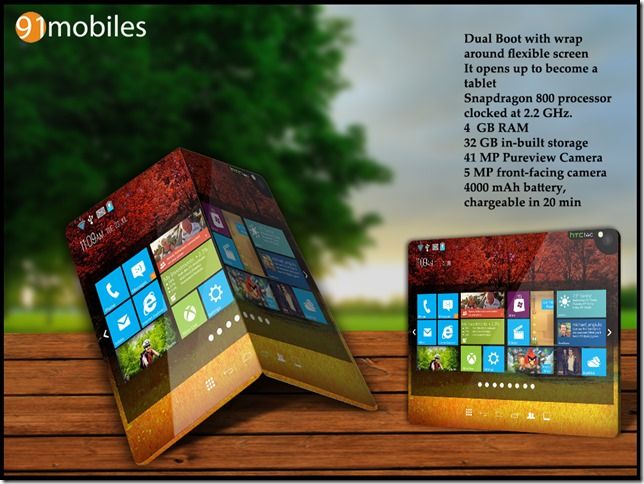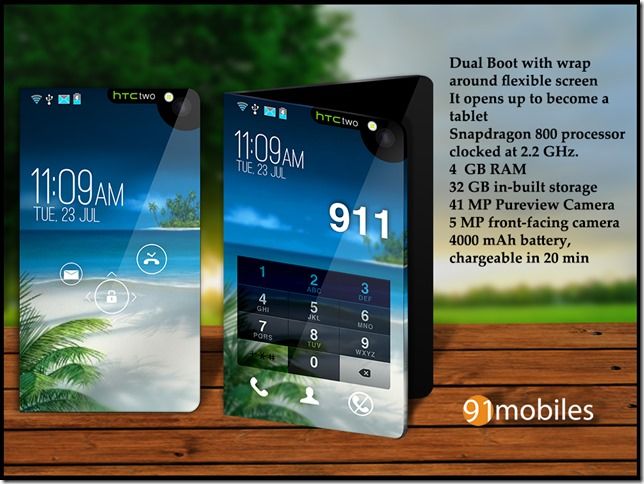 So, which feature you're most excited about the HTC Two?