Now that HTC One has been revealed, it would be very interesting to compare the device with its supposed rival: the Samsung Galaxy S4 Mini. Following the footprints of Samsung, HTC unveiled this new device in the miniature segment. The trend of launching a small sized variant of the original model with some hardware and software configuration changes seems to be an emerging trend in mobile industry. These two devices will surely put the buyer in two frames of mind, in terms of which one to buy. So here we compare the two smartphones in order to make your choice crystal clear.
Samsung Galaxy S4 Mini vs HTC One Mini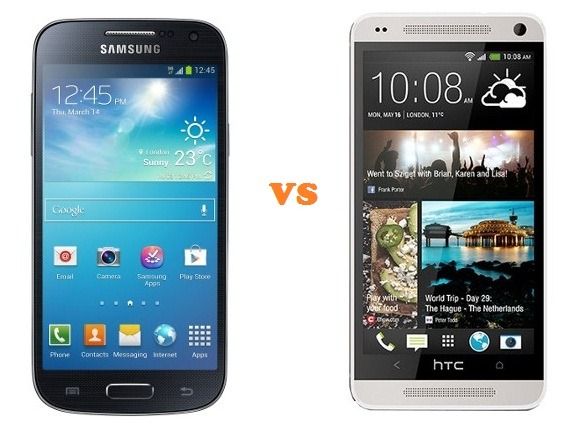 Display and Design
HTC One mini features a 4.3-inch high-resolution 720p display with a pixel density of 341 ppi. The Display is bright and rich in colors and the device is designed perfectly to fit in and operate from one hand. From design point of view certain changes have been made that fits the budget segment smartphones. The plush alumunium design has been replaced by a plastic trim on the sides of smartphone. Samsung Galaxy S4 Mini also witnesses a 4.3 inch touch screen with a resolution of qHD (540×960 pixels). Here the resolution is certainly lower than that of One mini. Galaxy S4 mini is wrapped in the same material as that of its predecessor. Both devices are available in two color variants: Black and White.
Software interface and OS
Both the devices run on latest Android v4.2.2 Jelly Bean. This latest version enhances the performance of the device tremendously. Google have made some essential upgradations in this latest OS making it much faster, user-friendly and smooth. Samsung badly lacks its unique features as Air View, Air Gestures and Multi View split screen. Both these device will run all the user favorite application and Games.
Performance:
The main driving force behind the One Mini is a Dual Core Qualcomm Snapdragon 400 processor that clocks 1.4 GHz and 1GB of RAM. Low RAM is certainly a point of concern in this device. 1GB of Ram is not up to the mark for smooth running of applications that too in 1280×720 resolution. It seems that HTC's decision to use under clock processors has a definite target of saving the battery life. On the other hand Samsung powers its device with a 1.7 GHz Dual Core Qualcomm Snapdragon 400 processor and 1.5 GB of RAM. Here Samsung assures a faster performance than its counterpart with a higher clocked processor. Moreover Samsung also score above HTC by providing a bigger RAM which will ensure quick processing without any lags.
Camera:
A 4.0 MP Ultra Pixel rear camera of One Mini gives a tough run to an 8.0MP rear camera of Samsung. In low lighting conditions, the HTC's Ultra Pixel camera can do miracles and even in day light, the camera competes well with that of S4 mini. A 4.0MP Ultra Pixel camera comes along with an LED flash and HDR video capture. Samsung's 8.0MP camera is supported by a LED flash, HDR, Panorama, 1080p video Recording. The Panorama feature is the only consolation for GS 4 Mini camera. For video calling purpose, One Mini is loaded with a 1.6MP front camera that can record video at 720p. On the other hand, S4 Mini has a 1.9 MP front camera that sits along the proximity sensor.
Storage and Battery
Storage is one factor where One mini suffers badly due to its memory constraint. Taiwanese giants have come up with only one storage variant for One Mini: 16GB internal memory.The main catch here is that this internal storage cannot be further expanded via an external micro SD card. This factor will always influence the customer decision in a negative way. Samsung provides an 8GB internal memory which can be further expanded up to 64 GB via a micro SD card. For multimedia and application lovers this is a massive amount of storage capacity. HTC has supported its device with a 1800 mAH Li-Ion battery in comparison to the 1900 mAH battery being used by Samsung in their S4 mini. Battery life is not a major problem for both the smartphones enabling prolong usage without any interruption
Verdict:
HTC One Mini will face a fiery competition from Samsung Galaxy S4 Mini as both the devices come from the same miniature segment. The competition will further heat up due to close pricing of both devices. In all both the devices are brilliant with some features missing in one or the other. The major disappointment HTC lovers will have will be due to the lack of memory expansion option. Hardcore mobile gamers will keep away from One Mini due to its low RAM. But customers who desire a rich and bright color display will be fully satisfied with the One Mini. The BoomSound stereo speakers on the front of the device have no match as they are coming from Beats Audio. Samsung has dropped many of its premium feature in S4 Mini from its predecessor, Galaxy S4. People will certainly miss Multi Window split screen that allowed to perform various tasks on a single screen. The low resolution display and the usual design are the other factors that will not fascinate big screen lovers. So in all, if you are a regular smartphone user, go for the HTC One Mini as it will not disappoint you in your day to day work and will cost you around 25990 INR. For hardcore game and application lovers, Galaxy S4 mini is more appropriate but then you have to shell out an extra 2K and may have to compromise with the display as well. So now go and do make a right choice.