"HTC is still king when it comes to smartphone design"
Leaks
have a nasty tendency to
spoil things
when it comes to high-profile smartphone launches, and the latest HTC flagship fell into the same hole, much like quite a few others from various brands earlier.
Pretty
much
everything
regarding HTC's newest was known ahead of time, but the company did manage to hold on to a tiny element of surprise – the name. Now we know that the device will be called the
HTC One (M8)
, clearly an attempt by the brand to keep the HTC One legacy alive. The
HTC One
of course, was one of the best designed smartphones of last year, and possibly of all time. When we tried it out, we didn't think it could be bettered. HTC has proved us wrong. The HTC One (M8) takes its predecessor's construction and build, and takes it to a whole new level. The device was unveiled to the world officially today, and we got a chance to play with the device briefly. If we were to describe the device in one word, 'sexy' would be it… but maybe you'd care for the complete lowdown. Here goes. The new device is going to be available in Gunmetal Grey and Glacial Silver to start with, while an Amber Gold version will make an appearance later. While all three variants look and feel great, it's the gunmetal variant we fell in love with.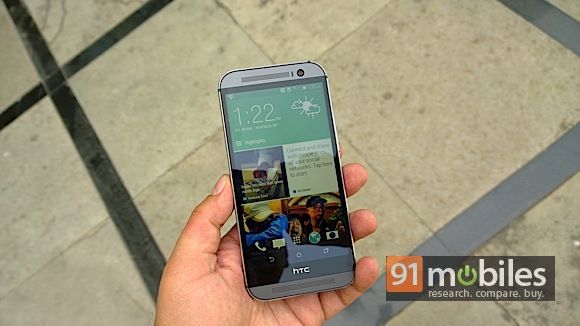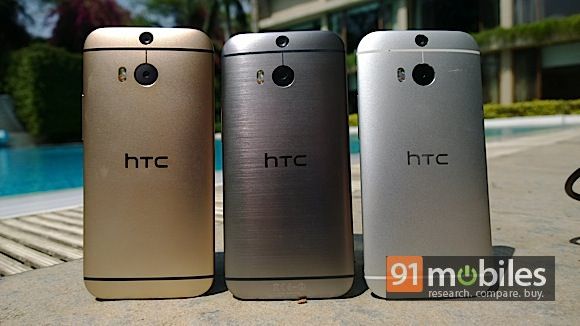 The unibody construction stays, of course, and HTC's even managed to fit in a microSD card slot – something that was lacking in the previous version. Clad in metal, the HTC One (M8) won't look too out of place inside a glass case in a swanky showroom – it just packs in so much oomph.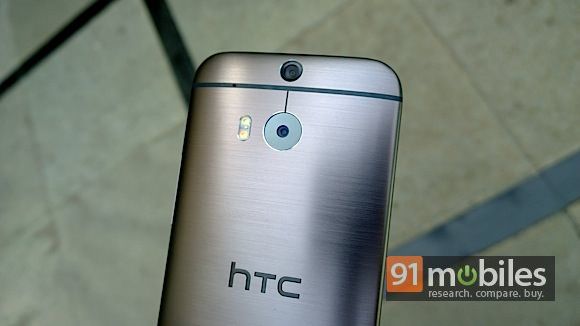 The finish is top notch, and there's nary a creak or a squeak. The jewelry-grade build puts it in the same league as a luxury watch or a swanky automobile – it's that good. And the gunmetal variant highlights this beautifully. The smartphone is still quite sleek though, and despite the all-metal build, doesn't feel overly weighty or unwieldy… though the smooth chassis may be prone to slippage if you've got butter fingers, or sweaty palms.
A 5-inch, full HD display adorns the fascia, with a 5-megapixel snapper featuring a BSI sensor in charge of selfies and video calls. On a side note, it's surprising how one image that went viral has suddenly made us realise the importance of this new-fangled selfie fad, though admittedly, manufacturers must have already done their homework much earlier. The One (M8) boasts the dual-front speaker, termed BoomSound by its makers, just like its older sibling, but you won't find any dedicated hardware keys since they've all been implemented in the software UI instead.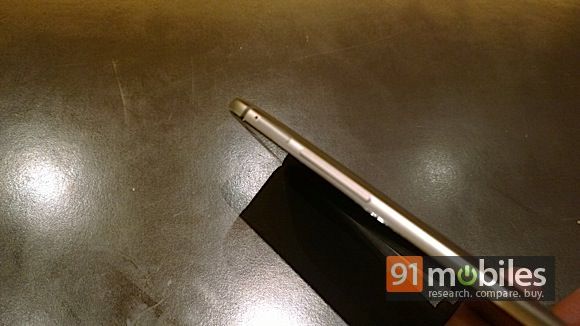 The latest HTC flagship accepts a nano-SIM in a tray placed on the left, while the right is where you'll find the microSD card slot and the volume rocker. There's a microUSB port at the bottom, while the top has the power cum sleep key, and a black band that hides an IR transmitter.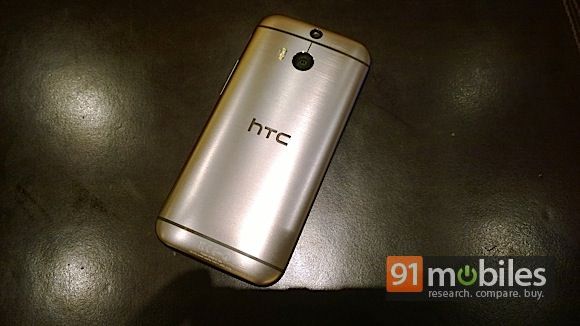 Flip the device around and you'll be greeted by not one, but two camera sensors – the main lens along with a smaller one placed closer to the top. We'd be lying if we say we were surprised on discovering this, but turns out that HTC has made some good use of the additional hardware. The primary sensor isn't too different from last year's device since it sports the same number of UltraPixels, as HTC likes to call it.. and the count would be four of those UltraPixels. However, the sensor is actually new, and boasts a newer image-processing engine that's supposed to make it faster and even more capable. On the side, there's a dual-LED flash that uses a white and a yellow LED in an attempt to make images shot using the flash in low light more natural. But now comes the interesting part. Turns out that the smaller sensor on top is really a depth sensor, and captures all the required info about the scene. This enables a host of new capabilities and features, including 3D. Background refocus, like what we saw with the Nokia Refocus app on the Lumia range, is also possible, though in this case, it's just accomplished using a single shot and not multiple images. Since the device can actually separate the foreground and the background, you can play around with the captured image in myriad ways. You could, for example, add sketch- or cartoon-like effects to the background behind a person, or even introduce motion blur. You can add animations and make it look as if it's snowing. Effects that were hitherto possible using desktop image-editing software can be accomplished right on the device, and that too in a jiffy. For instance, you can cut out an image of a person from a photo and just place it on another, using a process that just involves a few taps and dragging the image to the right place. Of course,
the camera is just one part of the deal
, but the One (M8) seems it's got others things right too.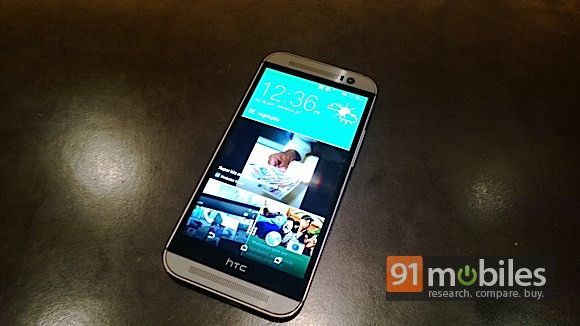 Software-wise, the HTC One (M8) runs Android 4.4.2 complete with the latest version of HTC's software UI –
Sense 6
. It brings a whole slew of enhancements and new features, including an improved
BlinkFeed
. The device supports quite a few gestures too, with one of them being the capability to turn the screen on or off using double taps.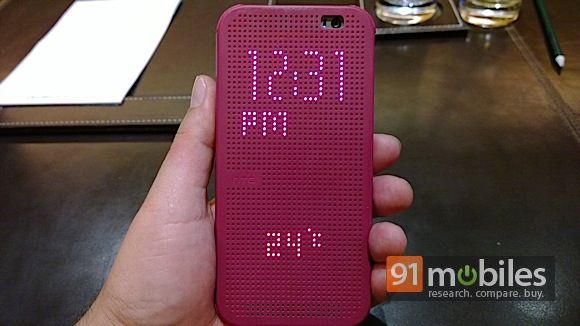 In addition, HTC will be making a whole range of flip covers, called 'Dot View' covers, in a variety of hues. The special thing about these flip covers will be the ability to display basic info like time and info directly, thanks to a perforated front that lets out light in a cool, retro LED-like effect. It will also display incoming calls, but more notably, the user can accept or reject calls directly without opening the flip – now that's nifty indeed. Powered by a top-of-the-rung Snapdragon 801 processor and 2GB of RAM, we're sure the performance is going to be buttery smooth… and indeed, our few minutes of hands-on time didn't indicate anything otherwise. The screen quality seems very good too. While it could be too early to comment on how the HTC One (M8) fares in the real world and whether it turns out to be as big a success as the company hopes, we do expect it to be one of the most noteworthy devices of 2014. As always, you can expect a detailed review from us when it lands.