"The HTC Desire 816 might just be the dual-SIM phablet you're looking for"
There used to be a time, not too long ago, when our digital lives used to centre around three different screens – our televisions, our laptops or PCs, and our phones. Not anymore. Tablets landed bang in the middle of the laptops and phones and changed things significantly. Don't forget that some of the laptops available these days can be flipped around or detached from their keyboards to be used as tablets. Phablets is yet another relatively new product segment that falls somewhere between smartphones and tablets… a category which is growing faster than one can run with a mad dog yapping on the heels.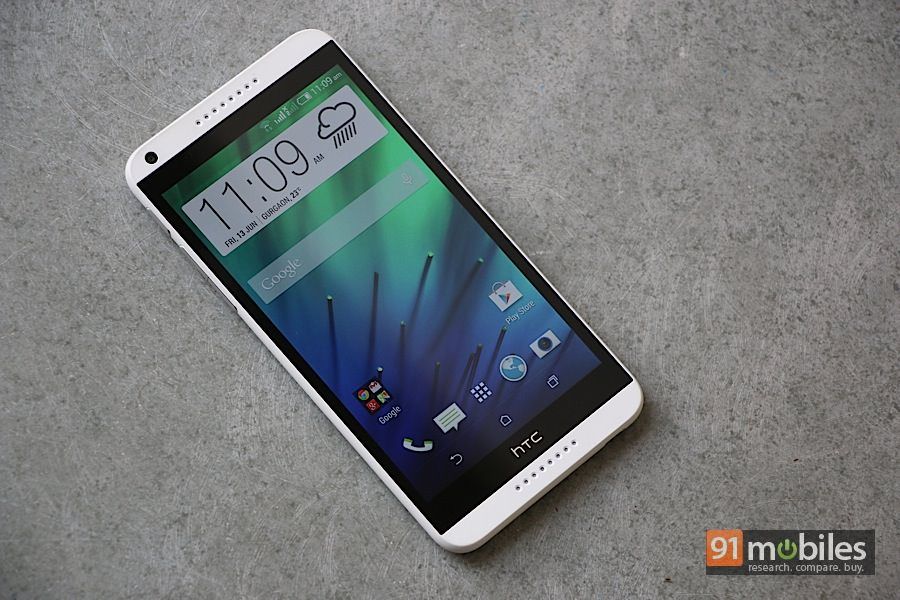 Needless to say, the array of choices available these days when it comes to catching up with work and entertainment on the go is immense, and a tad confusing too.If you're looking for a single device that's easy to carry and still lets you catch up on everything that matters in your digital world, a phablet could definitely fit the bill. HTC's only phablet offering thus far was the pricey One Max, but that was before the Desire 816 came into the picture. The HTC Desire 816 is a mid-range, dual-SIM phablet, and as we noted when we played with it at its unveiling, is a lovely-looking device. Looks apart, we were quite keen to figure out how it copes with the rigours of regular usage. We weren't disappointed.
Specs at a glance
5.5-inch, 1,280 x 720 display
13MP primary camera, 5MP front shooter
1.6GHz quad-core Snapdragon 400 processor
Adreno 305 graphics
1.5GB RAM, 8GB expandable internal storage
2,600mAh battery
Dual-SIM CDMA/3G + GSM, Wi-Fi, Bluetooth 4.0, A-GPS, DLNA, USB OTG
Android 4.4.2 with Sense 6

Style is its middle name
Encased in white plastic (it also comes in a more sedate black), the HTC Desire 816 looks unusually large for a device with a 5.5-inch display. Thanks to the wide bezels, especially above and below the screen, it could be a tad unwieldy to hold for those with small hands, but that said, looks gorgeous.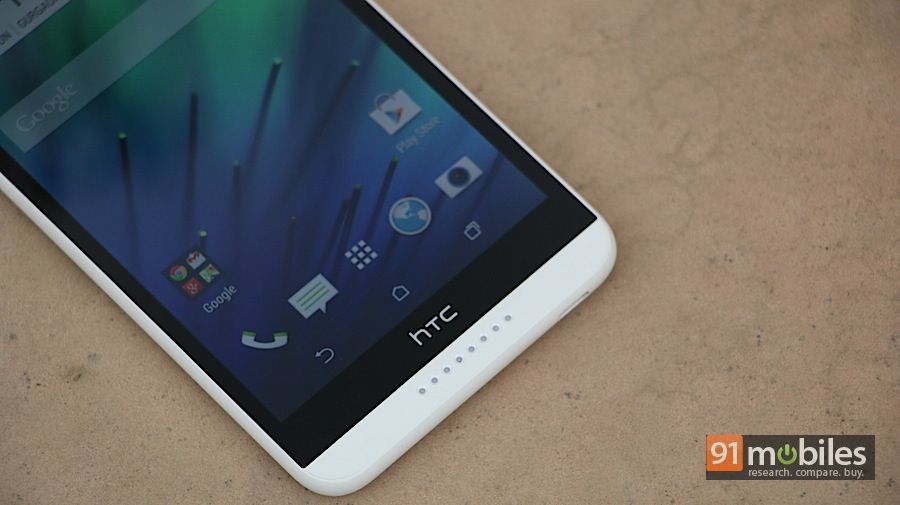 HTC's dual front speakers, aka BoomSound, make their presence felt on the fascia, despite that large screen dominating the proceedings. There are no dedicated hardware keys, since the usual Android navigation keys have been implemented as software overlays. So all you'll find on the front is HTC grading below the screen and the usual mix of sensors, front camera and a tiny notification LED on top.
The micro-USB port is at the bottom, while the 3.5mm audio socket is located on top.
The left spine is where the power key and volume rocker are placed – a tad unusual since we're more used to the power key being placed on the right. For a large device like the Desire 816, the power key placement does feel slightly unintuitive, especially if you're used to holding your phone in your left hand.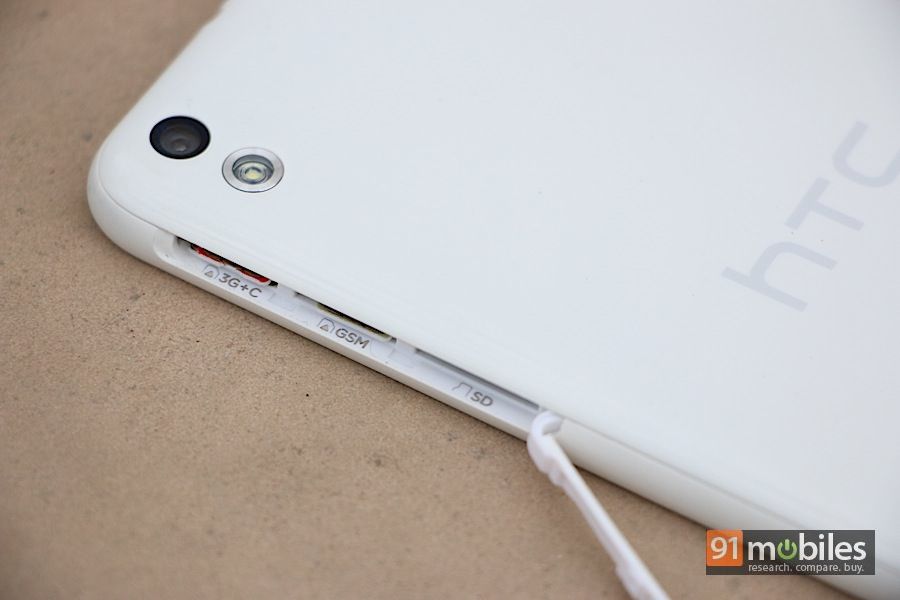 That's not to say that the designers have left the right barren. A long plastic tab on the right can be opened to reveal not one or two, but three orifices – home to the pair of nano-SIM cards and the microSD card. Yup, just like its more accomplished sibling, the One M8 (review), the Desire 816 is also friendly with SIM cards of the nano variety.
The sides of the device sport a matte finish, while the rear is glossy and could be prone to scratches. The primary snapper can be found here, where it should be, along with an LED flash and an HTC logo in the middle.
Large dimensions notwithstanding, we think that the Desire 816 is a looker for sure, and reaffirms our faith in HTC being a maker of some lovely-looking devices. The One M8's design and build are obviously quite fresh in our minds as we write this, but the Desire 816 manages to look quite distinctive on its own.
720 reasons to love the display
A resolution of 1,280 x 720 pixels on a 5.5-inch screen doesn't sound too exciting in a space full of 1080p displays, and results in a pixel density of a middling 267 ppi. This is just what the spec sheet says, but the reality is that the Super LCD2 display on the Desire 816 is pretty good. It throws up lovely visuals without any signs of pixelation, and makes colours stand out. The text is sharp, and everything from gaming to media viewing gets a boost. We don't have anything to complain regarding the viewing angles and sunlight legibility either.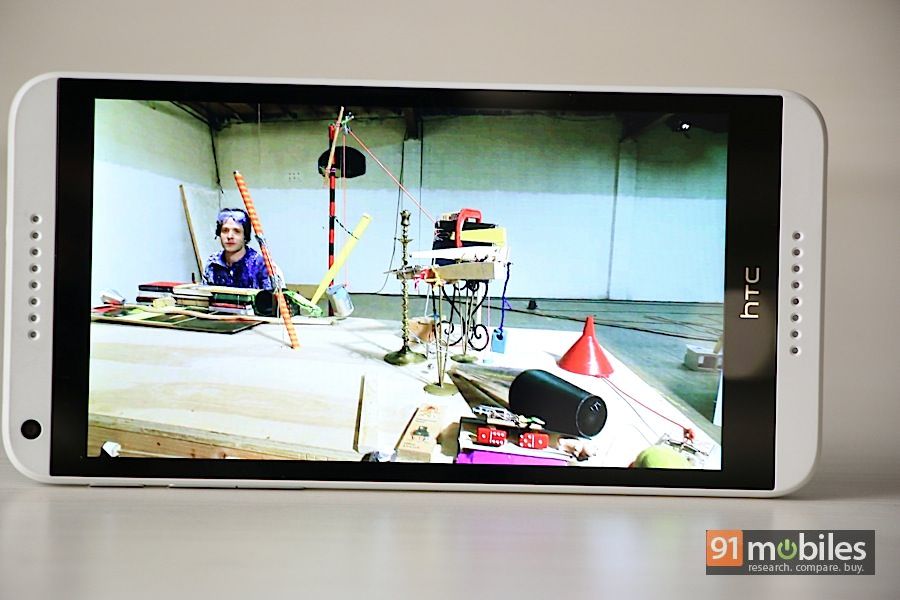 While the screen quality is of utmost importance for any mobile device, it's vital for a one whose raison d'être is its display size. And thankfully, the Desire 816 manages to impress.
Dumps UltraPixels in favour of 13 megapixels
While the One M8 rocks an UltraPixel snapper, complete with a depth sensor, the Desire 816 sticks to a more conventional 13-megapixel rear shooter instead. Also on offer is a 5-meg snapper in the front, handling selfie and video-calling duties.
Don't expect frills like Copy & Paste or Seasons like the One M8, and though there are just three basic modes in the camera app covering still, videos and selfies, you do get a range of filters and the ability to control settings like ISO, exposure and white balance.
Handily, you can switch between the front and rear cameras by swiping up or down from within the camera app too. Unfortunately, there's no background defocus mode, but you can make use of modes like continuous shot, HDR, and panorama.
When it comes to image quality, pictures shot in daylight display a fair amount of detail, while close-ups are quite decent as well. Low light shots are usable too, though understandably a tad noisy. Images of close subjects shot with flash don't look blown out, as they usually do with most smartphone snappers, and look natural. It's quite evident from the results that the primary shooter on the HTC Desire 816 is quite capable, especially in daylight. Here's a closer look at a few image samples from the Desire 816's primary camera.
KitKat and Sense at the base
It won't be unfair to expect any Android device launched recently to be running KitKat, and the Desire 816 runs exactly that. HTC's proprietary skin, Sense version 6 sits on top as usual.
For the most part, the UI is quite similar to what we saw on the HTC One (M8) recently, and most other recent smartphones from the brand.
The news and social feeds aggregator BlinkFeed is around, as expected. The UI features a clean look, with sharp fonts and a vertically-scrolling app drawer lets you hide or unhide apps, sort them the way you want and change grid size depending upon your preferences.
Since this is a dual-SIM device, you also get a Dual network manager to rename and control the two SIMs.
Smooth operator
The 1.6GHz quad-core Snapdragon 400 processor mated to 1.5GB of RAM keeps things fairly snappy. Routine tasks runs smoothly and without lag, and even graphics-heavy games play quite well. Suffice it to say that the Desire 816 won't let you down as far as performance is concerned.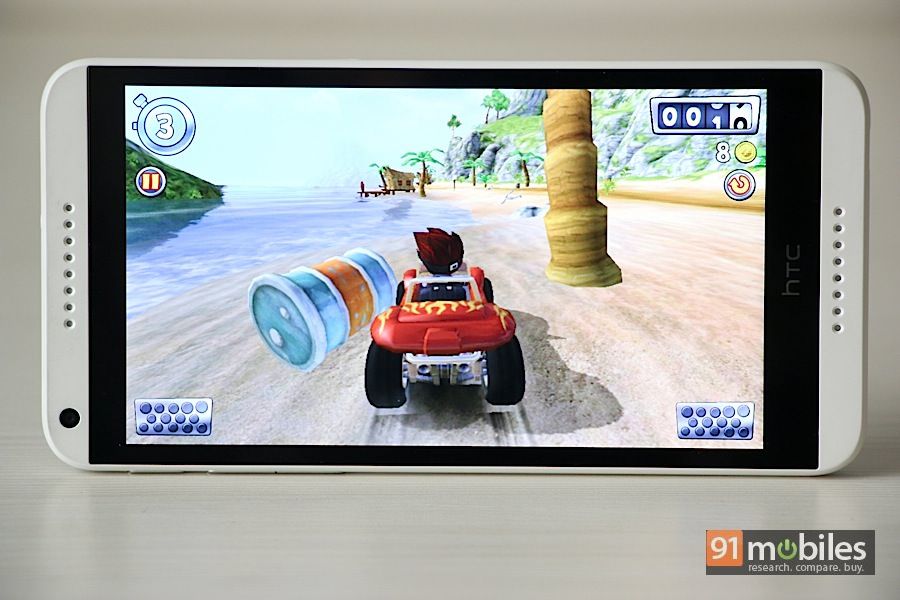 Connectivity options available include DLNA, but there's no NFC in case you're specifically interested in this feature. The device accepts nano-SIMs in its two slots, with the first supporting CDMA and 3G, and the second featuring GSM support. This is yet another feather in the cap for the Desire 816, and in case you're looking at CDMA support, this device stands out as an extremely compelling option out of the few available.
There's 8GB of internal storage on board, a little less than half is available to use, though you can add up to 128GB more via the microSD slot. Thanks to the USB OTG support, you can also connect external flash drives to the phone via an adapter.
And when it comes to the all-important battery life, the Desire 816 shines. Its sealed 2,600mAh battery packs in enough juice to last for a full day comfortably even with heavy usage, lasting us 11 hours in our video drain test where we play back a 720p video on loop with volume and brightness set at 50 percent. Apart from the usual battery saver, HTC has also thrown in the Extreme Power Saving Mode for times when you're in a crunch.
Verdict
A smartphone is supposed to be a Swiss Army knife, serving up a multitude of functionalities rather than just being a communications device. And when it comes to versatility, the HTC Desire 816 manages to differentiate itself well amongst the crowd, standing out thanks to a good blend of looks and performance.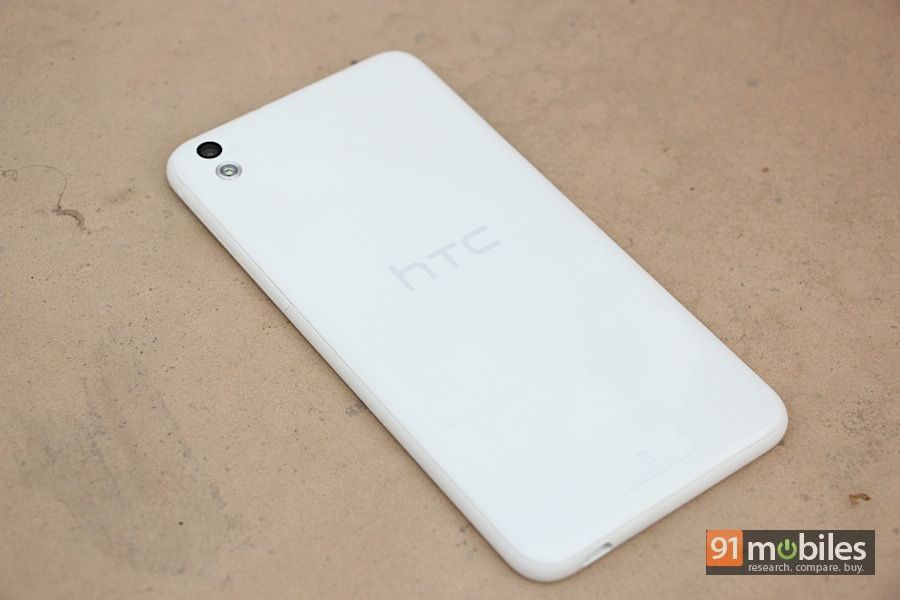 One of our gripes with the device is that it doesn't really have that one killer feature that would make it extremely flaunt-worthy. It's also quite large for a device with a 5.5-inch display. However, it racks up brownie points on most other fronts.
In case you need a phablet with CDMA support, the Desire 816 should be at the very top of your list. If you don't need CDMA however, you have loads of choice in the same price bracket. While the Gionee Elife E7 (review) trumps over the Desire 816 in terms of specs, do note that it's not dual-SIM and runs an older version of Android. In terms of dual-SIM support, the Micromax Canvas Gold looks quite worthy and features loaded specs, though we can't comment on its real-life performance yet. Sony's Xperia T2 Ultra Dual (review) is also a strong competitor, but we think the Desire 816 is a better choice.
The HTC Desire 816 has quite a few things in its favour. Its standout design makes it quite covetable, but it scores on quite a few other parameters, offering a lovely screen, smooth performance, a decent camera and very good battery life. And for most, this combination should be more than enough.
Price: ~ Rs 24,000
Editor's rating: 8 / 10
Pros
Stylish looks
Smooth performance
Supports CDMA on the primary slot
Capable snapper
Very good battery life
Cons
Large size could be unwieldy for some
Glossy plastic back could be prone to scratches
No killer feature
Photos and video by Pratik Vyas