The HTC Desire 8 will be a mid-range device with a 5.5-inch display and 13MP camera.
The first press render of the yet to be announced HTC Desire 8 has been leaked, along with information on its specs. Spotted on Chinese website MyDrivers, the Desire 8 appears to be a mid-range phablet.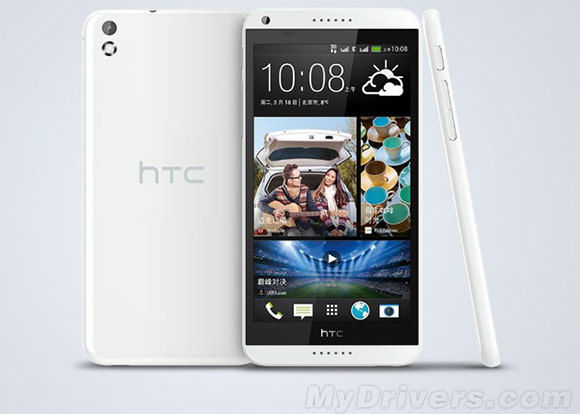 According to MyDrivers, the HTC Desire 8 offers a 5.5-inch display (resolution unspecified), which is the largest screen on a budget HTC phablet till date. It features a 13MP rear shooter with LED flash, and a 5MP front facing camera for HD-quality video calling.
Encased in a plastic body, the Desire 8 will reportedly be offered in red, white, yellow, orange and cyan colour options. From the render, the smartphone appears to sport dual-speakers in the front. The phone also doesn't seem to have the standard Android capacitive buttons. The rumoured HTC M8 was supposed be the first HTC device to feature on-screen virtual buttons, but now it looks like the Desire 8 may join in too.
No other details of the phone are available at the moment, but we presume it will offer Android 4.3 Jelly Bean, a quad-core Snapdragon processor and 1.5GB of RAM, at the very least.
According to the reports, the HTC Desire 8 will release in China next month, but there's no information about a global roll-out yet. There's also a strong chance that the phone will be showcased at MWC 2014 this month in Barcelona.