There are lot of interesting and useful paid android apps in the android market place. But as a consumer, some of you may like to try out the paid app before making full payment – ala test drive. Fortunately, there's a way to try out paid android apps before making the final purchase. Though this is not a pure "try before you buy" approach, this is a good work around to achieve the same. Basically, you pay for the app. You get a 15 minute window to play with the app. If you are not satisfied, you can get refund immediately. Here's how you do it:
Step 1: You visit the android marketplace, navigate to the desired app and buy the app. Yes, you have to buy the app first.
Step 2: Once you have bought the app, the app is now installed on your mobile phone or desktop. You can now play with the app and experience the full feature set for 15 minutes. [Let's keep the test drive time to 10 minutes]
Step 3: If you are not satisfied with the app, go to "My apps" section and tap the app for which you want refund. You would see a "Refund" button. You simply hit the refund button and app will be uninstalled from your device.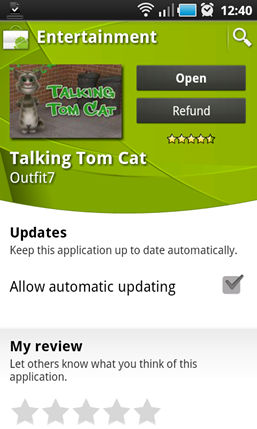 Step 4: As a final step, you will asked for a reason to uninstall the paid app. You will be asked to choose one of the following "I don't use or want it", "I need more space on my phone", "It's defective" and "I'd rather not say". For most part, you can choose the last option "I'd rather not say". Once you confirm the reason, the amount would be refunded to your account. You will get an email confirmation from google "You have uninstalled the application from your phone. We have cancelled your order and you have not been charged". Once you receive this email, you can be sure that the money is refunded.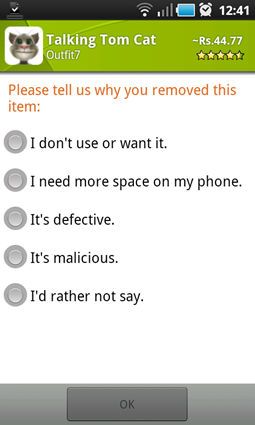 Google has officially updated their refund page. There are couple of points to be kept in mind:
1. You have 15 minutes from the time of download to return an application purchased through android market for a full refund.
2. You may only return a given application once; if you subsequently purchase the same app again, you may not be able to return or get refund for the second time.
Prior to this, the window for refund or return was 24 hours. Google has shortened this window from 24 hours to 15 minutes. This is a step towards encouraging the developers while still allowing the consumers a way to test drive the application.