Nokia Lumia 800
is the first Windows run smartphone from the Finnish mobile phone maker Nokia. This smartphone comes in a sleek design and with all the future proof connectivity options. Nokia Lumia 800 comes pre-loaded with the latest version of Windows OS 7.5 Mango. This smartphone comes with a 3.7 inch AMOLED Capacitive touchscreen display and sports an 8.0 megapixel camera. Ever since the phone launched to the mobile world, there are no major complaints with the device. However, the phone carries a few disappointments like, lack of front facing camera and lack of NFC capability. Coming back to our discussion, we shall today learn how transfer the contacts to new
Nokia Lumia 800
from the old phone.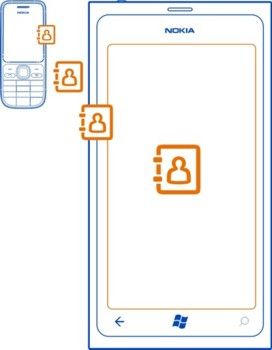 Use the Contacts Transfer app to easily copy your contacts from your old phone. Your old phone needs to support Bluetooth. The contacts on your old phone need to be stored in the phone memory, not on the SIM card. To transfer the contacts from old phone to new Nokia Lumia 800 follow the steps shown below.
Turn on your old phone and switch on the Bluetooth connectivity.
On the start screen of your new phone, swipe left to the apps menu, and select Contacts Transfer.
Select Continue, and switch Bluetooth on.
Select your old phone from the list of found devices, and follow the instructions shown on both phones.
If your contacts are written in a language that is not supported by your new phone, the contact information may not be shown correctly. Also, if you have previously taken a back-up of your contacts in Windows Live, you can import them to your phone directly from the service.
via [Nokia]