Both the devices, Apple iPhone 4S and iPhone 4 uses a micro SIM which is just 15 mm × 12 mm in size and the same SIM tray. While the standard Mini SIM used with other mobile phones come in 25 mm × 15 mm in size. So, iPhone users must replace their existing SIM to micro SIM with the service network operators. Also, there are some mobile phone store keepers will trim the regular SIM to the micro-SIM size. However, it is always advisable to use the micro-SIM provided by network operators. Now, we shall understand how insert and replace SIM card in Apple iPhone 4S and Apple iPhone 4 in simple steps. Steps to Insert a SIM card:
Take a simple paper clip and make it straight.
Check the right side of your iPhone 4S or iPhone 4 to locate the SIM tray.
Insert the pin into the small hole and push it slightly until the tray pops-out. Now pull out the Sim card tray with your hands.
Place your Micro SIM card into the SIM tray. Make sure it fits perfectly and the golden circuit side of SIM is faced downwards.
Push the tray back into slot in the same manner you ejected it out. You'll hear a click upon successfully placing the tray in its place.
Wait for iPhone to recognize the SIM card.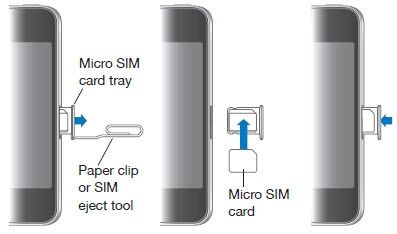 Hurray !!! you're done.