"The pair of camera lenses on the back of the Honor 6 Plus look like eyes peering back at you"
[Update: the Honor 6 Plus has been launched in India on March 24th, carrying a price tag of Rs 26,499]

Brands like Nokia and HTC come to mind first when it comes to innovation on smartphone camera tech, but that doesn't mean others are just twiddling their thumbs. Shooting prowess has always been one of the most important criteria for buying a new smartphone, and brands themselves have been using this as a differentiating factor to sell their offerings. New trends such as the selfie phenomenon are adding to the mix, and of late, we've seen brands play up on that aspect too… loading up their smartphones with powerful front cameras and special features to aid in shooting selfies. The fact that the new Honor 6 Plus comes with an 8-megapixel front shooter may not raise too many eyebrows then. But take a look at the rear and you'll see not one, but two lenses, and that's exactly what this device's mainstay is. The device was unveiled in China back in December, and was later made available for global shipping.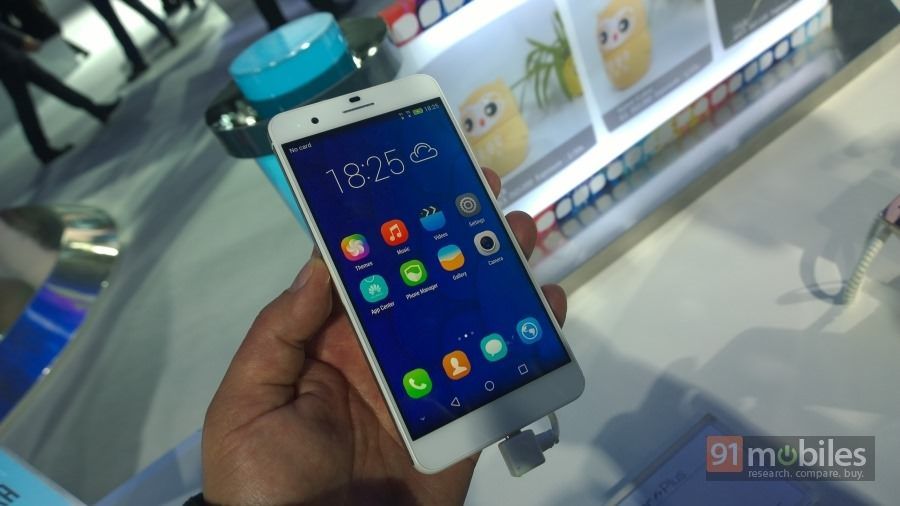 We've seen HTC try something like this with the One M8 (review), adding a depth sensor at the rear to complement the primary sensor, capturing depth info along with each image to enable some really cool post-shooting effects and features. With the Honor 6 Plus though, the brand offers two 8-megapixel sensors, calling them 'dual parallel' cameras. These sensors capture more light, thereby improving image quality in a variety of different conditions, especially low light. The combination also offers superfast HDR captures, along with capturing depth information just like HTC to enable a real background defocus mode that can be used after shooting.
Apart from this hero feature, the Honor 6 Plus also offers powerful specs that include an octa-core Kirin 925 chip clocked at 1.8GHz, 3GB of RAM and 16/32GB of expandable storage. The connectivity options cover 4G and dual-SIM support, apart from the usual stuff such as dual-band Wi-Fi and Bluetooth.
We got our hands on the noteworthy device briefly at MWC, so let's take a quick look at the design and build.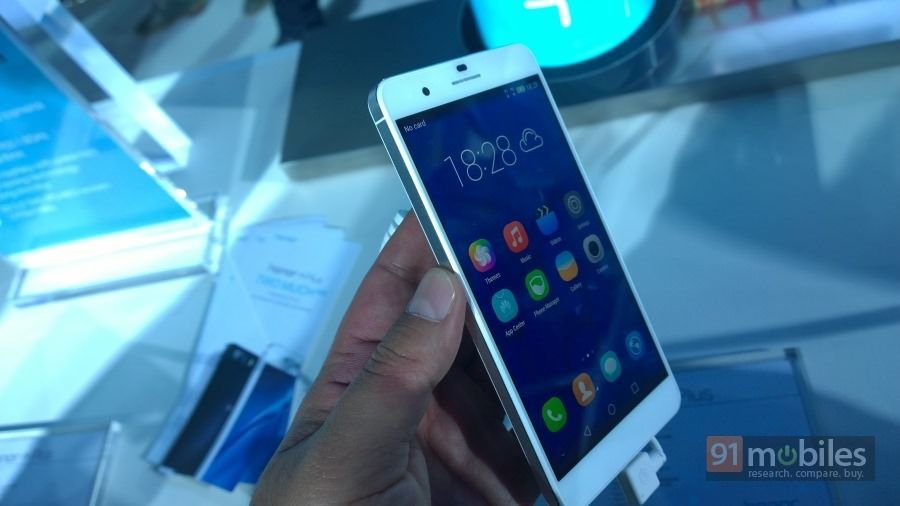 Encased in plastic and glass for the most part, the Honor 6 Plus also rocks a metallic frame that goes all around the sides except the bottom. The 5.5-inch full HD displays takes place of price on the front, with the usual mix of earpiece, front camera and sensors on top. There are no navigation keys below, since these are implemented as software overlays. The metal frame adds a touch of class, and also helps make the build more solid.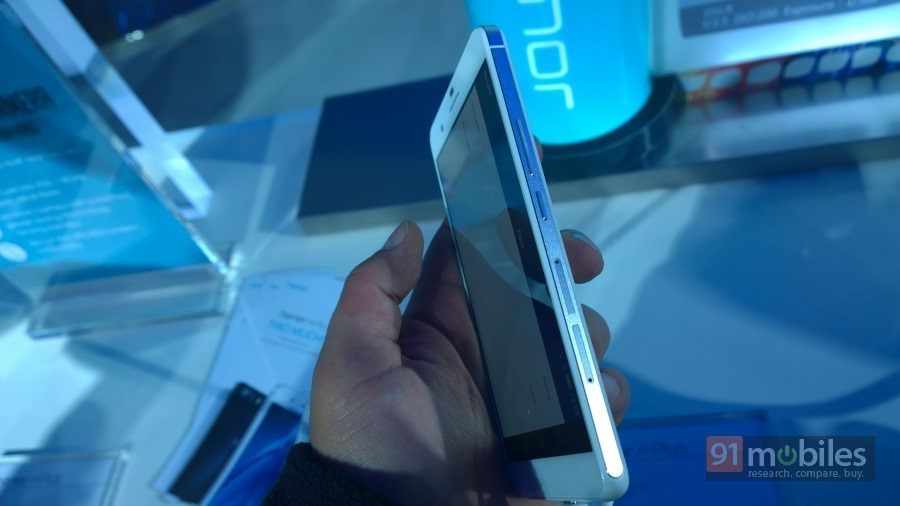 Port placement is standard – with the 3.5mm audio socket on top, micro-USB port at the bottom, and volume rocker and power key on the right. Ejectable trays for the microSD and SIM cards are also located on this side.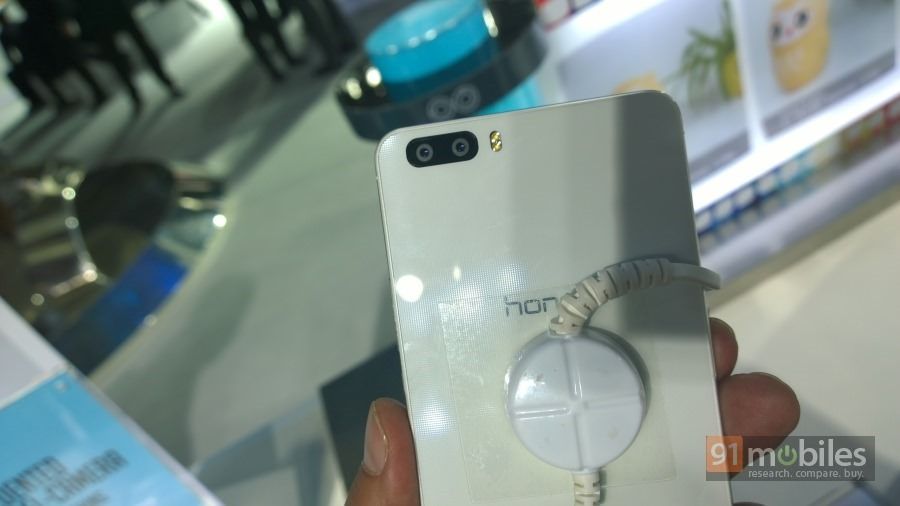 The rear sports a subtle textured pattern, and the pair of lenses on top draw attention immediately. There's a dual-LED flash right alongside, with Honor branding closer to the centre and a speaker mesh below.
The software side of things include Android KitKat, with EMUI 3.0 loaded on top. The colourful interface doesn't offer a separate app drawer, and instead uses multiple home screens to display all installed apps. A bunch of them come preloaded, and as usual, you can create custom folders to organise them as per your whims and fancies.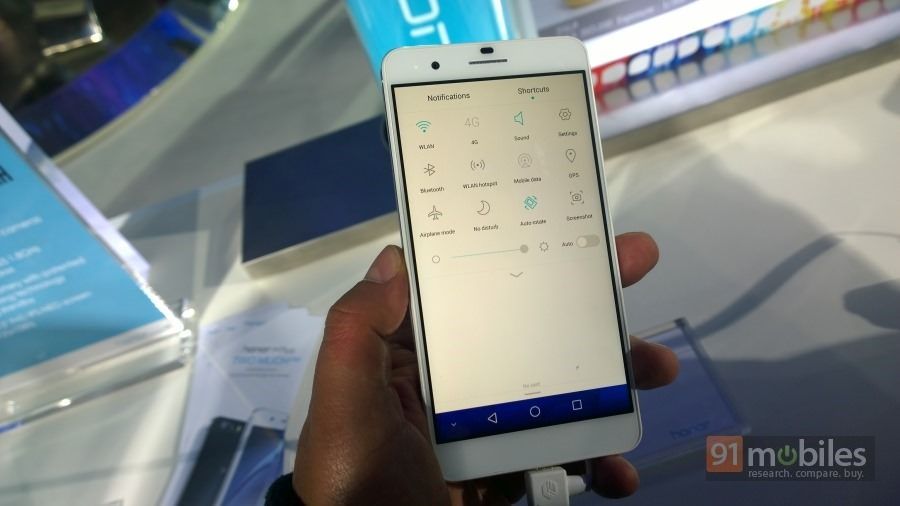 A two-paned notification panel lists notifications and quick settings separately, and our 16GB demo model had about 10GB of free storage… though we'd want to wait for a review unit to confirm the exact specifics. There's support for double-tap-to-wake as well as standby gestures, such as drawing the letter 'c' on the standby screen to launch the camera directly.
If our time with the Honor 6 Plus was any indication, it won't be unreasonable to expect smooth performance. However, its the shooting prowess we're interested in, and to see how that 3,600mAh battery holds up in real-life usage. Hopefully, we'll have the answers quite soon, since we hear that the device is about to be launched in India quite soon.