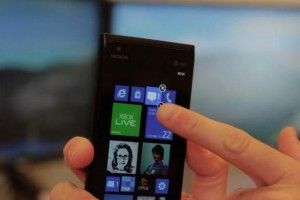 Just a week ago, news about
Nokia Lumia 900
to receive Windows Phone 7.8 update buzzed around, and now we can see the live experience of Windows Phone 7.8 in Nokia Lumia 900. The best part about this new Windows Phone 7.8 update is that it comes with a new start screen. The new start screen is just awesome. You can access Windows Phone 7.8 in a new dimension through this smart start screen. This start screen will enable you to easily modify your tiles to S/M/L sizes. There are lots of customization features offered to you by which you can conveniently personalize the start screen settings. People have really applauded the resizing of tiles feature of this new start screen. Small sized tiles suits those people more who are not addicted to texting. By adjusting your start screen to small sized tiles, other apps like email, videos and music gets enlarged and you can easily access them. You can also shift to medium or large sized tiles as they have their own benefits. This trendy and smart looking start screen will attract your eyes instantly. Microsoft has also released an official video to display their new Windows Phone 7.8 start screen:
Windows 7.8 new start screen
Microsoft has also announced that people can update themselves with the latest development in Windows phone by visiting its new web page WindowsPhone.com. Check it out and explore as much as you can.