At BUILD conference ending last week, Microsoft unveiled its new Operating System- Windows 8.1, a much-needed upgrade to Windows 8, which was released just last year in October. Since, its launch, people were bashing the OS for its confusing tile-based interface (also called metro), need to use gestures even for a small tasks like shutting down and most importantly the missing Start Button which people were habitual to see and use since the days of Windows 95. Windows 8 was actually intended to marry computers/ laptops with portable devices like Tablets (
Microsoft Surface
), while it worked flawlessly in touch-based devices since gestures are a great way to use them, it ended up giving a bewildering experience on normal computers. With this update, Microsoft intends to change all such small quirks and adds some interesting features such as-
Return of the Start Button
Yes! Microsoft seems to have listened to the customers and brought the Start Button is Windows 8.1. The start button is the best way to launch applications or tasks since its always available at the screen. But, don't jump with excitement right now, because Start Button is certainly there in 8.1, but with some caveats. Most important being showing the same tile-based menu (tiles can be live as well) of Windows 8, instead of familiar launcher in previous versions. Interestingly, for normal apps, Start Button will be present as always and for Windows 8 style apps, the start button will appear once you hover at the lower left portion. Though the button may not give any added functionality, it's certainly reassuring to long-time Windows users since it bears a familiarity with older Windows.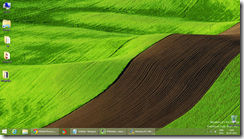 Revamped Start Screen
Along with Start Button, the Start Screen itself has undergone some subtle changes. It allows you to resize the tiles into Large, Wide, Medium and Small depending upon the tile and its program. The biggest beneficiary of these sizes is live tiles such as Weather Tile in Large format shows not only today's weather details but tomorrow's as well. However this feature wasn't supported in all apps, but in future updates it could be really useful to see 2-3 e-mails in the Mail app, without even opening it. The tiles can also be regrouped and each group can be named for easier accessibility and categorization. Other options for customizing and uninstalling/ open as admin are shown when the app(s) are right clicked in a similar manner to Windows 8. Microsoft have also taken care of even nitty-gritty details and hence allows to personalize the Start Screen background by changing backgrounds and colours. The background moves when the user scroll the tiles giving the effect of live animation. For example- The default background have a animation showing bubbles coming from fish's mouth whenever one scrolls. If the start screen feels disconnected to you from the normal desktop, then you even have the option of using the desktop wallpaper only for the start screen.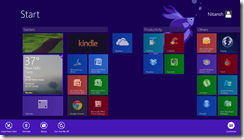 Unlike Windows 8, where each app installed created its tile in the start screen and thus cluttering it, Windows 8.1 requires users to explicitly pin the app to show its tile. Otherwise, users can access it from all apps menu, which is prominently shown as downward arrow in the start screen. While the start screen can't feel like the start button in previous buttons, it can be very close to that by enabling the setting which allows users to see All Apps menu by default whenever they click Start Button.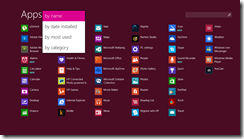 Even if all the above changes to Start Screen don't excite you, then Microsoft offers
Boot to Desktop Mode
which opens desktop by default whenever computer is started.
Unifying Search Experience
This was one of the biggest grouse with Windows 8. People were totally confused about the working of Search functionality which showed different results about the term in Settings, Programs, Files, etc. Moreover, it occupied the whole screen and user had to leave the work they may be doing. In Windows 8.1, the Search opens the same way as of Windows 8- via charms bar or start typing in Start Screen, but that's where similarity ends. Now, the search results are uniform and show all the finding in a list at the right hand side of the screen. If you're not satisfied with the search results from your computer, hit the return button and you'll be shown the results from the Web searched through Bing. Depending upon the query, the results can be a simple web URL to a visual biographical information about a person taken from Wikipedia along with images and normal websites. Microsoft aptly calls these intelligent search results as "Search Heroes". The functionality seems really useful for finding stuff on computer, but for web results people usually turn up to the browsers and Google. Moreover, even these web results would require to open Windows apps for more information or open the links in a browser. Still, knowing that search is just a click away, it can be really effective for finding some things quickly.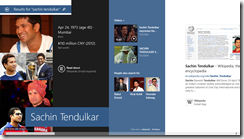 Informational
Lock Screen
Lock Screen in Windows 8.1 provides many useful information such as Weather, Mail, Alarm, etc. It can also be customized with Twitter and such apps to so notifications. Use of Skype app in the lock screen allows user to voice/ video chat from the lock screen itself and users can also use camera app to capture images. One can also run a slideshow of images in the Lock Screen.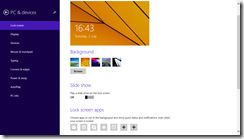 Windows Store and Apps
The Windows Store has now more than 80,000 apps ranging from communication to productivity to entertainment. The store has now improved interface focussing on detailed information about apps in various categories of Top Free apps, new releases, etc. The descriptive and informative app details also shows related apps to help you find more apps. There would also be an option to automatically update the apps. Windows 8.1 also brings changes to in-built apps from Microsoft. The Photos app not just opens the photo, but also gives option for quick editing. Music app have also been renamed to Xbox Music and also have a new design. In the future updates, Xbox Music app will also get a Radio feature to discover new songs. There's also Fresh Paint app which like Paint app gives option to create/ edit photos by using oil paint, water colours, etc. for and Camera app captures photo before and after once press capture button (similar to Zoe feature in HTC One). There's new apps like Health and Fitness for tracking your health and Food and Drink showing recipes and option to create shopping lists. The apps also enjoy the better Snap mode feature which allows snapping up to 4 apps at a time depending upon the screen size of the device. For example- an 8 inch tablet will show only two apps in split-screen mode while a desktop with 27 inches monitor can show up to 4 apps simultaneously. In Windows 8, only two apps could be snapped together and that too sharing 50:50 space, but in Windows 8.1 not only more apps can be snapped, they can also be resized in 70:30 spacing.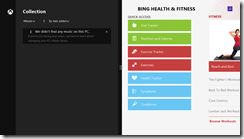 Other Enhancements
Apart from these major changes, Microsoft has updated many other things like-
Improved PC Settings:
PC Settings is a great way to adjust some important settings of Windows, without even opening the Control Panel. The updated version gives direct access to personalization options, details about Windows, and much more.
Internet Explorer 11:
IE 11 continues the advancements of IE 10 and offers faster page loading and numerous other features.
Mouse and Keyboard Compatibility:
As said earlier the Microsoft was more skewed towards touch devices in Windows 8 and thus leaving out users who used computers with keyboards and mouse. Windows 8.1 has some nice changes for better navigation for non-touch devices.
Reading List:
This allows users to bookmark pages from IE or modern Windows 8 apps and access them later through it.
How to get Windows 8.1?
Windows 8.1 can be installed as an update to the computers in which Windows 8 in running. To install in your computer follow these steps: 1) Windows 8.1 preview can be downloaded from
Microsoft website
as an ISO file depending upon the version (32-bit or 64-bit). 2) Once downloaded, mount the ISO file and run the setup file. 3) Make sure to select the option of '
Keeping Windows settings, personal files and apps
' or '
Keep personal files
' for keeping them intact respectively depending upon your needs, else the Windows 8.1 installed will remove all your data. 4) Enter this Product Key when prompted:
NTTX3-RV7VB-T7X7F-WQYYY-9Y92F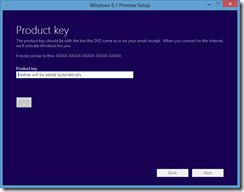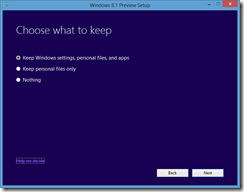 Keep in mind that this is Windows 8.1 preview version and may not function well every time and is expected to crash as well.
Closing Thoughts
Windows 8.1 doesn't have any game-changing features, but what it have is a refined user experience and improvements where Windows 8 was lacking. This is much more important than new features as it shows that Microsoft is listening to its customers. The best part is that Windows 8.1, with its refreshed interface and nifty features seems to works well in both touch and non-touch devices, and thus we can be sure that Microsoft is not turning its back on computer users for going towards portable and touch devices. The final version of Windows 8.1 will be released in Fall and we may see some more useful additions to it. Stay tuned and over the next few days we'll bring tips and tricks for getting more out of Windows 8.1. Are you pumped about Windows 8.1 with these changes or you're content with Windows 7 and these features aren't enticing enough for upgrading? Share with us in the comments below.