Nielsen is a well-renowned name when it comes to media market research. As part of their study, they conduct market research across all media channels such as television, print and new medium which includes internet and mobile.
Based on the most recent data, nielsen has published some interesting statistics. Both of them show the prowth and momentum of Android vividly.
The first chart shows that among the people who bought smartphones between January 2010 and August 2010, android is the most popular platform choice with 32%. Blackberry RIM and Apple iOS are battling for the second position with 26% and 25% respectively. If you observe the chart carefully, there are two spikes for android. One in March-April and another in July. This trend matches with the mobile phones launched in the respective platform. More and more manufacturers are adopting Android and launching more models with android platform. Tough time for Apple and Blackberry.
The second chart shows the operating system share among all the smartphone owners. Needless to say, Blackberry tops the chart with 31% market share followed by Apple with 28% market share. Android has 19% market share. What's interesting is the velocity of growth for Android. If the same momentum continues, very soon android will become the most popular operating system for smartphones.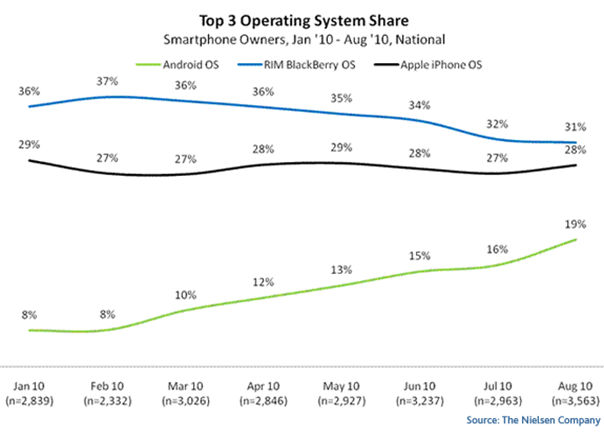 Reference: Android most popular operating system in US