"The GOQii is an innovative marriage of a fitness tracker and a personal coach"
Wearables, especially fitness bands, are a big deal globally, and have just started mushrooming in India as well. The GOQii is the latest entrant, but it'd be unfair to tag it as a gadget that sits on your wrist and monitors physical activity, since it goes much beyond that. Instead of just giving you a band and a companion app and leaving you to fend for yourselves, it includes the services of a personal coach who analyses the data captured by the device, helps set fitness goals, and guides you towards a healthier lifestyle. Rather than being available as a product then, the GOQii has to be bought as a service, and you can opt for a six-monthly or an yearly subscription. The subscription will cost you Rs 6,999 for six months, while an yearly deal will set you back by Rs 11,999. Rewards points for attaining goals isn't a new idea for fitness bands, but GOQii has twisted the idea on its head with its so-called 'Karma points'. You accumulate these over a period of time, depending upon your levels of activity and how well you're able to attain the fitness goals. Once you reach a certain number, you can choose to donate your points, with a few specific NGOs and social causes being the beneficiaries. This attaches another motivational factor to the deal, so in theory, you can do some good for yourselves and while you're at it, also do some good for others less fortunate.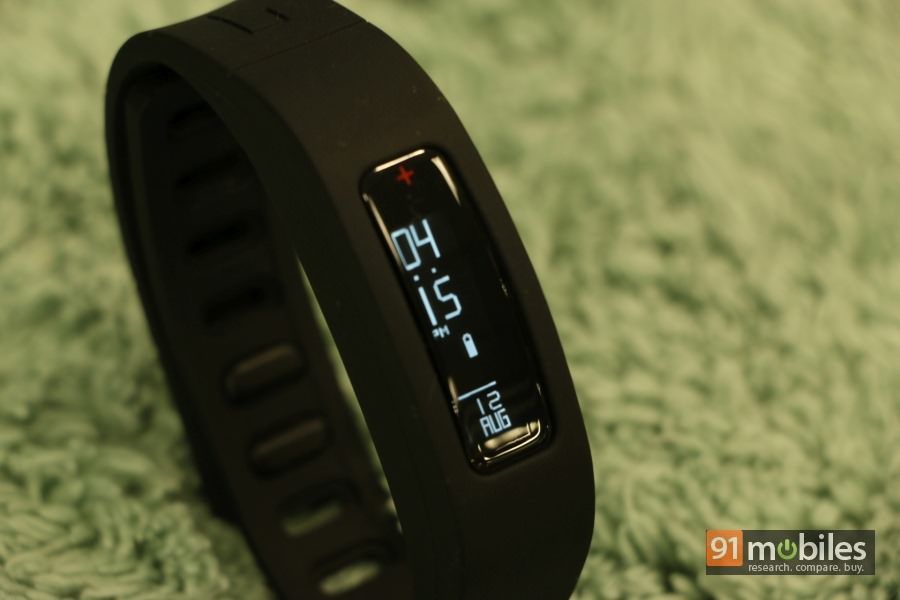 The innovative concept sounds great on paper, but we had tons of queries in our minds when we first heard about it, mainly pertaining to how it'd work exactly. So we jumped at a chance to try it out for ourselves and voila, GOQii had the funky-looking cuboidal box sitting on our desk in a jiffy. The package (including the band and the attached service) has quite a lot to offer, and it could just be the start of our little journey with it. First things first though – here's a closer look at the packaging and the GOQii band itself.
The band (black in our case) sits right on top. Along with it, there's a tiny quick start guide, plus a scratch card carrying the activation code for the subscription.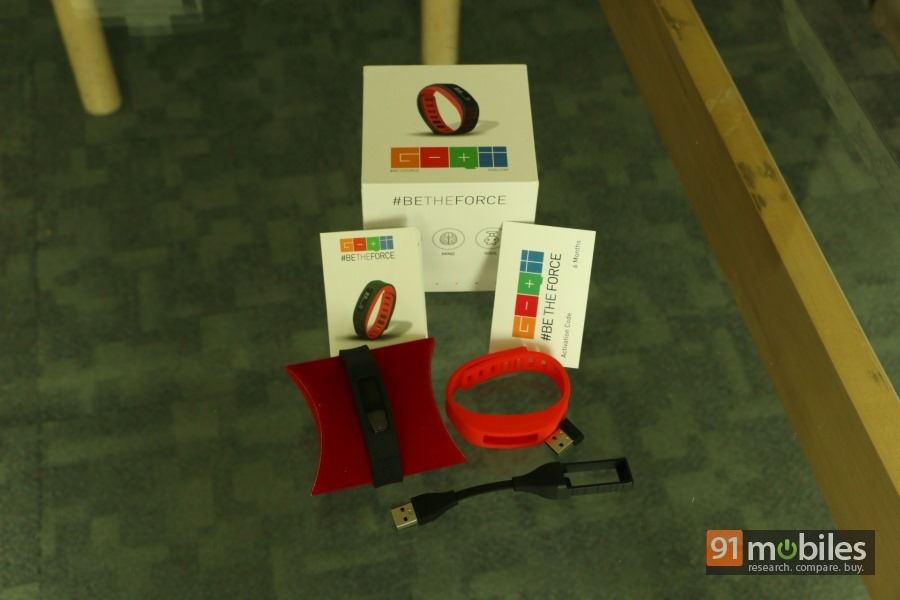 You'll also find a plastic bag hidden at the bottom, containing an extra strap (red), a tiny Bluetooth USB dongle, and the proprietary charger. Apart from Android and iOS, the GOQii can sync data to PCs too, and the Bluetooth dongle comes in handy in case you intend to sync it with a computer that isn't Bluetooth enabled.
The band itself is made of flexible rubber, and uses a pair of conjoined studs to lock around your wrist. The removable core is ensconced inside a cavity in the middle, and unlike the Sony SmartBand (review) that doesn't have a screen, features a touch-sensitive OLED screen to display the time and fitness data. You need to remove the core from the band and pop it into the charger to juice it up, and the charger itself is a small contraption with a tiny USB cord that plugs into an available port on your PC, or into a regular USB phone charger.
We can't say we're enamoured by this implementation, as you may forget to carry it with you or worse, misplace it and watch your GOQii battery die without any hope of revival, at least till the time you get hold of a replacement. The core in the Sony SmartBand was much better in this respect at list, since it sported a regular micro-USB port for charging, while retaining its resistance to water. On the positive side, the GOQii is water-resistant too, and you can wear it in the rain or while taking a shower without worry, though it's not designed to survive a dip in the pool.
Setting up the GOQii involves creating a profile on its website, activating your account using the code provided on the included scratch card. The online form requires you to fill in details including your height, weight, gender, and date of birth, along with info on your lifestyle covering level of physical activity, eating habits, sleep patterns, stress levels, vices such as smoking and alcohol intake, history of illnesses etc. A personal coach is assigned, who gets access to all these details so he or she can guide you towards a better, fitter you.
We set up the GOQii with an Android smartphone, and the companion app feels slightly laggy at first glance. It's nicely designed though, and handholds you through the pairing process over Bluetooth. The first sync also took a while, but once it's set up, the app captures data such as number of steps walked on its own. Sleep patterns are also monitored, but you need to make sure you activate sleep mode on the GOQii before you head to Slumberland, and deactivate it once you wake up. You're required to input other data manually, such as details on specific physical activities such as running or cycling, the daily food intake complete with letting you snap pictures of what exactly you've been consuming, the amount of water you've drunk etc. All the data gets sent to your coach via the app. The app has built-in chat functionality, allowing you to interact with your coach directly, and apart from the app itself, notifications are also sent to your email ID. The coach also interacts with you via phone or Skype calls, using a pre-determined and mutually convenient time to chat. Based on your specific body type and health, along with the other data available, the coach can set goals to accomplish. There's a social aspect to the app too, and you can hook with others using the GOQii and see what they've been up to in terms of goals and activities.
The GOQii's screen wakes up when you tap on it, displaying the current date and time along with indicating battery status. Repeated taps will cycle through different screens displaying number of steps walked, calories burnt, distance walked, sleep and your Karma points. Sleep mode can be activated or deactivated by keeping your finger on an active screen for more than three seconds, and then confirming the action by another tap.
As we mentioned earlier, the above is just one side of the story, and we have yet to figure out how well does the GOQii, along with the attached personal coach service actually work. Early days yet, but we'll have more on the innovative GOQii soon. Now if you'll excuse us, we'll go walk around the office a few times so we can meet the walking goal for the day.