Google has launched a refreshed version of its Image search, in order to make it more advanced and dynamic.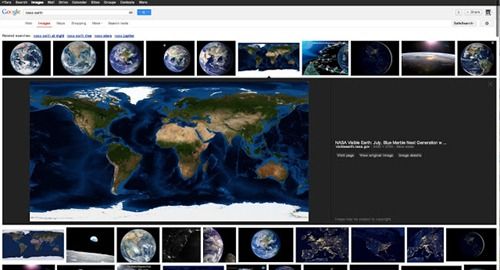 Currently, When you search for images on the Google, they appear in thumbnail view and don't carry any information or content about them. If you want to get some information about a particular image, you have to place your pointer over the image and click it.
The New Google's image search is added with enhanced features. When you search a new image, you will see a many smaller images in thumbnail view and an enlarged central image, also containing its information.
The new interface will minimize your pointer's clicks and hovering over the page.
Hongyi Li, Associate Product Manager, Google Images posted detailed information on official blog about the changes made to Google's Image search as:
We now display detailed information about the image (the metadata) right underneath the image in the search results, instead of redirecting users to a separate landing page.
We're featuring some key information much more prominently next to the image: the title of the page hosting the image, the domain name it comes from, and the image size.
The domain name is now clickable, and we also added a new button to visit the page the image is hosted on. This means that there are now four clickable targets to the source page instead of just two. In our tests, we've seen a net increase in the average click-through rate to the hosting website.
The source page will no longer load up in an iframe in the background of the image detail view. This speeds up the experience for users, reduces the load on the source website's servers, and improves the accuracy of webmaster metrics such as pageviews.