Google powered Android OS (Operating system) based mobile phone will get an update for the Google Translate. The application has now got the real-time conversation translation function. This enables the better communication between two parties (currently supports English and Spanish). The application available in Android phones supports 53 languages and voice input for 15 languages.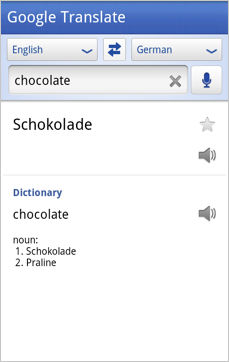 The newly updated application available in the market now supports the Android 2.1 and above versions. This new version includes, a drop-down list which enables the user to choose the language he prefers. The key highlights are romanization of non-Roman scripts and spoken translations and machine translation. The older version features
Dictionary results

Text-to-speech

Voice input

History/ Star favorite translations

Conversation mode view

Text-to-speech
Voice input
History/ Star favorite translations
Conversation mode view
Android users can directly update to the newer version just by a click.