"There's much more to the Pixel and Pixel XL than just flagship-level specs"
At its Made by Google event, the Alphabet-owned company showcased an entire portfolio of hardware, ranging from an Amazon Echo-like smart speaker to a 4K-enabled Chromecast. But the mainstay of the event was Google's smartphones – the Pixel and Pixel XL. With these phones, Google is aiming to take the iPhone 7 and 7 Plus head on – and that shows both in terms of pricing, as well as the premium positioning. The pricing for the Pixel phones starts at Rs 57,000 and goes all the way up to Rs 76,000.
Similar to Apple's bifurcated strategy for its two iPhones, the Pixel devices are available in two screen sizes of 5-inch and 5.5-inches respectively. They come fuelled by top-notch hardware in the form of quad-core Qualcomm Snapdragon 821 chipsets, 4GB of RAM and 32GB of storage (available with 128GB memory as well). The cameras at the rear are rated at 12.3-megapixels, while for selfies, the devices feature an 8MP snapper. Powering the show on Pixel and Pixel XL are 2,770mAh and 3,450mAh batteries respectively, along with support for quick charge.
Related reads: Google Pixel and Pixel XL unboxing and first impressions | Top announcements from the Google Pixel launch event
The top-end specs aside, the Pixel and Pixel XL also bring a few unique features to the table. Here are the top five.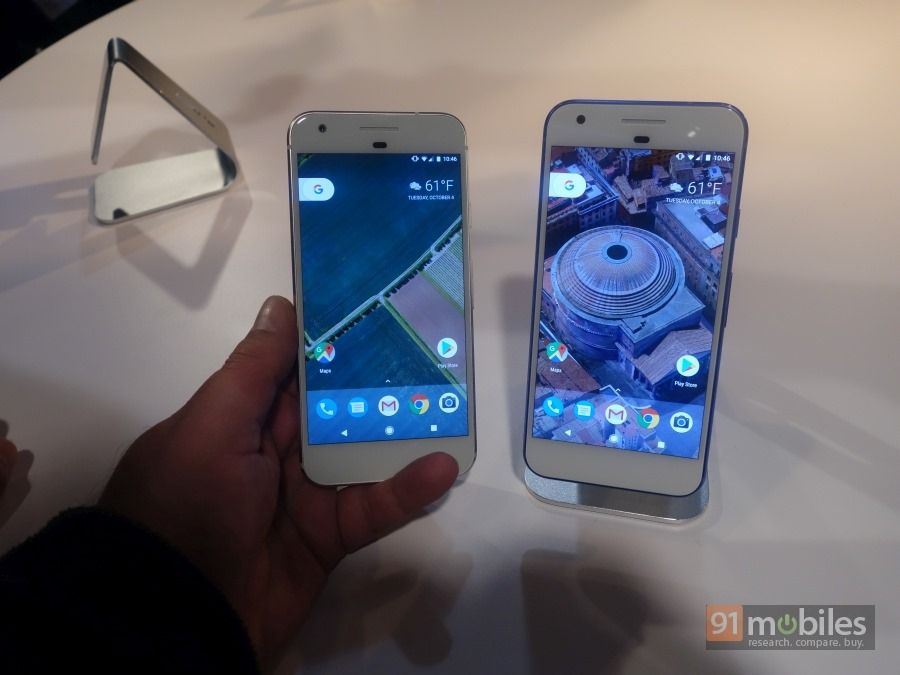 1. They sport advanced cameras
Nexus smartphones have usually struggled with their imaging capabilities, though last year's 5X (review) and 6P (review) upped the ante in terms of picture quality. Taking things to the next level, the Pixel and Pixel XL sport 12.3MP snappers with larger 1.55μm sensors, promising better low-light performance. The cameras also come with fast autofocussing capabilities thanks to the combination of phase detection and laser autofocus.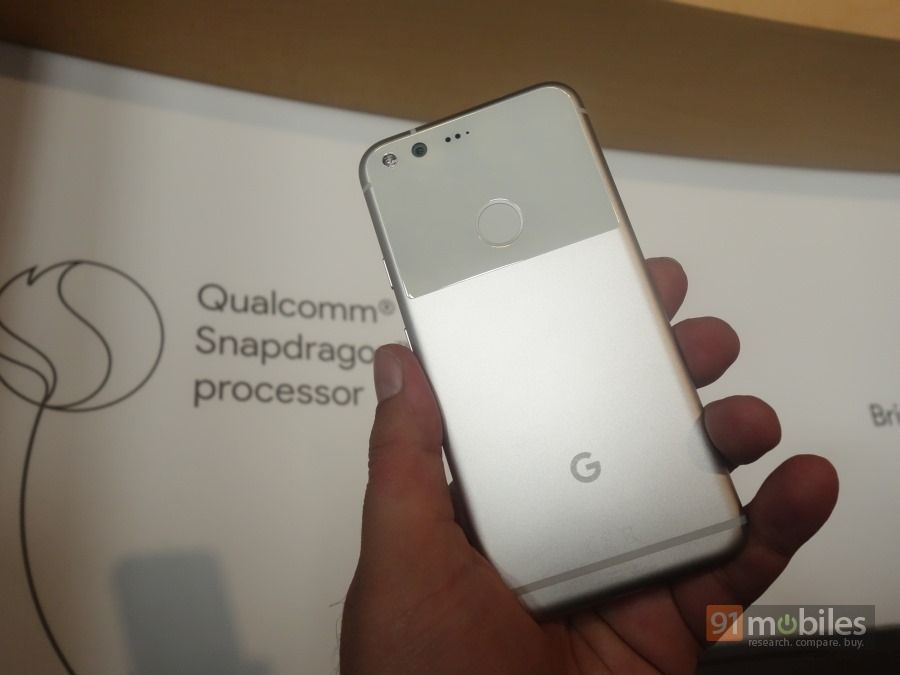 Along with the capable imaging hardware, Google has also worked on the software aspect. The exclusive Pixel Camera app enables the HDR+ mode by default, which unlike the regular HDR mode, captures images at multiple short exposures, resulting in better image quality. Google claims that the image processing is instantaneous and there's zero shutter lag, which means you can capture action shots with HDR+ too. There's also a Smartburst mode that takes multiple pictures in a quick succession, and finds you the best one.
But the biggest proof of the Pixel and Pixel XL's imaging prowess comes from the fact that they got a DxOmark rating of 89, which is the highest score ever achieved by a smartphone – ahead of the Galaxy S7 siblings and iPhone 7 twins. DxOmark rates the phone's camera on various parameters, although the scores may not reflect real-life performance, as was the case with highly-rated devices like the HTC 10 (review) and Sony Xperia Z5 (review).
2. They offer unlimited cloud storage for photos and videos
Google launched its Photos app in 2015, which offers users unlimited storage for their photos and videos in a compressed format. For users who want backups in original resolution, the storage is counted against Gmail's 15GB quota. With the Pixel and Pixel XL however, Google is offering unlimited storage for full-size images and videos. This means you can upload as many as 4K videos or images as you want, which certainly is an attractive proposition for shutterbugs.
3. They run an 'exclusive' version of Android 7.1
The Pixel and Pixel XL are the first to run Android 7.1 Nougat out-of-the-box, but what many might have missed is the fact that some features in the software are exclusive to the smartphones.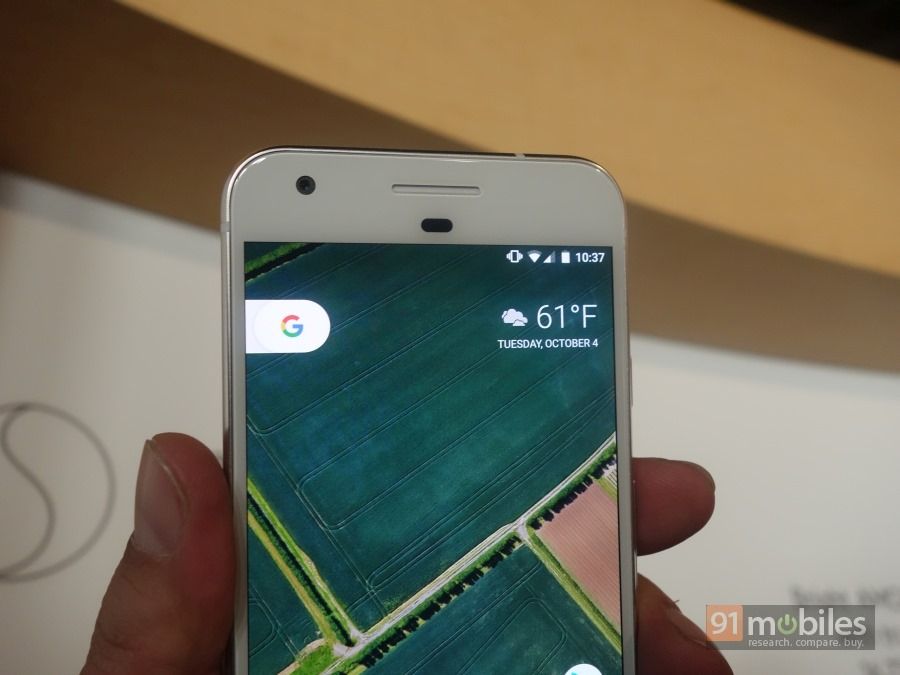 Google has said that the new Pixel Launcher (overview) will be exclusive to the Pixel smartphones, at least for a while. The launcher brings a pill-shaped Google search widget, new icons, a wallpaper picker and swipe up access for the app drawer. Expanding upon the unlimited Google Photos functionality, the devices will also offer Smart Storage, which will automatically delete photos and videos that have been backed up on Google Photos, if you're running out of the onboard storage. The devices will also offer 24 x7 phone / chat support, making it easier for users to connect with customer care executives and even share their screen, if needed.
4. They're the first smartphones with Google Assistant baked in
Batman has Alfred, Ironman has Jarvis, and Pixel users have Google Assistant. The voice-activated AI service is basically Google Now on Tap and Search on steroids. Instead of opening Google Now when you touch and hold the home button, the devices will open the Assistant, which allows you to ask question and even have an ongoing conversation. The Assistant will also come to life when you are using an app like WhatsApp or visiting a website to surface contextual searches (similar to Now on Tap). From asking about what's your schedule today to finding out restaurants nearby to any general knowledge questions, the Assistant is at your fingertips.
We have already got a sneak peek at the capabilities of Assistant with Allo (review), and with the Pixel phones, the internet behemoth is aiming to make it omnipresent. Third-party integrations play a key role as well, and Google has already stated that it will allow app makers to integrate Assistant in their products soon.
5. They ship with a Quick Switch adapter to migrate data from an iPhone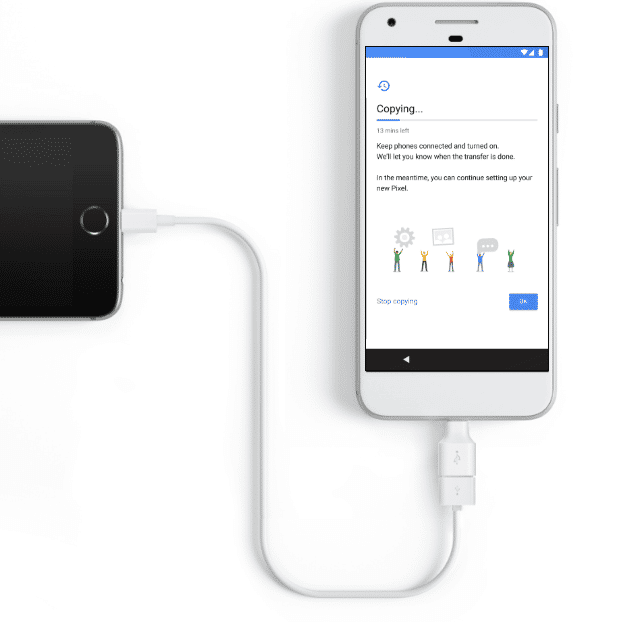 Don't believe that Google is aiming to take the iPhones head on? This might change your mind. The Pixel duo allows the user to transfer contacts, messages, media and more from any mobile device, including an iPhone or iPad. In fact, there's a Quick Switch adapter in the retail packaging, to make it easier for Android (v5.0 or up) or iOS users (running iOS 8 or above) to switch to the Google-branded offerings.
Related read: Google Pixel duo vs Apple iPhone 7 siblings
Of course, this isn't an exhaustive list of the features boasted by the Google phones. If you dig deeper, you'll find options like swiping down on the fingerprint sensor to access the notification panel. We'll bring you a more exhaustive list of the Pixel and Pixel XL's capabilities when we have a chance to spend more time with the device. Stay tuned for our review.