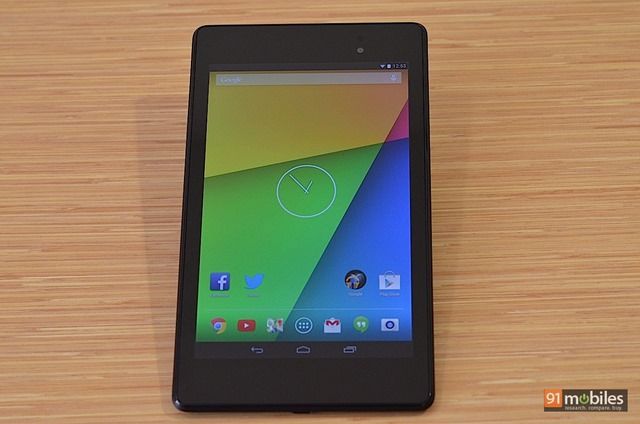 The original Nexus 7 changed our perception of budget Android tablets as we knew it. ASUS and Google got the formula right with a combination of great features and an affordable price tag. This year, Google retained the Nexus 7 moniker, but not much else. With a full HD display, quad-core processor, 5MP rear camera, 2GB RAM and the latest Android KitKat – there's nothing about the new Nexus 7 that says 'budget'. And to prove it, Google has hiked the price. So is it still worth the expense? Read on for our full review.
Thinner, lighter, sleeker
The new Nexus 7 has gone through a major design overhaul – it's thinner, lighter and sleeker, making it extremely comfortable to hold. The unit we reviewed was a 32GB Wi-Fi model, which weighs just 290g. The 4G LTE variant is marginally heavier at 299g. Just for reference, the iPad Mini 2 weighs 331g (Wi-Fi) and 341g (Cellular). Measuring 200 x 114 x 8.7mm, the new Nexus 7 is 1.2mm taller, 6mm narrower and 1.8mm thinner than the original. The bezels have been trimmed on the side and slightly extended on the top, but we think it looks disproportionate next to the wide, 16:9 screen.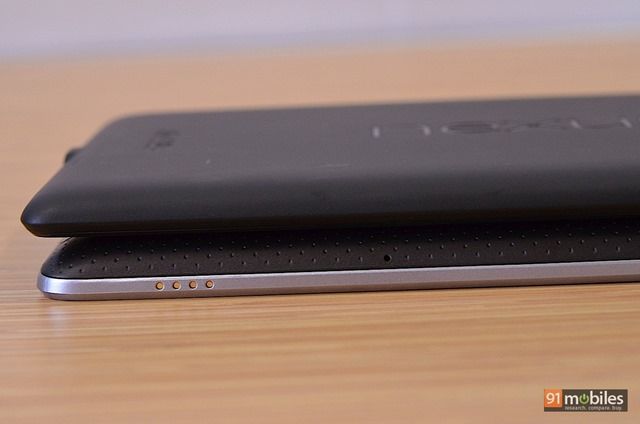 The dotted rubberised back panel of the Nexus 7 2012 has been replaced by a soft-touch plastic cover, with Nexus branding boldly emblazoned in the centre. The back panel also wraps around the sides, replacing the metal edging of the original Nexus 7.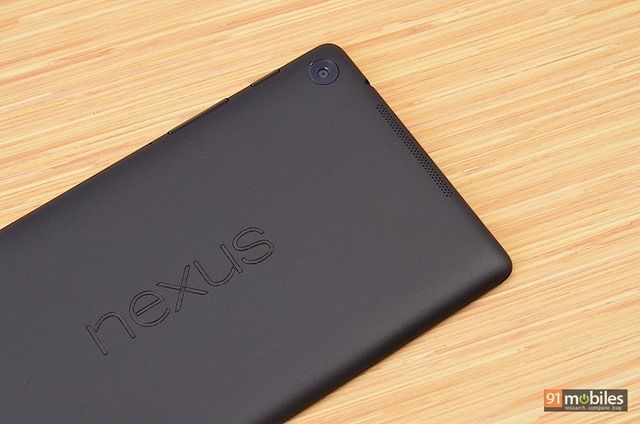 The new Nexus 7 has an added 5MP primary camera, a feature lacking on the original model. The front camera's resolution is the same as earlier, but it's now positioned off-centre, towards the right. A 3.5mm headphone jack is located on the top panel, while a microUSB port that doubles up as a SlimPort for TV connectivity is at the bottom. There are speakers on the top and bottom, bringing much-needed stereo sound to the tablet.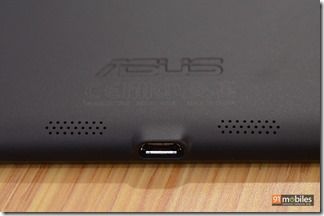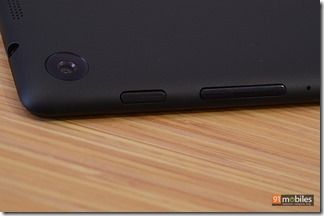 The power and volume buttons are located on the upper right side, just below the rear camera. They're placed a little too far back for comfort, and are a bit flimsy too.
Responsive, vivid screen
Last year's Nexus 7 had a perfectly acceptable 1,280 x 800 screen, but it's nothing compared to the display on the new tablet. With a resolution of 1,920 x 1,200 pixels, the 7-inch display has a pixel density of 323ppi, making it incredibly sharp. Text looks crystal clear, whether on icons, books, websites or PDFs. The IPS display offers stellar viewing angles, and the screen doesn't look washed out even in bright sunlight. The added protection of Corning Gorilla Glass 3 makes it resistant to scratches, as we discovered after carrying it around in a bag for a week. The screen is also very responsive and vivid.
A rear camera, but an average one
The primary 5-megapixel camera is a much-needed addition, but like all Nexus devices, it's one area which really needs improvement. In daylight, images are sharp and detailed, but tend to look washed out. Indoor shots are also usable, but you'll need enough light or photos end up looking noisy. In low-light, images were too grainy to use.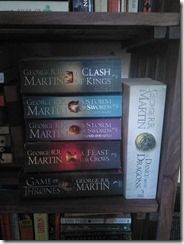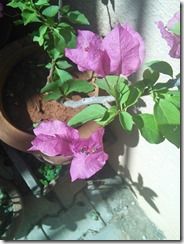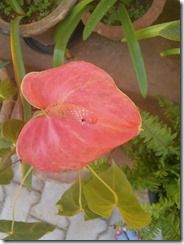 Frankly, the front camera in a tablet is more important because it's used for video calls. Unfortunately, images are very hazy, and you'd have to be in a well-lit area if you don't want to look like a bunch of pixels to your Skype buddies. The Camera app comes with with touch-to-focus and a large virtual shutter button. On one side of the shutter are controls to switch to video and panorama, while on the other are options to access the front camera, adjust exposure, picture size and scene modes like Action, Night, Sunset and Party.
Newest flavour of Android, delivered
The Google Nexus 7 ships with Android 4.3 Jelly Bean out of the box, and in our case, was immediately upgraded to KitKat 4.4. Our device skipped the 4.4.1 update, and downloaded 4.4.2 instead a couple of days later.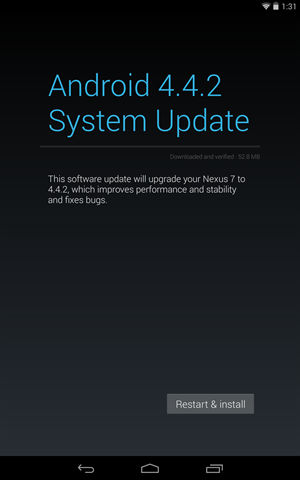 Android KitKat doesn't bring any major cosmetic changes to the Nexus 7, but we did notice that the icons look larger, fonts appear thinner and most blue accents have been changed to white. KitKat also feels much faster, and without the bloatware you'd get on a Samsung or HTC device, you'll instantly notice the difference. The Nexus 7 ships with a whole host of Google apps including Drive, Keep, Gmail, Google+, Currents, Chrome, People, Hangouts, etc. The Email app has undergone a design change and now looks similar to the Gmail app. You'll also find that location settings are more detailed, with information on which apps are accessing your GPS. Many of KitKat's new features are restricted to the Nexus 5 for now, but you do get what Google calls 'immersion mode'. This is basically a full screen mode for certain apps like Play Books and Play Music, and we expect more apps to add this functionality in the future. In Android KitKat, you'll see album art with controls and information on the lock screen when using the music app. It's a useful addition, and one that already exists on iOS 7. KitKat also includes a wireless printing facility, allowing you to print from any printer connected to Google Cloud Print, or those which have apps in the Play Store.
Zippy performance and scrumptious visuals
The NVIDIA Tegra 3 processor on the original Nexus 7 was quite zippy, but it's nothing compared to the 1.5GHz quad-core Qualcomm Snapdragon S4 Pro on the latest model. The tablet is blazing fast and doesn't slow down even with multiple apps running. Videos play without lags or stutter and are rendered beautifully on the 1080p screen. The stereo speakers are clear with good volume levels, and we were able to watch an entire episode of
Homeland
without reaching for headphones. The tablet did become unresponsive a couple of times. Usually, this was resolved by turning the display on and off, although there was one occasion when we had to restart the tablet.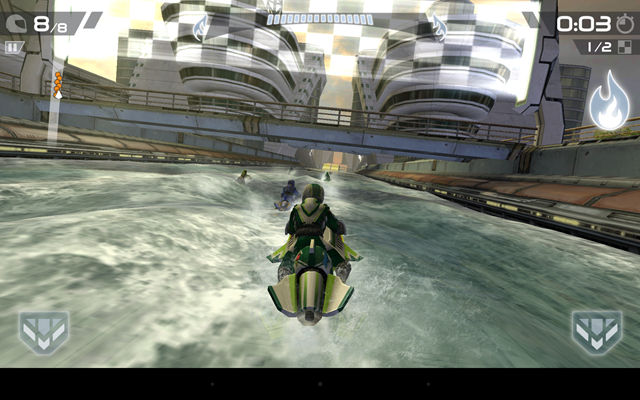 The combination of the full HD screen and Adreno 320 graphics processor means the Nexus 7 won't disappoint casual gamers. We tested the graphics-heavy
Riptide GP2
on it, and the tablet relayed water animations and action scenes without a hitch. However we did notice that after a while, the tablet began to heat up near the top.
Juice that keeps flowing
According to its spec sheet, the Nexus 7 provides 9 hours of multimedia usage. We put it through our standard battery drain test, where we loop a 720p video at 50 percent brightness and volume, with Wi-Fi turned off. We got 9 hours 30 minutes of playback time before the battery died, which is impressive. Of course, this will differ depending on what you use it for. Graphics heavy games will drain battery faster. But on an average, it lasted us about a day and a half with moderate use. When we used it sparingly, we could stretch battery life to 3-4 days. The Nexus 7 also supports Qi wireless charging, but we weren't able to test this feature.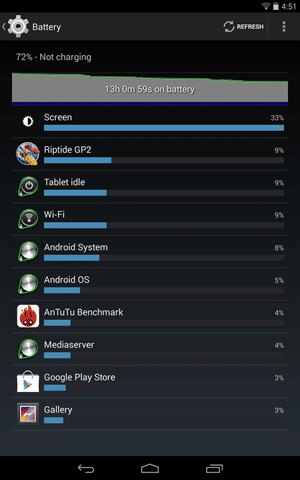 Pricing and verdict
The Nexus 7 is available in two Wi-Fi variants and a 4G LTE variant. In India, the 16GB Wi-Fi model will cost you Rs 20,999, while the 32GB option is priced at Rs 23,999. The LTE variant will set you back Rs 27,999. In that price range, there aren't many premium tablets available.The Samsung Galaxy Tab 3 (16GB, 3G) costs Rs 26,200, but doesn't have the FHD display and quad-core chipset of the Nexus 7. In terms of specifications, the only tablet can compete with the Nexus 7 is the iPad Mini 2. But the entry level model of Apple's smaller slate costs Rs 28,600, which is more expensive than the most high-end Nexus 7, making the latter great value for money. Unfortunately, the Nexus 7 is let down by a lack tablet-specific apps on the Play Store, especially when compared to the options available on Apple's App Store. Google recently introduced a 'Designed for Tablets' section, and this should definitely help users find good apps for their Android slates. Without an iota of a doubt, you won't find a better Android tablet than the Nexus 7 right now. With a stellar display, blazing performance and pure, unadulterated Android, it's a clear winner. Even though the tablet is more expensive than last year's model, it's still a bargain for the features you get.
Pros:
The Nexus 7 is a great media device for playing videos, games and music. The deep integration of Google services like Drive, QuickOffice and Gmail make it an efficient portable workstation. It's also really light, so you won't mind carrying it around while you travel. The battery life is a major plus.
Cons:
The tablet has very average cameras, and plasticky power/volume buttons. It also lacks a microSD card slot for expandable storage.
Specs at a glance
| | |
| --- | --- |
| Dimensions | 200 x 114 x 8.7 mm |
| Weight | 290g (Wi-Fi), 299g (LTE model) |
| Display | 7-inch IPS-LCD, 323 ppi |
| Display Resolution | 1920 x 1200 pixels |
| Processor | 1.5GHz quad-core |
| Graphics Processor | Adreno 320 |
| RAM | 2GB |
| Storage | 16GB/ 32GB non-expandable |
| Rear Camera | 5MP |
| Front Camera | 1.2MP |
| Connectivity | Bluetooth, Wi-Fi, NFC, GPS. 3G (Optional, 32GB only) |
| Battery | 3,950mAh |