For a second, just imagine a world without Google. We turn to its search engine whenever we need any info, its email service is the go-to choice for almost everyone, and its mapping and navigation services have pointed us in the right direction innumerable times. And this is just the tip of the proverbial iceberg, as Google's services and technology enable a smorgasbord of stuff, both for individuals as well as businesses around the globe, with China perhaps being the only exception to its ubiquity. The search giant continues in the same vein on the mobile OS front as well, and its Android platform has been the dominant player in the smartphone space for a long time now. The Nexus series of devices were developed by Google to showcase the true potential of Android, and each year, we get a new new Nexus phone that comes loaded with the latest, refreshed version of the platform. Over the years, the Nexus range has managed to rack up its own loyal fan following, with aficionados enticed by value-for-money offerings that offer the newest platform features out of the box and come with the guarantee of timely updates. This year has been doubly exciting for them, as Google adopted a dual-pronged strategy to tackle the burgeoning market and launched two Nexus smartphones instead of just one – the cheaper Nexus 5X (first impressions), which is made by LG, and the more premium Nexus 6P, crafted by Google's first-time hardware partner Huawei. Note that 'cheaper' is relative, since the Nexus 5X was priced at a hefty Rs 30k plus when it was launched. Our Nexus 6P review is already out, and now we'll be focussing on the Nexus 5X to check out how it stacks up.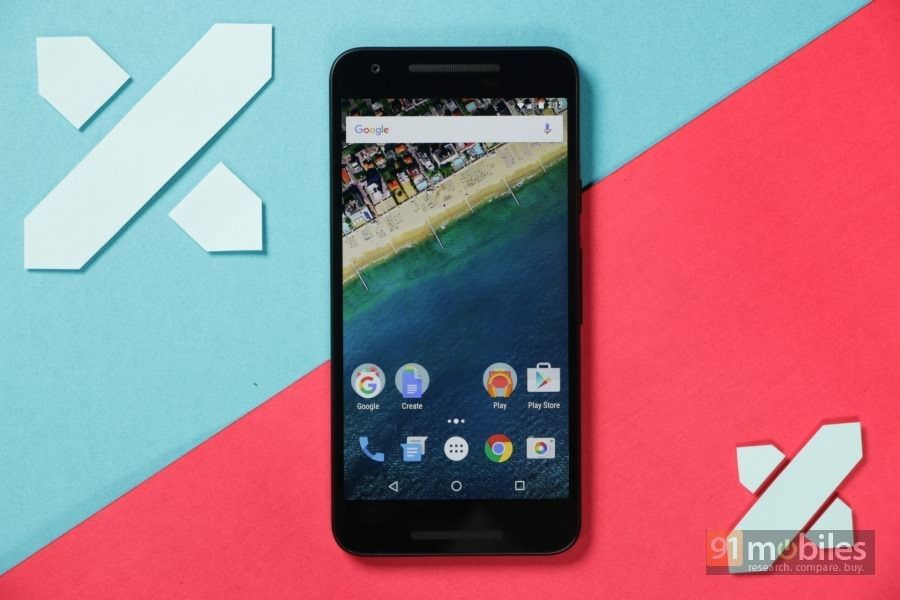 Specs at a glance

Display
Size
5.2 Inch
Resolution
Full HD (1080 x 1920 pixels)
Performance
CPU
Dual core, 1.8 GHz + Quad core, 1.44 GHz, Snapdragon 808
RAM
2 GB
Storage
Internal memory
16 GB
Battery
Capacity
2700 mAH, Li-Polymer, Non removable
Camera
Primary camera
12.3 MP
Secondary camera
5 MP
Connectivity
Network support
Single SIM 4G
Other options
Wi-Fi, Bluetooth 4.2, GPS
Others
Battery Capacity
2700
Operating system
Android 6.0 Marshmallow
Design: Willy Wonka and the plastic factory
Dimensions
: 147 x 72.6 x 7.9 mm
Metal > glass > plastic. The Nexus 5X takes the low road as far as choice of smartphone construction material is concerned. Don't get us wrong – it's lightweight and all, and feels like it could survive a drop or two, but a plastic phone priced around Rs 30,000? It's not that there are no other plastic phones in that price bracket, but maybe it won't be too unreasonable for us to expect a metal frame at least. We're emphasising on this since the Nexus 5X feels especially plasticky. Even the Nexus 5, which is the spiritual predecessor of the 5X and came out back in 2013, feels slightly better in terms of build.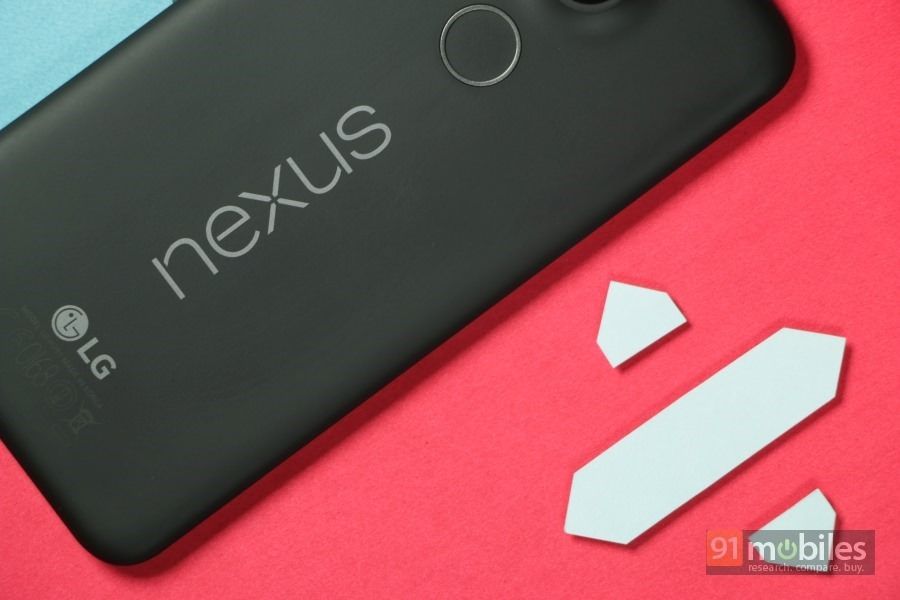 Moreover, our black review unit looks rather ho-hum, so don't expect any envious glances coming your way if you're a user. The white or mint coloured variants could fare a tad better in that respect.
Up front, there's the screen, with a pair of matching grilles on the top and bottom hiding the earpiece and the speaker respectively. The front shooter and sensors can also be found on the top.
A ejectable tray that accommodates a nano-SIM is placed on the left spine, while the power key and volume rocker are on the right. Both the USB Type-C port and the headset socket are crammed together at the bottom, and the top just has the secondary microphone. If you recall, the OnePlus 2 (review) was one of the first mainstream smartphones to feature a USB Type-C port, and as we noted in our review, it currently seems more of a pain than a blessing. While third-party cables and adapters are priced lower and are available to buy more easily now, you would need to make sure you have enough spare ones around. You probably won't be able to borrow a USB Type-C charger (or a cable or adapter) from someone when you need it. Also bear in mind that the cable that ships with the Nexus 5X (unboxing) has USB Type-C connectors at both ends, which means you'll need to buy a USB to Type-C cable for wired data transfers and for use with accessories like power banks anyway.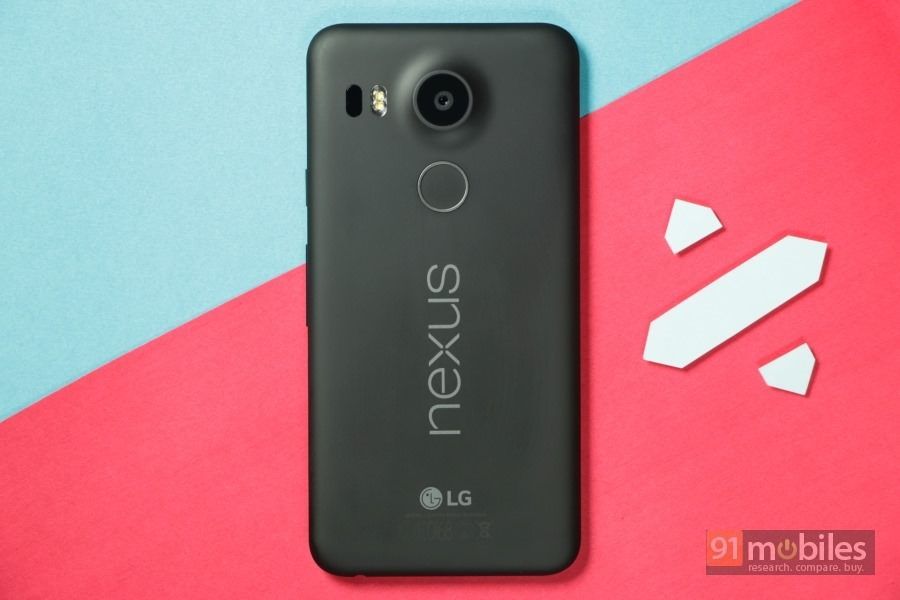 The rear has slightly more visual appeal, and the first thing that will catch your eye is the large Nexus branding emblazoned vertically in the middle. An LG logo can also be seen closer to the bottom. The lens for the primary camera can be seen on top, placed in a large bump that juts out of the body and simply begs for scratches. A dual-LED flash and a laser sensor that assists in focussing are located on its left. Below the camera bump, you'll see the chrome-ringed fingerprint sensor sitting flush with the body.
Thanks to the 5.2-inch screen size, the Nexus 5X is a reasonably compact smartphone, and one-handed usage isn't really a problem. But did we tell you that the build quality feels plasticky?
Display: crisp visuals in the offing
Resolution
: Full HD (1080 x 1920 pixels)
The 5.2-inch screen on the Google Nexus 5X is a full HD affair, and offers a pixel density of 423 ppi. A layer of Corning Gorilla Glass 3 has been entrusted with keeping scratches at bay, and an oleophobic coating tries its best to not let smudges stick. We concur with LG's and Google's choice as far as both the screen size and the resolution are concerned, as the overall device dimensions don't let the phone get unwieldy, while the full HD resolution is respectable enough. QHD screens can be battery hogs, and that privilege (or curse, depending on which way you look at it) has been reserved for the more premium Nexus 6P anyway.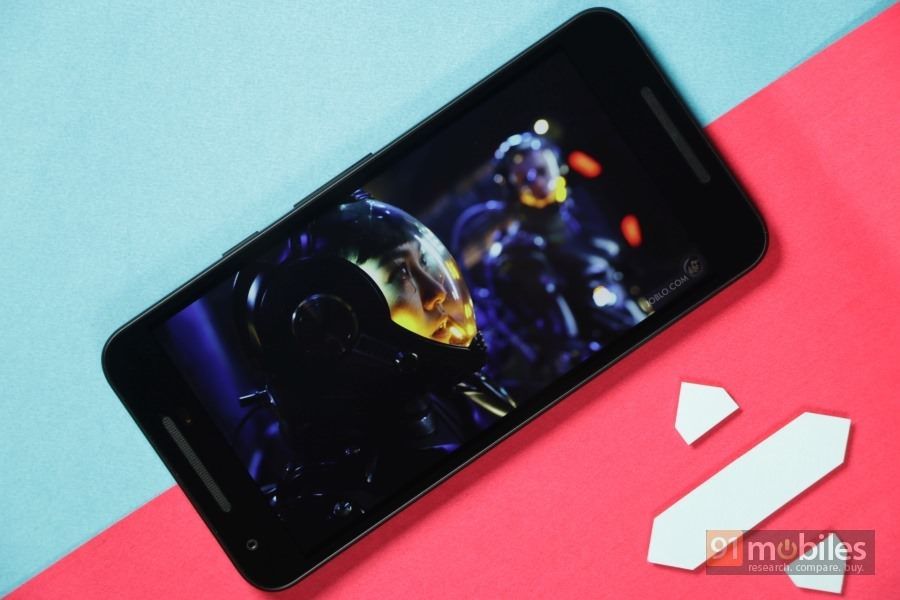 The Nexus 5X screen is crisp and reproduces vivid hues and sharp text, without any signs of pixelation. Viewing angles are good, and sunlight legibility is decent enough too… so no complaints there.
Software: a seemingly mellow refresh with sweet features
Operating System
: Android
OS Version
: 6.0, Marshmallow
This is really the crux of a new Nexus phone, its heart, its soul and what makes a Nexus a Nexus. The soul of the Nexus 5X (and its 6P sibling) is version 6.0 of Mountain View's mobile platform. Whether you have a sweet tooth or not, you're going to love this Marshmallow-themed refresh. Now it doesn't bring any significant changes to the look of the stock Android UI… its Lollipop-favoured predecessor was entrusted with that, and Material Design is what that brought in. Marshmallow carries forward the same look and feel, and you'd be hard pressed to find any visual changes.
There has been a lot of tinkering under the hood though, and Android 6.0 does have a lot of improvements to offer over and above the previous iteration. We've detailed them for you in our Nexus 6P review, so it probably won't be a bad idea to jump there and take a look at the details.
One of the biggest new additions is Now on Tap, a feature accessible by long-pressing the home key. This is an extension of Google Now, and what it attempts to do is to give you nugget-sized info for whatever's displayed on the screen without exiting the current app. For example, you could be checking out a movie trailer on YouTube, and a long press of the home key will bring you more info about the flick, its cast etc, without interrupting the video playback. However, the feature seems a little half-baked for now, as it won't work if your video is playing fullscreen. It could be dependent on the text displayed on the screen, but there's definitely scope for improvement. Knowing Google, it won't be unreasonable to expect updates, and with some TLC, Now on Tap has the potential to be really useful.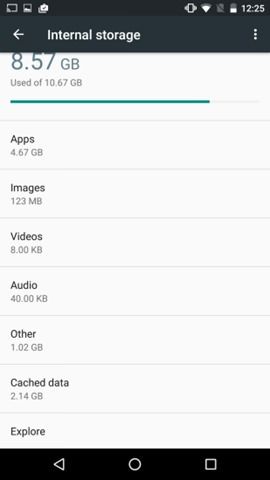 Marshmallow also brings a hidden file explorer, something that was missing earlier. You can find it under storage settings. Then there's Doze, a battery-saving feature that works spontaneously to put the device into a low power state when it's not in use, and we think it's really effective.
The Nexus 5X, just like the 6P, also borrows a few features from Motorola by offering an ambient display for notifications that pop up as white-on-black text, along with an always-on 'ok google' hotword feature that works even when the phone is on standby. So without even touching it, you could wake it up using your voice, and get it to perform searches, set alarms or call contacts. It works really well too.
The fingerprint scanner, dubbed Nexus Imprint, is yet another feature that deserves mention. Setting it up is a breeze, and in our usage, the sensor on the Nexus 5X is quite accurate and unlocks the phone in a jiffy. We can't say we love the rear placement though, as it means you'll need to lift up the phone to unlock it using your fingerprint in case it's lying on a table.
Security is a significant area where Marshmallow focusses on, and apart from control over app permissions, you also get iOS-style alerts whenever an app needs to access specific hardware (such as the camera) or personal info (like location or contacts) for the first time, and you can choose to grant or deny access at that time.
Camera: finally, a Nexus that can shoot
Nexus smartphones weren't really known for their shooting capabilities, but the Nexus 5X changes that. The phone's primary shooting capabilities are made up by a 12.3-meg sensor, which boasts features like a large pixel size to capture more light, along with f/2.0 aperture and a dual-LED flash. The front shooter sports a 5MP sensor for selfies and video calls. Handling shooting duties on the device is Google's own Camera app.
The app dons a bare-minimum look, and the modes available include Auto HDR+, Photo sphere, panorama and lens blur. A swipe sideways switches from the still mode to video, and the device can shoot in 4K as well as slo-mo videos at 120 fps.
As far as image quality is concerned, the results should please most casual users. The camera focusses in a jiffy, and produces lovely-looking shots in almost all conditions. Images shot in daylight show loads of detail and reproduce accurate colours. Close-ups are so-so, but the HDR mode stands out as a strong point. Even images shot in low light look much better in comparison to results from most other smartphones. The front camera is decent too, but don't expect wonders if the ambient light isn't good enough.
The image issue we reported about in our Nexus 5X camera review is still around, generating upside-down pics in case you use third-party camera apps that haven't been updated to make use of Google's latest imaging APIs. No such issues with the Google Camera app though, and you can check out the image samples in the camera review. Here are some more…
Performance: Speedy Gonzales
CPU
: Dual core, 1.8 GHz + Quad cor…
SIM Slots
: Single SIM , GSM
The horsepower is provided by a hexa-core Snapdragon 808 chip, which includes a quad-core cluster clocked at 1.44GHz and a dual-core cluster ticking at 1.82GHz. There's 2GB of RAM, and the graphics department is handled by an Adreno 418 GPU. Now these specs are hardly worth shouting about, but aren't too bad either. And with the kind of performance we experienced on the Nexus 5X, there's probably no need to pay attention to the specs anyway.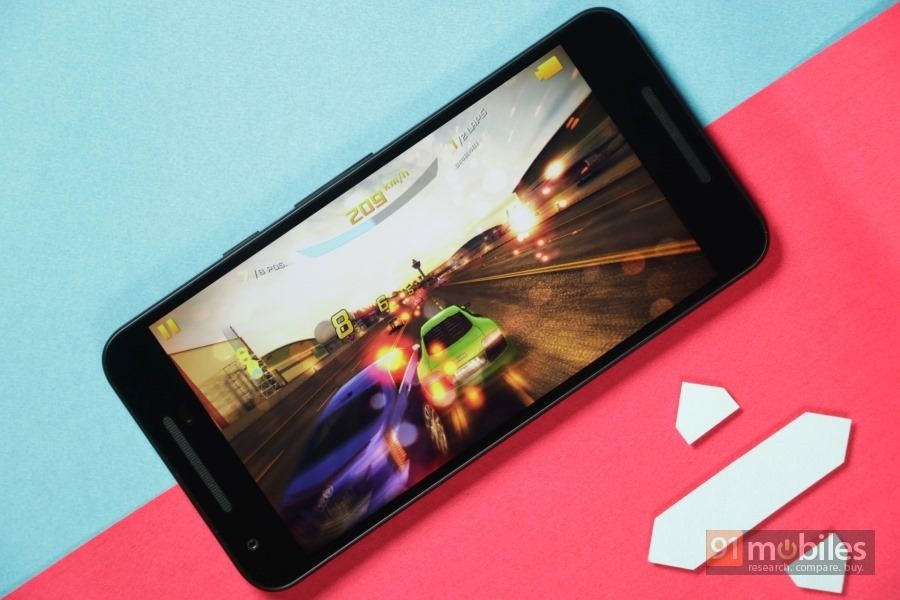 The smartphone turned in a very smooth performance, without any sign of lag or stutter whatsoever. The usual, day-to-day tasks run well, and so do graphics-intensive games. The plastic body could be a big gripe when it comes to build quality, but it certainly helps when it comes to heat issues – the phone barely got warm even after our gaming sessions.
The measly internal storage is yet another gripe though. The base version of the Nexus 5X comes with 16GB storage, and about 10.5GB is available to use out of the box. There's no microSD card slot to add more, and while you can make use of USB OTG, you'd require a compatible adapter to work with the USB Type-C port. There's a 32 gig variant of the phone as well, and obviously, you'd need to shell out more for that. The other connectivity options include 4G support, dual-band Wi-Fi (with 802.11 ac support), Wi-Fi Direct, NFC, GPS and Bluetooth.
The 2,700mAh sealed battery doesn't seem too powerful in terms of rating, but we're glad to report that it lasts quite long. Our video loop test ran for a little over 10 hours, which is respectable, but real-life usage indicated stellar battery performance. With light to medium usage, we returned home after a full day's work with enough juice in the tank to go out partying without needing a top up. Even on days with heavy usage, involving GPS, calling, Wi-Fi hotspot and extensive emailing and messaging, we didn't feel the need to look for the charger or a power bank – it's that good. Fast charging is supported, so it juices up pretty quickly too – it goes from zero to 30 percent in just about 20 minutes and gets fully charged in about an hour and 45 minutes. Also worth mentioning that the smartphone offers great call audio quality – one of the best we've experienced in recent times.
Verdict
At launch time, the Nexus 5X was priced at Rs 31,990 for the 16 gig model, while the 32GB variant was priced at a hefty Rs 35,990. At that price, we probably would've trashed it completely, since that's premium territory and this phone's plasticky build doesn't justify that kind of outlay at all. However, a couple of drastic price cuts (that happened within a few days of launch), mean you can now get the 16GB variant for around Rs 25,000, and the 32 gig version for roughly Rs 30,000. The price reduction means the 5X, which seemed like a frail warrior earlier, has sharpened its sword and is back in the reckoning… and if you've read our review in its entirety, you'd know that it's quite the all-rounder. The device manages to score in most vital aspects, offering a smooth performance, versatile cameras that offer good image quality, and excellent battery life. The good call quality is the icing on the proverbial cake. And how can we forget the platform? One of the first phones to run the latest version of Android and bringing all the new features that are part of the revamp, the Nexus 5X showcases the platform in all its stock, virginal glory. Then there's the promise of speedy updates, straight from Google's servers.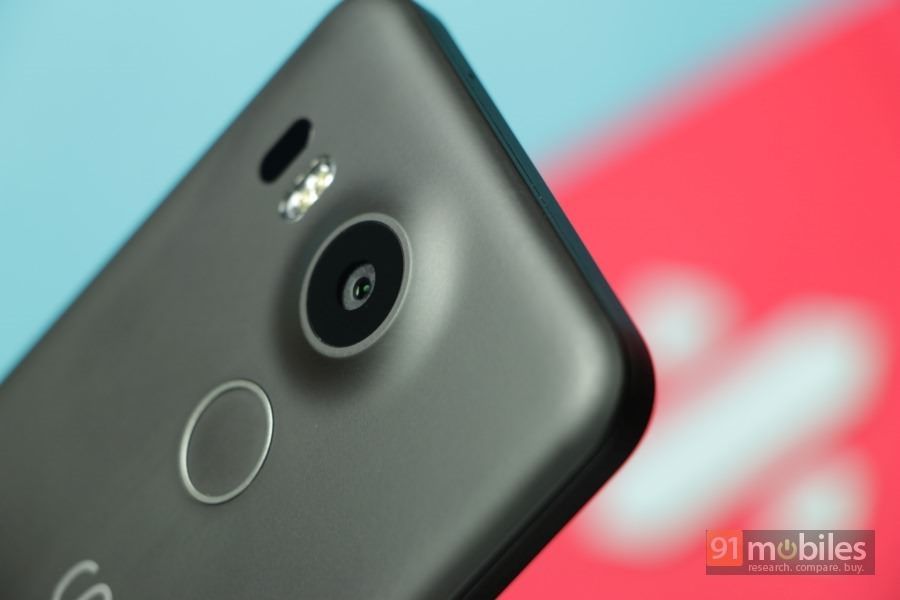 All this combined put the Nexus 5X into a special category, but we can't ignore its faults either – the plastic body that completely sours the deal as far as we're concerned, along with the fixed storage. At ~ Rs 25k, the 16GB model isn't a bad deal, but the limited amount of storage available would be a problem for all except those who just use their phones for basic tasks. Others would need to consider the 32GB variant, which now costs ~ Rs 30k after the price drop, but still remains in the premium domain. At this price, the Moto X Style (review) also becomes a compelling proposition, and while it isn't for those who hate large-screened phones, it does have a lot to offer, including premium looks and build, a high-res screen, more RAM, and expandable storage. Do note that this device also runs stock Android, and has already received the Marshmallow update. If compact phones are more your thing and you're ready to shell out a little extra, the Samsung Galaxy S6 (first impressions) is also worth a look for around Rs 35,000. The Marshmallow-laden HTC One A9 (first impressions) also deserves consideration in this price bracket.
If you need a quick verdict on the Nexus 5X, we won't beat about the bush. It's a good device, but we'd probably wait for further price cuts before it really starts to entice us. And if you can't wait and are really after a Nexus, let us remind you that the more premium Nexus 6P is out there as well and while it isn't for the small-handed or the light-pocketed, is an excellent choice.
Editor's rating: 4 / 5
Pros
Good camera quality
Smooth performance
Excellent battery life
Stock Android Marshmallow
Cons
Plasticky build
Non-expandable storage
Feels overpriced even after price reduction
Photos by Raj Rout
Competitors for Google Mobile Nexus 5 2015
| | | | | |
| --- | --- | --- | --- | --- |
| | Google Mobile Nexus 5 2015 | vs | Motorola Moto X Style | |
| | | | | |
| --- | --- | --- | --- | --- |
| | Google Mobile Nexus 5 2015 | vs | HTC Mobiles One A9 | |
| | | | | |
| --- | --- | --- | --- | --- |
| | Google Mobile Nexus 5 2015 | vs | Samsung Galaxy S6 | |