Google has always been improving search features on Mobile phones. This time mobile search Homepage has come with a new Feature named "Quick View". With this new Quick View feature, mobile users can easily obtain information directly, without the need to navigate out of the search results page, for getting information, users don't have to browse through several pages.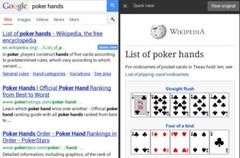 Google has also changed the homepage design for mobile similar to Google+ last year. According to Google, this feature will be expanded to other websites soon, but as of now Quick View works with pages from Wikipedia when users search in English on Google.com.
While searching, a blue Quick view icon will be visible next to the search results. On clicking this icon, the Wikipedia page listing for that particular search displays without the user navigating away from the search page. This way, finding results will be easier and quicker. Google has been on a spree when it comes to improving the search experience on mobile devices. The company added a weather widget within search results recently.