Here's another note taking app, and this time directly from the web giant. Google has now officially launched its note taking app, the Google Keep.
The idea behind Google Keep is to enable users to quickly jot down a note, an idea, an address or whatever. Your data will be saved in Google Drive, though Google has not yet enabled creating a new note directly from the drive. You need to visit https://drive.google.com/keep/ or install the Google Keep app on Android to start using this service. Google has promised to make it a part of drive soon through its blog post on Google Drive blog.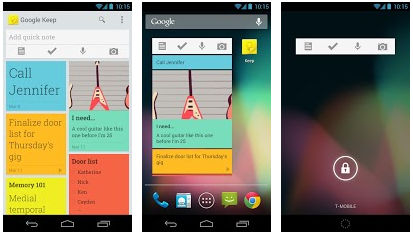 At first glance Google Keep looks like a great app, a step ahead of just making the notes. It transcribes your voice notes, lets you color code the stickies, turn your note in to checklist by adding checkboxes and some more cool stuffs. If you are on Android 4.2 and above, you can have a widget directly on your lock screen.
Good luck Evernote!