Google+ is the newest social network in the market and is getting good response from the market for the User Interface and some nifty features. Google+ is still in the field trial, which means google will be releasing invites on a phased manner. So, you might have to wait before you get your turn to experience Google+. In the mean while, Google+ has released a cool application for android smartphones.
Google+ for Mobile reflects the same set of features that is available for web usage – Streams, Circles, Huddles, and Photo Sharing. Mobile Phones have this added technology of location awareness and high-quality camera for shooting pictures and videos and its always on. So, Google+ for Mobile harnesses these features.
Google+ for Mobile official website:http://www.google.com/mobile/+/
Google+ Android App: https://market.android.com/details?id=com.google.android.apps.plus
Stream allows you to see updates from your circles or read what people are saying about things nearby. Using Google+ on Mobile you will be able to check-in to a place [ala foursquare], or you can attach the location information along with your status update or photo.
Circles allow you to classify your contacts under different groups such as friends, family, business, clubs, college, strong ties etc.,
Photo Sharing allows you to shoot picture using your mobile phone camera. Google+ automatically uploads the photos to a private album in the cloud. All the photos that are available in the private cloud is easily viewable. You can then easily share a picture from the album. Google gives a whole lot of control and privacy options here. You can decide whether the photos should be automatically uploaded, whether photos can be uploaded in roaming network, whether photos should be uploaded using mobile network or through Wi-Fi, whether photos should be uploaded when you are charging your mobile phone (to save your battery life). This is a good level of control that google provides you. Overall, the photos can be easily shared. This feature is going to kill the competition from instagrams and other photo sharing apps.
Huddle is another nifty feature from Google. It is basically a group chat with a cool experience. This also allows for a group video chat where the person hosting the conference can moderate the whole session. It's really cool. Facebook does not have a video chat feature so far and they also dont have group chat feature so far. Though it would be easy to integrate these features to facebook soon, google+ took the lead and full marks to Google for innovating and showing the painpoints of using facebook to us. BTW, Facebook is rumoured to announce a video chat feature this week using skype's backend technology.
| | |
| --- | --- |
| Google+ Circles | Google+ Huddle |
| Google+ Instant Photo Upload | Google+ Streams |
Google+ is accessible through web [desktops/laptops], web app for mobile or through a native android app for mobile. The comparison of features between these different access points is illustrated below.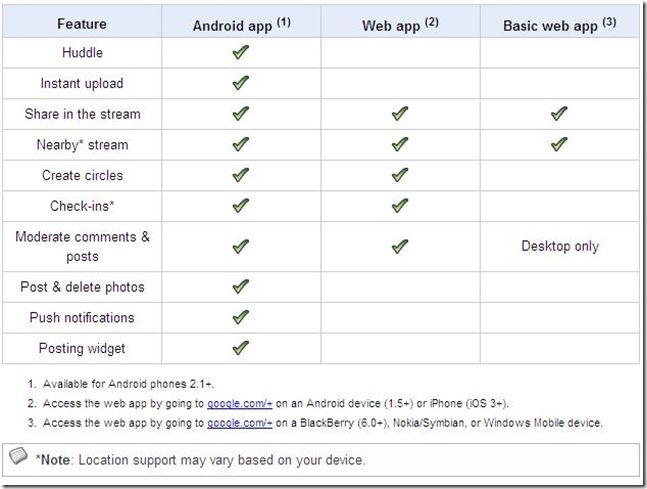 Google+ Android Native mobile app is available for all versions of android 2.1 and above. The native apps for iPhone, Blackberry, Symbian and Windows is not available yet and will be available soon beginning with iPhone. However, the Google+ web app for mobile [can be accessed by visiting google.com/+ from your mobile phone browser] is available for all platforms.
Google+ Mobile availability
| | | | | | |
| --- | --- | --- | --- | --- | --- |
| Availability | Android | iPhone | Blackberry | Nokia/Symbian | Windows Mobile |
| Native App | 2.1+ on Android market | Coming Soon | | | |
| Web app – access google.com/+ from mobile browser | 1.5+ | iOS 3+/iPad | 6.0+ | All versions | All versions |
References
http://www.google.com/support/mobile/bin/topic.py?hl=en&topic=1248781&p=plus_home