Google launched a web browser called Chrome 3 years back and since then the web browser has been growing steadily in terms of market share. Google chrome is one of the best designed web browsers that allows one to just to focus on thing – browsing. It's Fast, It's easy to use, It's cool. And it was the first multi-processing capable browser. Even if one tab crashes, the browser will continue to run with other tabs intact. But Google has not released the mobile version for long time and it's a mystery what took Google so long to release a chrome browser for android? Google recently launched a beta version of Chrome for Android phone and tablets and one can download and install the chrome browser for android from here.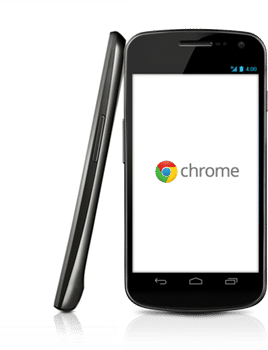 Chrome for Android seems to be already a hit despite it's beta state. The application comes with host of cool and innovative features that finally makes the browsing a breeze on android devices. But don't be overly excited about it. The application is still not available and accessible to everyone. Simply because of 2 reasons. First, Chrome for Android will be available only on Android 4.0 Icecream sandwich version. Second, chrome for Android is available only to the following countries: United States, Canada, United Kingdom, France, Germany, Spain, Australia, Japan, Korea, Mexico, Argentina and Brazil. The good news however is that the browser should be accessible to earlier version of Android and will be rolled out to other countries gradually..
Chrome for Android Features:
– Fast browsing with accelerated page loading, scrolling and zooming.
– Omnibox – Single box to search and navigate. Loads the web page of the first result behind the scenes when you search!
– Seamless Multi-tab browsing
– Multi-process architecture.
– Sync your bookmarks, open tabs and web pages across your devices including desktop computer, mobile smartphone and tablet.
– Private and anonymous browsing through incognito mode.
– Optimized browsing for smaller screens via pinch to zoom, tab to zoom to a particular section of the page.
– Zoom in on links when links are close to each other.
– Find in a page (Many mobile browsers miss this facility!)
– Preloads pages on the background. This featured can be turned off to avoid excessive data usage. The settings include Always, Only on Wi-Fi and Never
Chrome for Android – Introduction Video
Chrome for Android – The Basics
Chrome for Android – Under the hood
Chrome for Android – Behind the design