"The new Marathon M5 from Gionee might just help juice up your power bank"
The ubiquitous smartphone – the Swiss Army knife of gadgets – is akin to a mini computer that fits in your pocket and goes everywhere you do. Apart from being a communicator, it also successfully takes on the roles of a camera, a GPS navigator and a portable media player, among other things. But once the battery dies and you don't have a power source handy, you might as well use it as a fancy paperweight… and if you have a bulky phablet, we could also suggest fly swatting or utilising it as a makeshift ping pong paddle as possible use cases. The importance of a smartphone battery that sees you through a full working day and also makes sure you're covered even on heavy-use days can't be overemphasised. But why settle for just a day? Why shouldn't we hanker for even more? Gionee might just have answered our prayers – say hello to the new Marathon M5. The device has just been announced along with Gionee's latest flagship, the Elife E8 (first impressions).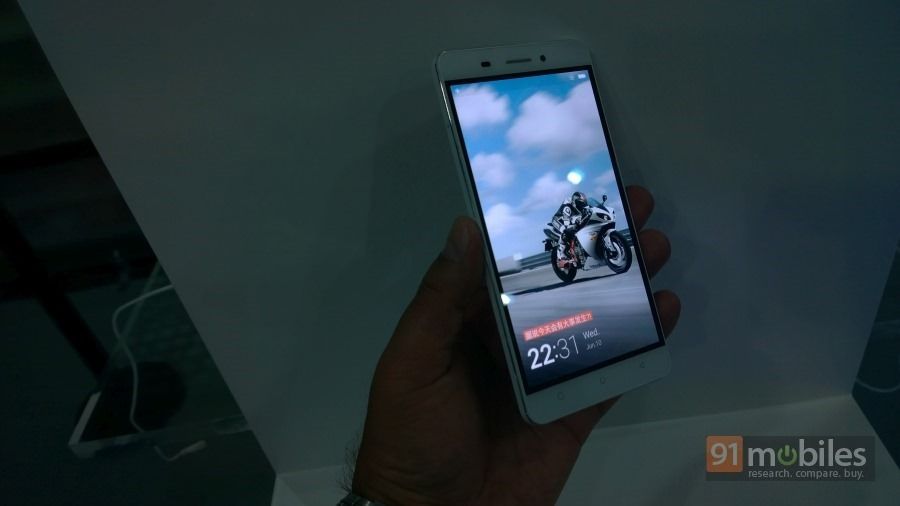 Now Gionee's Marathon range focusses on its meaty batteries, and it's not that there are no other options from rival brands. With the Marathon M5 however, the bar just got raised higher by several notches. Without doubt, the M5's battery has to be its most noteworthy features. Gionee has crammed in a two-cell battery pack, with each rated at 3,010mAh. This gives the device a battery power of a mind-boggling 6,020mAh. Here's a peek at the battery hidden under the hood.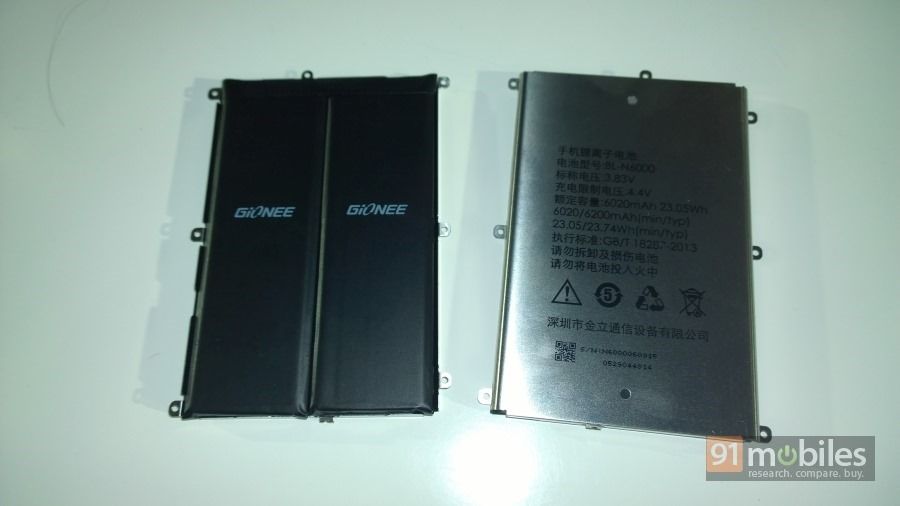 World-beating battery power aside, there are quite a few other features that ensure the smartphone can stay away from power sources for as long as possible. Let's take a quick look at the new device.
With its 5.5-inch display, the Marathon M5 falls into the phablet segment, and the AMOLED tech utilised by the 720p screen means vivid colours and sharp text. Below the screen, you'll find three non-backlit capacitive keys for navigation, and the earpiece, sensors and the 5MP camera on top. Chrome-finished borders around the edges add a bit of flair to the looks, especially at the front.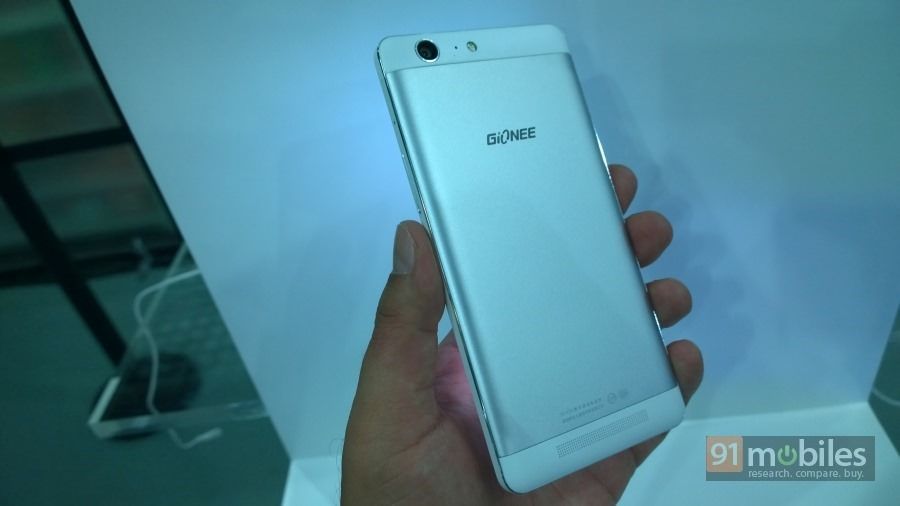 The rear sports a dual-tone finish, with white bands at the top and bottom. The lens for the 13-megapixel primary camera is placed up top, next to an LED flash. A speaker grille can be seen at the bottom. The rear panel can't be removed, which means that the slots are placed on the sides.
The micro-USB port is at the bottom, while the top is home to a headset socket and an infrared transmitter that enables universal remote functionality.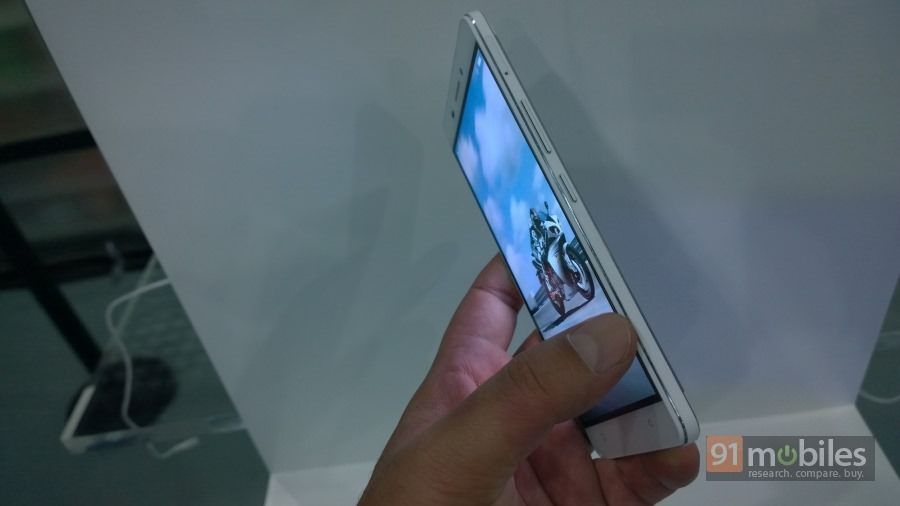 On the left, you'll find an ejectable tray that gobbles up a pair of micro-SIM cards, while a similar tray that accepts a microSD card can be seen on the right. The right spine also holds a power key and a volume rocker.
While the M5 certainly isn't featherweight, what's amazing is that engineers have been able to keep the device reasonably svelte at 8.5mm, despite the aforementioned beefy battery capacity.
As with the new Elife E8, the M5 also utilises the latest version of Android, i.e. Lollipop 5.1, though the new Amigo v3.1 hasn't made its way to it yet, and it runs Amigo version 3.0, same as the Elife S7 (review).
The Marathon M5 is powered by a 1.3GHz quad-core MediaTek chip, working in tandem with 2GB of RAM and 16GB of storage, so it wouldn't be unreasonable to expect smooth performance. Apart from the usual connectivity options, it also boasts 4G LTE support. The battery life is what sets it apart though. The device features smart power consumption management and brings a bunch of power-saving modes to extend the life even further, and Gionee has also added fast charge technology to ensure the phablet doesn't need to be tethered to a charger for long hours. With 6,020mAh of power packed inside, the M5 is a power bank in its own right, and can function like one too – thanks to reverse charging. This means you can use the M5 to juice up other USB-powered devices as and when required.
With the Marathon M5, the brand is promising up to two days on a single charge if your usage is heavy, but if not, you can expect it to last up to four days. Yes, you read that right – it's a smartphone that only needs to be juiced up twice in a week… supposedly. We'll need to try it out properly before we believe that, but the specs and features do look promising. Just like the Elife E8, the Marathon M5 is also expected to make its Indian debut in August. It's priced at 2,299 RMB in China, which converts to about Rs 24,000. We'll wait for the Indian pricing before we pass judgement though. We're sure power bank makers aren't too rattled right now, but if the Gionee Marathon M5 can deliver what it promises, they just might have a reason to worry… especially if beefy smartphone batteries like this find their way into other smartphones.