"The Gionee Elife S5.1 retail pack comes loaded with a bunch of accessories"
The Gionee Elife S5.5 (review) held the crown of the word's slimmest smartphone for a fairly long period of time, and then its successor, the S5.1 (first Impressions) was announced. The latter boasts a super-slim waist size of a mere 5.1mm, but its celebrations were rather short-lived. Even before it could land in the country officially, Oppo stole its thunder by announcing an even thinner contender, the R5 (first impressions). The R5 is slimmer by a few millimetres, boasting a girth of just 4.85mm. These are just numbers of course, and while the Elife S5.1 may have lost its crown early on, it's still a very stylish and slim device.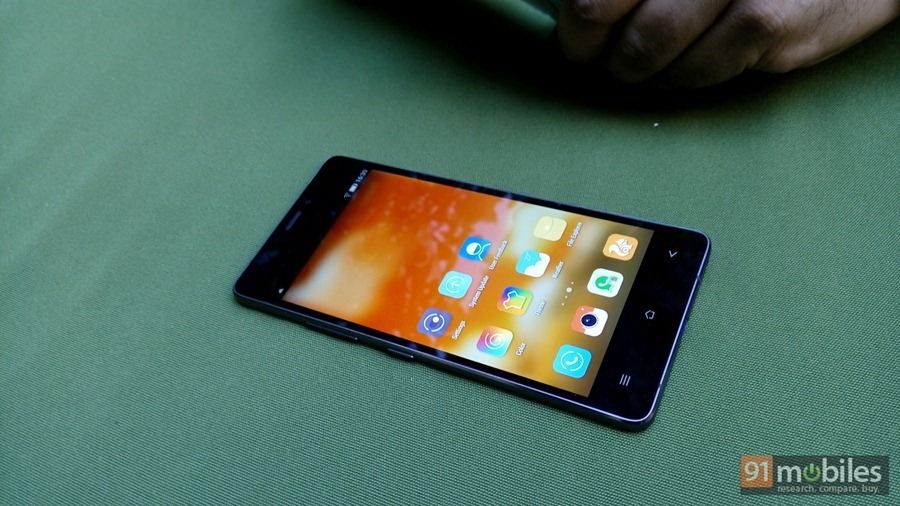 The smartphone has just reached our shores, and will be going on sale in the first week of December… carrying a price tag of Rs 18,999. For your money, you get a gorgeous-looking smartphone which rocks a 4.8-inch AMOLED display with a resolution of 1,280 x 720 pixels, with horsepower provided by a 1.7GHz octa-core processor paired with a gig of RAM. Do note that the processor specs are different from the unit we played with earlier – that one was powered by a 1.2GHz Snapdragon 400 chip, but apparently, that was an early unit, and the one available in India will be using a 1.7GHz octa-core CPU. The 16GB storage is non-expandable, alas, but you do get USB OTG support. The pair of shooters include an 8-megapixel sensor at the back, and a 5MP affair at front. The device runs Android KitKat with Gionee's Amigo 2.0 UI. We have the device with us for review, but before we take it though the gauntlet, here's a look at what Gionee has included in the package.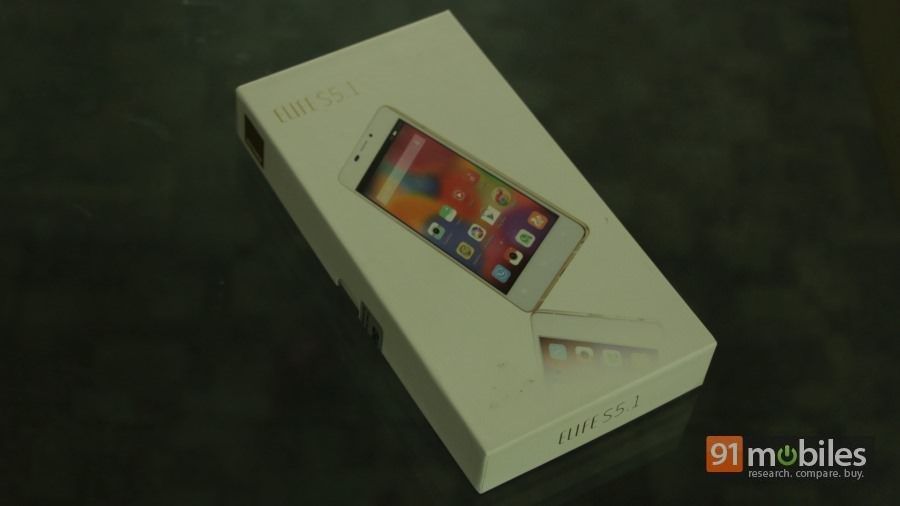 When we unbox a gadget, we're usually greeted by the device lying up front and centre. Not in this case though. The S5.1 comes in a slim, long box, and removing the lid reveals a white faux leather flip cover. This cover is one of those that stick on to the back of the handset, so it shouldn't take away too much from the phone's slimness. The smartphone is safely ensconced inside, wrapped in plastic.
Underneath a thin layer of cardboard is a cavity that contains all the goodies. A two-pin wall charger comes out first.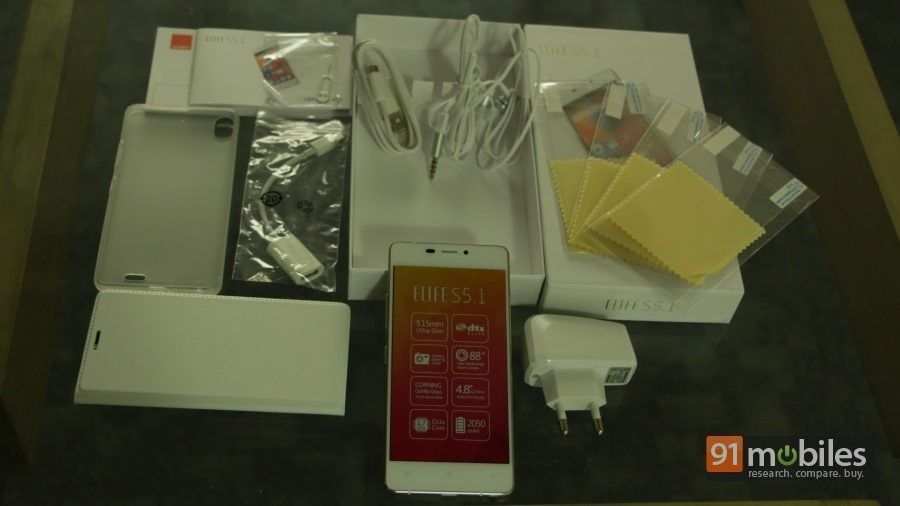 The other accessories come in tiny little cardboard wrappers of their own, and you'll find the wired headset and the USB cable packed this way. The last remaining box includes not one, not two, but four screen protectors, a silicon back cover for the phone, a USB OTG cable, a SIM ejector pin, and the usual set of documentation.
So that's a fairly loaded retail pack, and Gionee has ensured that buyers won't need to hunt around for anything else before they start using their newly-acquired devices. The handset itself is super slim, but the brand has made the deal more compelling by not only cramming it with reasonable specs, but also by being generous with respect to the box contents. We're impressed with the build quality and the looks, but we'll have to run the Gionee Elife S5.1 through our review rigmarole to comment on how well it works as a daily driver. Coming up shortly.