"The latest flagship from Gionee looks like it was worth the long wait"
Gionee was one of the first premium smartphone brands from China to land in India, and successfully managed to eliminate the common misconception that existed in the minds of Indian consumers about Chinese handsets being sub-par. This did take a lot of effort though, and through an aggressive marketing campaign, Gionee also managed to make a name for itself in the overcrowded smartphone segment. Of course, this wouldn't have been possible without compelling offerings, and through worthy devices like the Elife E3, E6 and E7, Gionee created enough buzz in the market to attract buyers and rattle the competition. The E series has always been its showcase range, and while the company also launched quite a few models in the affordable and mid-range price brackets, it chose to focus more on its style-focussed S series in the recent months. The Elife E7, it's last flagship, was introduced in late 2013, and a successor was long overdue. A lot has changed since then, and it wasn't an easy task to make sure that the new offering ticked enough boxes to excite potential buyers. It's been a long time coming, but Gionee finally has a new flagship in the form of the Elife E8, and going by our first impressions, we'd say the wait was worth it.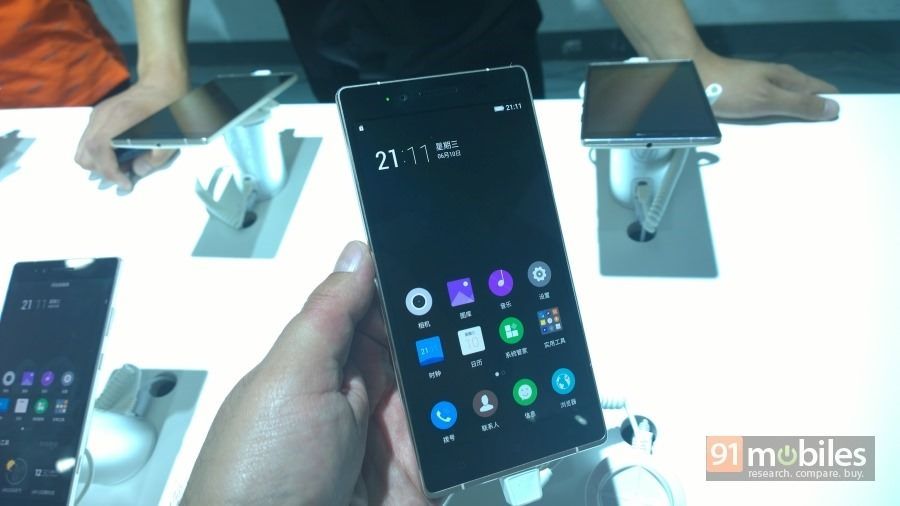 The Gionee Elife E8 was unveiled to the world at a launch event in Beijing yesterday, and we were there to witness it. Let's take a look at what it brings to the table.
With its 5.5-inch screen, the E7 slotted into the phablet category, and with the latest offering, Gionee apparently wanted to supersize everything in terms of specs. The Elife E8 rocks a 6-inch screen, and the resolution has also been given a major boost. The E8's screen offers a resolution of 2,560 x 1,440 pixels, and uses Super AMOLED tech. With a screen of that size, there's no escaping the fact that it's a large device, though the designers have done well to keep it from becoming too unwieldy.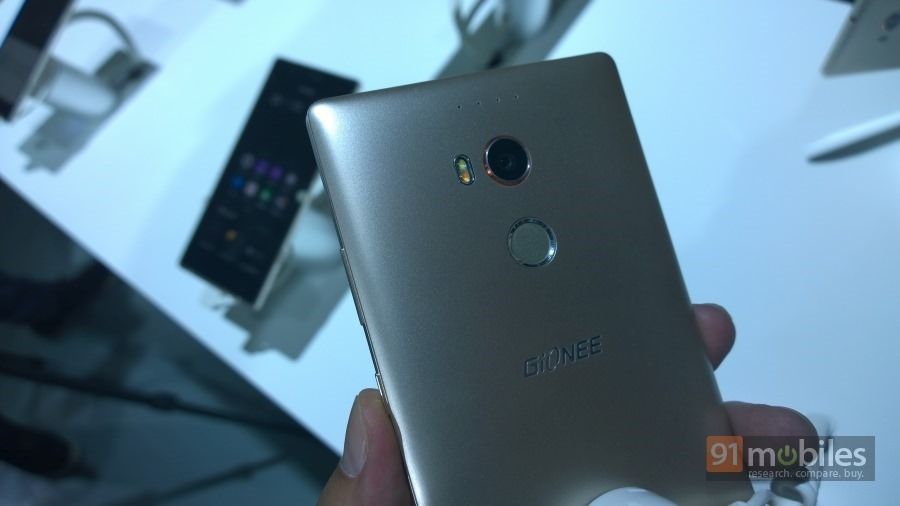 Its predecessor came with a 16-megapixel camera, and was one of the first Android phones to offer such a high-resolution shooter. It even carried the tagline 'made for shooting', but with the latest model, the brand has managed to up the ante by a fair bit. As one of its most noteworthy features, the Elife E8 rocks a 24-megapixel primary camera, but Gionee's also bestowed it with some serious shooting credentials. The camera supports optical image stabilisation, uses Phase Detection autofocus for zippy focussing speeds and features a 6P lens covered with sapphire glass. It's aided by a true-tone flash that promises more natural-looking shots in low light. Yet another of its highlights is being able to generate 120-megapixel images using software interpolation.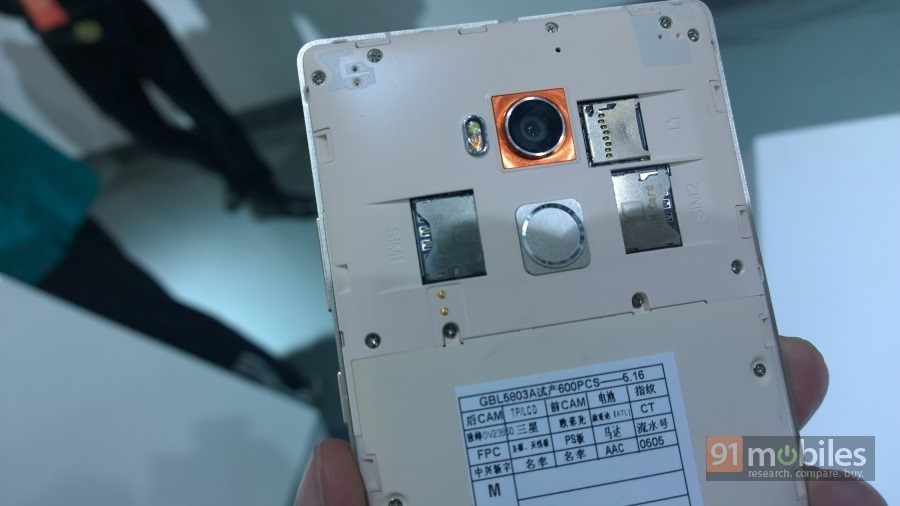 In terms of design, the E8 rocks a metal frame that imparts it stylish looks as well as a solid build, though the rear panel is plastic. The panel can be pried open to reveal a pair of micro-SIM slots and a microSD card slot, but the 3,520mAh battery can't be removed. In comparison, the E7 was a single-SIM device and didn't have a microSD card slot.
The top of the device is home to the headset socket, while the bottom is where the micro-USB port can be found. The right spine sports a volume rocker, a power key, and a dedicated shutter key for the camera, with the latter adding to the phablet's usability as a shooting-centric device.
The front bears the large screen, with three capacitive keys at the bottom, and the usual mix of sensors, earpiece, front camera and a notification LED. While the front camera sticks to the same 8MP resolution as offered by the predecessor, it still comes across as an attractive proposition for selfie lovers.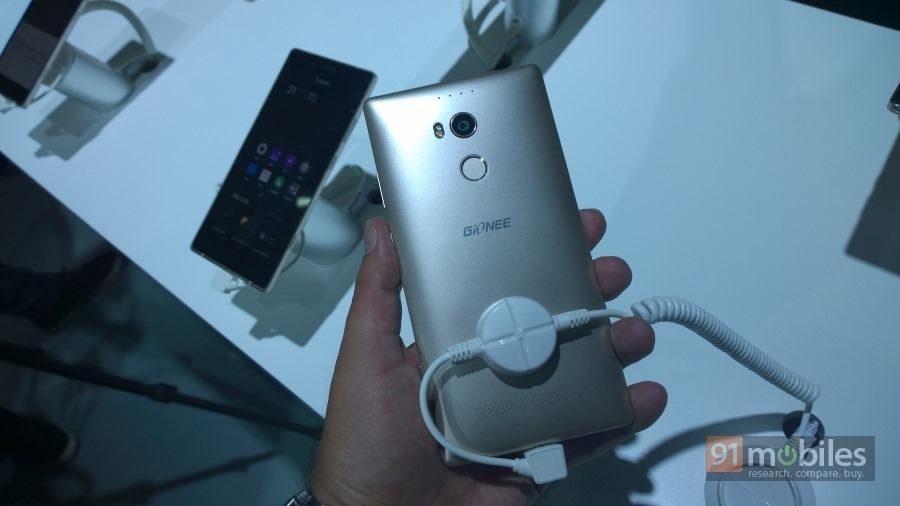 The rear holds the camera lens and the true-tone flash, along with a circular fingerprint scanner placed right below it. The latter is also a noteworthy addition, and apart from facilitating user authentication, also enables the NFC-based Gionee Wallet… a new contactless payment system that's making its debut with the E8. We don't have too many details on it, but it will only work in China to begin with.
Powering the show is the new MediaTek Helio X10 processor, which is a 64-bit, octa-core chip clocked at 2GHz. You get 3GB of RAM and a generous 64GB of internal storage. About 53GB was available to use in our demo unit. Needless to say, we didn't face any lags during our brief usage, but the jury will remain out on this one till the time it can be tested properly. Apart from NFC, you also get the usual connectivity features like Wi-Fi and Bluetooth, and as can be expected from any new smartphone worth its salt – 4G LTE support as well.
On the software side of things, you get the latest version of Gionee's Amigo UI… version 3.1 to be precise. This uses Android Lollipop 5.1 as base, and comes with a bunch of new features. It also brings the same System Manager and the Control Center we saw recently on the Elife S7 (review).
We also checked out the camera interface, and overall… it's the same as the S7. However, you get a bunch of new shooting modes, including a Professional mode that lets you control settings like ISO and focus. There's a new SuperPhoto mode that shoots those 120MP images we wrote about earlier.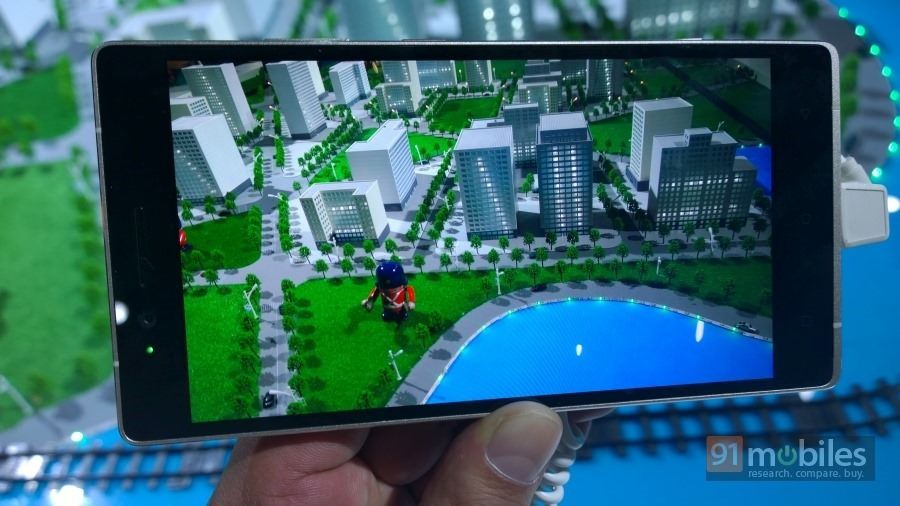 A few test shots indicated blazing-fast focussing and shooting speeds, and the image quality looked quite nice. Again, we're sure we'll have more to say about it when we see some more shots from it and test it out properly.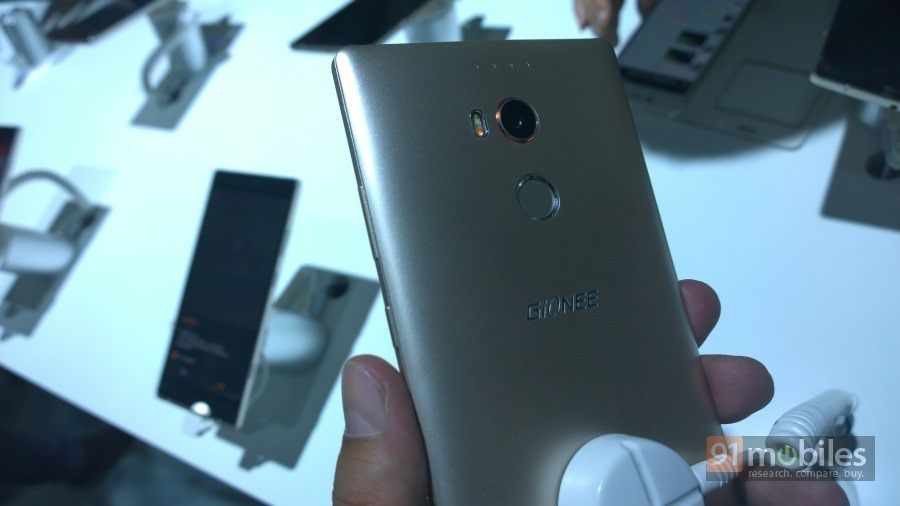 The Elife E7 offered great value for money when it came out, taking on the venerable Google Nexus 5 head on. The E8 would go up against the Google Nexus 6 and the Lenovo Vibe Z2 Pro (review), but a lot depends on its pricing in India. The new offering has been priced at 3,999 RMB in its home country, and if that's anything to go by, could be touching the Rs 40,000 mark when it reaches India sometime in August. That pricing could take away some of its sheen, so we're hoping Gionee is able to price it aggressively. However, if the specs and features are taken into consideration, it's already looking like a winner… especially if that 24-megapixel shooter works as advertised. It could be too early to judge it, but for now, it does look like the long wait was worth it.