HTC Desire is a very good android smartphone with good hardware specifications including 1Ghz scorpion processor, 576MB RAM, 3.7 inches AMOLED capacitive display, 5MP camera with led flash, gorilla glass..and the list goes on. However, the version of android that ships with the handset is Android 2.1 (Eclair) and users can easily upgrade to froyo version. Since the hardware specifications were impressive, users were eagerly waiting for the gingerbread upgrade.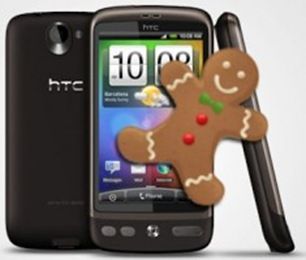 HTC chose to disappoint the anxious customers by announcing that HTC Desire will not be getting gingerbread upgrades because of lack of enough memory (576MB RAM). This is what HTC UK Facebook page had posted:
Our engineering teams have been working hard for the past few months to find a way to bring Gingerbread to the HTC Desire without compromising the HTC Sense experience you've come to expect from our phones. However, we're sorry to announce that we've been forced to accept there isn't enough memory to allow us both to bring Gingerbread and keep the HTC Sense experience on the HTC Desire. We're sincerely sorry for the disappointment that this news may bring to some of you.
Needless to say, the customers are very upset, angry, irate and frustrated. Smartphone users are really smart too. Many of them know about the existence of a community called XDA – that provides root access to android phones and provide OS updates faster than manufacturers do (but rooting violates the warranty). If XDA can do it, why cant HTC Engineers do it? The answers lies in HTC Sense UI – A proprietary interface provided by HTC. HTC Engineers are unable to upgrade to Gingerbread without breaking the HTC Sense experience. The excuse offered is that the memory on-board is simply not sufficient to handle the rigors of both gingerbread and htc sense ui!
Many users promised not to use HTC Phones in future. Some smart users argued that "The HTC ChaCha & Salsa have also 512Mo ROM and they have Gingerbread…". It's true, Chacha has 512MB RAM!. Some customers were pleading "Advice To HTC UK give users the option of Gingerbread without Sense.. Its quite Easy"!
"HTC Desire runs on a 1GHz processor, has 576MB RAM and 512MB ROM. HTC claims the memory is not enough. Well, HTC, the Wildfire S has a 600MHz CPU, 512MB RAM and 512MB ROM and it CAN RUN Gingerbread. Even though, the Desire has a higher resolution screen, it's still not enough to convince us HTC has done everything in its power." – argued another customer.
So, the android fragmentation is posing lot of problems and headaches to customers and manufacturers alike. Probably, we all can learn a lesson or two from all this episodes. When we buy a android smartphone – a high end phone with good hardware specs – and with an expectation of future upgrades, we should look for enough processing power, enough onboard memory, good engineering team in the manufacturers side. So far, none of the android handset manufacturers have shown faster upgrades. Samsung probably is better. What do you guys think? Any thoughts?
UPDATE: HTC Customer support gave another official statement. We understand that the news about Gingerbread not coming to Desire is frustrating. The benefits and challenges of software partnerships and a commitment to excellent user experience means that product development and the upgrade cycle is a long series of hard decisions. We apologize for the frustration around the communication of this upgrade. However, a good customer experience with our phones is our promise to customers and we will not compromise the quality of that experience.