Hong Kong based G'Five International known as G'Five Mobiles in India. According to the recent IDC report, G'Five mobiles is India's second-largest mobile phone brand by volumes for the third quarter 0f 2010. Interestingly, the country sales contribute 50% of the Company's global revenue. G'Five again makes an interesting news by announcing 21 new variety of mobile handset models in India.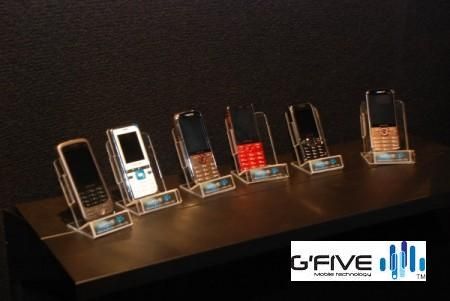 G'Five mobiles launched 21 new mobiles during an event in India. Commenting on the launch event, Mr Jaideep Chopra, Vice President- G'FIVE says "We found the market which other brands had left out, We went to the people who weren't able to buy high-priced mobile phones, so we focus on smaller cities and towns, with handsets priced between Rs. 1500 and Rs. 5000″. The latest models compromise phone with a
Projector system
Free-to-air TV
Marathon battery up to 2200 mAh
Steel body
Super-slim design etc.
The other top-of-the-line features include
IPTV
Push mail
Triple SIM (GSM + GSM + CDMA)
Dual LED torch
Expandable memory up to 16 GB,
Dual memory card slot,
Voice changer, motion sensor / song changer,
Flip models with Qwerty keypad
PC Camera
Drawing board
Piano
Navigation wheel
Butterfly lights etc.
The music lovers will be treated with external sound box, dual embedded speakers, universal audio jack (3.5mm), and Yamaha chipset for amplification Earlier, the company announced the of low-priced 3G enabled handsets to the market and it also announced the 21 new mobile phones to compete in the Indian mobile market. Responding to that, Mr.Arshit Pathak, managing director Kingtech Electronics India Private Ltd, a group company of G'Five International, says
'We will launch four-five 3G handsets and smartphones in this quarter. They will be priced below Rs.5,000 and we are planning towards making an investment into R&D in India within an year.
via