"We go wrists-on with the new Garmin vivofit fitness band"
We've all heard the proverb – "health is wealth". However, not many of us are able to focus on our health because of our busy lifestyles. Well, not to worry as many tech brands are taking upon themselves to make us fit (and of course, make some money in the process). Garmin, a leading player in the GPS device space is the latest to venture in the fitness tracker segment with its vivofit in India. The band will go on sale in exclusive partnership with Flipkart starting today, but we already had a chance to play with the device. Here are our first impressions.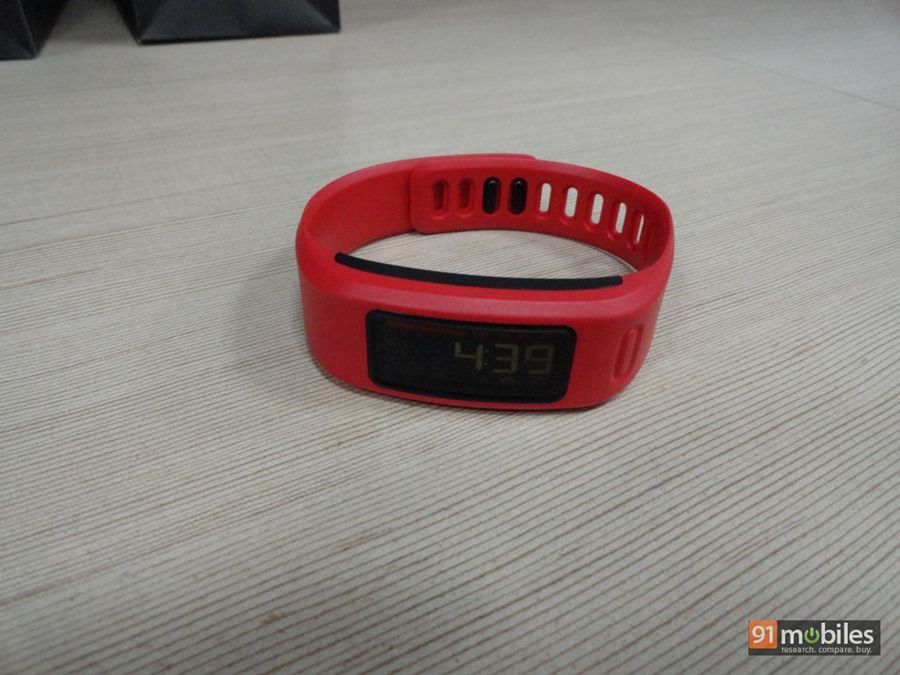 The vivofit has a very small footprint with a band made of rubber built around a small display unit, which also holds all the wizardry for tracking your fitness. With the use of rubber, the band is extremely flexible and can easily be worn on your wrist. Similar to the Sony SmartBand, which has a core and a wraparound band, the main unit is removable in the Garmin vivofit. This allows you to switch the band to any other hue and the brand is offering as many as nine different ones, allowing you to reflect your style. However by default, only black and slate colours will be sold and you can purchase additional ones, which will be available as a set of three to purchase. Tipping the scales at 25g, it's lightweight and doesn't add any bulk to the wrist.
We really liked the inclusion of a display, which not only shows you the date and time like a regular wristwatch, but also all the readings it's monitoring. This allows you to leave your watch behind and only use the vivofit day in and day out. This works out better as compared to other trackers, as we noted in our Sony SmartBand review. Sadly, the display isn't illuminated, which will make it impossible to read at night. Alongside the display, there's a button that allows you to see all the readings and enable other modes. If you long-press the button, then the band starts syncing the tracking data and if you press it even longer, the sleep mode gets activated. The band is IPx7 certified, which means it's water resistant up to 50m depth for a period of 30 minutes. So, you needn't worry while using it in the pool or if you get stuck in rain.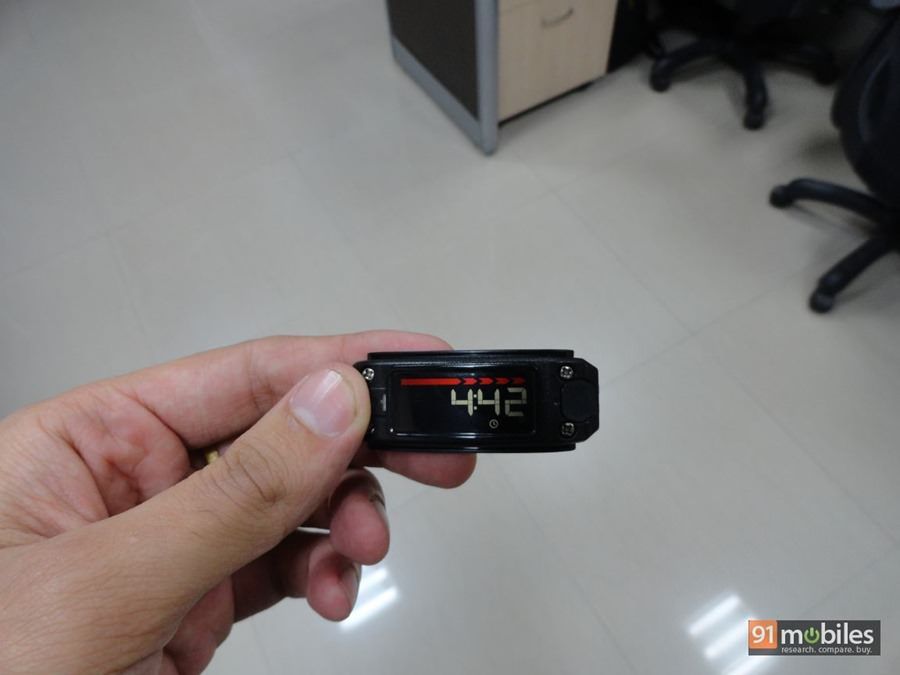 As far as the tracking aspect goes, the Garmin vivofit is fully loaded. It can track your steps, calories burnt and distance travelled. If you've set any walking goals, then it also displays how much you've walked. Unlike other tracking devices like the Samsung Gear Fit (and its smartwatch sibling, the Gear 2), the steps aren't counted with simple hand movements. This is definitely a big plus for the vivofit against other trackers, since it only records actual steps and hence is more accurate. The device can also track sleep, but you have to make sure that you enable the sleep mode before going to bed. In combination with a heart rate monitor, available as a separate accessory, it can also track your heart rate, which is useful in many cases, such as running.
Another useful feature in the tracker is the move mode, which visually indicates via a red bar that you haven't moved since the past one hour. This is a great way for all those who have desk jobs, since they remain seated for long periods of time. The tracker prompts them to take a short walk. After the first big red bar, it also displays four shorter bars, which are displayed after every 15 to 20 minutes of inactivity. However, we felt that it'd have been better if there was some sort of prompting mechanism like vibration or an audio alert for this purpose, else many might miss the red bar while at work or even worse, choose to completely ignore it.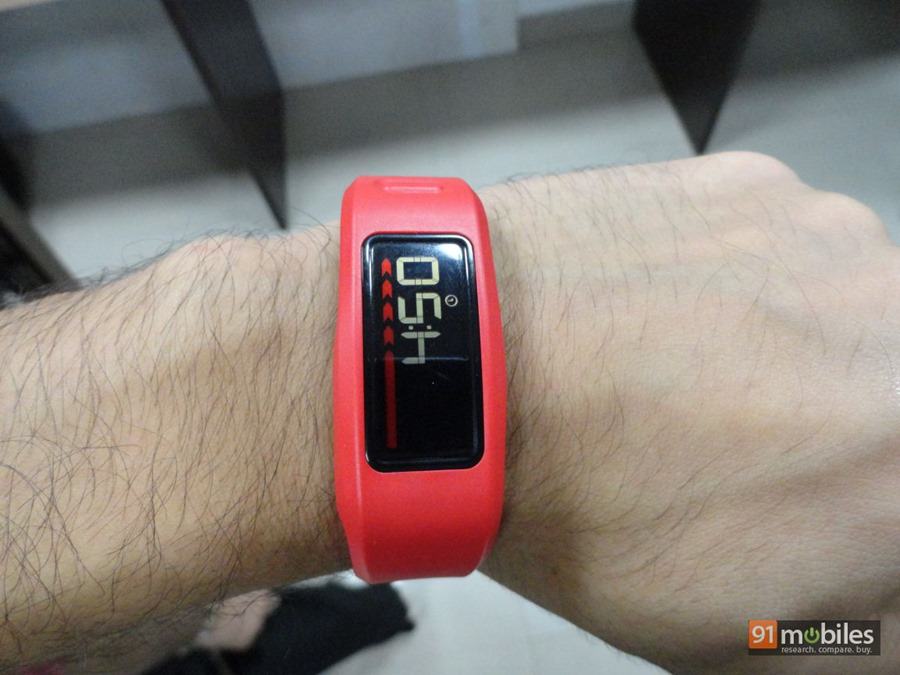 While its display or the tracking might not differentiate the Garmin vivofit from other offerings in the market, it has an ace up its sleeve. The fitness tracker boasts a battery life of more than a year, which easily trumps all the other options that barely last three to five days despite lacking displays. Additionally, instead of fidgeting around with another charging cable, you can simply replace the pair of button cell batteries in the vivofit when required.
The vivofit can sync with both your smartphone as well a computer. On smartphones, it supports both Android and iOS, and simply requires Bluetooth connectivity for pairing and the Garmin Connect app. The app shows all the data that has been tracked by the Garmin vivofit, along with presenting an analysis of the same. Sleep mode, for instance, displays your sleep patterns and tells you whether you had sound sleep or not. You can also set daily goals from the app. It also rewards you with various badges if you maintain your daily goals. However, the smartphone can only track the band's data for a week or so, but if you want to make a backup of all your activities, then it's advisable to sync it with computer. The vivofit pairs with the computer via ultra-low power ANT+ wireless technology. On the computer, not only you can see all your activities, but you can also compete against others in the community. The Garmin Connect website also allows you to create your own community and challenge your friends with different walking goals. Garmin has also partnered with leading health app MyFitnessPal, where you can input your food intake and it'll suggest you how much calories you need to burn.
With a price tag of Rs 9,990, the vivofit isn't cheap by any means, but then neither is your health. If you want to start leading a healthy lifestyle, then this tracker is surely a good way to ensure that. Couple that with its community and reward system, you'll feel great when you achieve your goals and accomplish challenges given by others. Then there's the unbeatable battery among its other features, that makes it an attractive choice. Comparing it to the competition, there aren't many devices available in India, but against the ones that exist, it sits in the middle. Cheaper trackers like the Sony SmartBand (review) don't have any displays, while the Samsung Gear Fit (first impressions) flaunts a curved AMOLED display, but is pricier. However, we'll wait till the time we get to review the Garmin vivofit before deciding whether it's worth a buy or not.