Splat Attack is a new game for iOS devices and it is developed by Cupco Games. This game is basically a projectile hurling game in which your main goal will be defending of a colony of ants from the evil bees. You will have to save the ants using pellet equipped turrets to hit the bees. Bees are after the queen of the ants and you will have to save it from the bees. You will need to send splat flying at the approaching bees by using the turret as a projectile. Its controls are pretty easy to operate and you will not find any problem controlling the game. When you will play the game on your screen then you will find out that you cant shoot down bees in one shot and you will need to shoot for multiple times. So the game is pretty challenging. Its more fun when the number of the bees on the screen is more. Then you will have to shoot them into each other to destroy.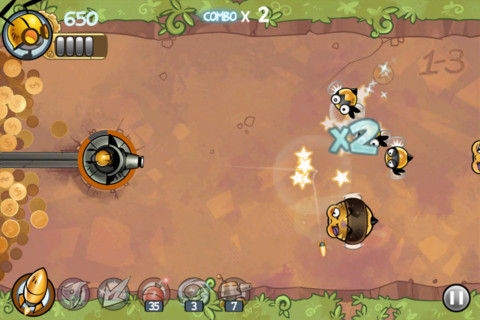 Features of Splat Attack game for iOS Devices –
– Graphics of this game are pretty good and you will not get any glitch while playing the game on your screen.
– There are two different modes are there to enjoy.
– There is campaign mode to continue with the story and Survival mode is there to enjoy endless gaming.
– Controls of this game are really easy because of its interface.
– Bees and different types of other insects are also there.
Conclusion
– Splat Attack is not different from other games but still it features some unique stuffs for you to enjoy. So you can think about having it on your device.
Download Link – Splat Attack iTunes Store.