Pocket trucks is a new game for iOS devices in the driving type game category. This game is developed by Ganymede and it's a side scrolling type driving game for your iDevice. Well guys Pocket Trucks is surely a new and fresh game with funny game play for sure. In this game you will have to drive a car and avoid obstacles on your way. You will be driving a monster truck actually and it looks pretty small. Graphics of this game are rich and detailed environment is also there. You will need to drive a toy truck on the obstacle course in this game. There are different types of loops, rocket propelled jumps and many power ups are also there in this game. So game play and game environment is funny and addictive. There are four virtual buttons on the screen to control the trucks. Two buttons to go back, fourth and two buttons for back & front flips. If you will be able to make perfect back or front flips then you will gain experience points in this game. Check out the other features of this game below.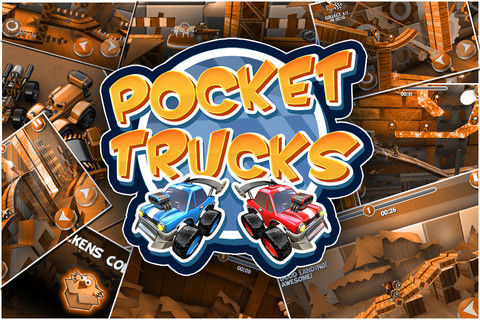 Features of Pocket Trucks driving game for iOS devices –
– Graphics of this game are in cartoony style and they surely look good on iDevices.
– There are 38 custom tracks to drive on in this game.
– 15 Different themes are there in beautiful 3D environment.
– Many types of tricks to master in this game.
– Different types of power ups are also there to enhance the experience.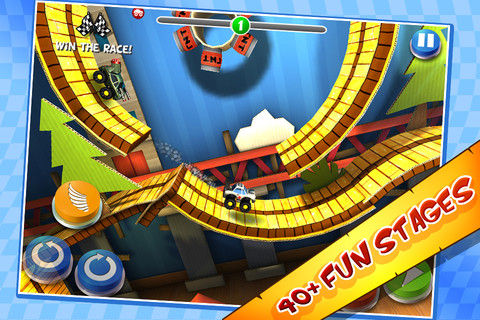 Conclusion
– Pocket Trucks iOS game will surely remind you of old time classic games like sonic the hedgehog and all. Our word on this game for you is just totally get it.
Our Ratings – 4.5/5
Download Link