Night Ride is like the other racing games where you will find yourself driving a bike on a lone road trying to catch points and all. This game is developed by Criistii and it's a kind of Sci – Fi game where you will find yourself driving at night and popping wheelies with your bike. This game is kind of similar to Tron and other racing games we have seen before. This game is available for iPhone and iPad. This game have some special features like unlocking the next levels by scoring more and more. The graphics are cool and the detailing of objects is good.
Features of Night Ride iOS Game-
It is a sci – fi based 3D game.
To unlock the next levels you will have to find more achievements on the roads.
The speed of bike will increase as you will go further.
You can check out scores and other achievements on the leaderboards.
There are different types of power ups are there to unlock while driving on the track. Some of like laser shots and invulnerability.
As you will go further in the game by unlocking different achievements the game will get more difficult.
Early levels of Night Ride are really easy and you might get bored while completing them.
This game will cost you
$0.99
on iTunes store.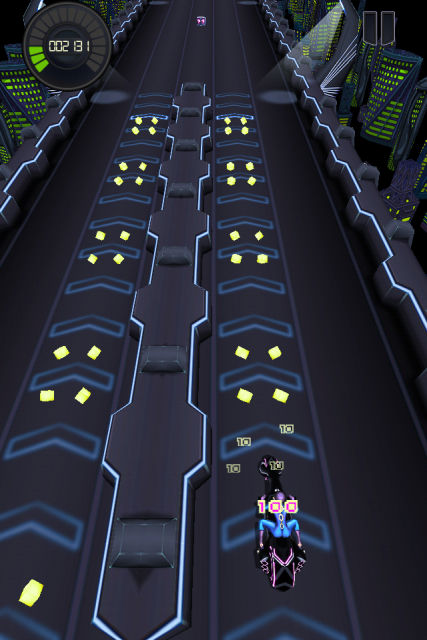 Conclusion
– Well we have played many games like Night Ride before, but Night Ride offers a different Environment of gaming with its Night Scenes. The track is beautifully designed by the developers. The game play, sound and graphics of this game made us say that you should go for it.
Our Ratings- 3/5
Download Link – Night Ride iTunes Store.