Another addition in the Zombies based games for iOS devices is N.Y. Zombies 2 and it is a first person shooter game. This game is developed by Foursaken Media for iDevices. In this game you will need to find and rescue people that are not affected by the zombies attack. On your quest you will also need to kill lots of zombies and if you fail then you will also turn into one of them. Its first person shooter experience is quite good with beautiful detailed graphics. Controlling is pretty easy using a d-pad to move on the left and to shoot there are buttons on the right side for choosing weapons.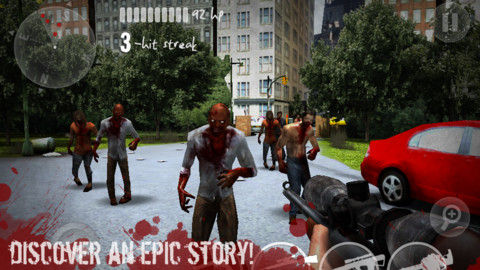 You will start your missions with a knife and a gun with unlimited bullets. Missions of this game are pretty cool, in the first mission you just need to survive the incoming zombies for 30 seconds. Then as you progress further, different types of levels will be there with special missions to complete. There are in app purchases too to get special weapons and medical packs, and its quite hard to complete without med packs and the only way to get the med packs are in app purchases.
Features of N.Y. Zombies 2 first person shooter game for iOS devices –
Graphics of this game are better than its previous version.
Uses can wander around the areas in all levels of the game.
In app purchases to get special stuffs.
Lots of levels with amazing missions to complete.
Controls are easy but on iPad you might have little difficulty controlling it.
Missions are hard to complete, so hard core gamers will enjoy it.
Conclusion
– N.Y. Zombies 2 is a must download for the fans of its predecessor. You will like this game because of shooting around zombies with first person abilities. Zombie based game fans should totally check it out.
Our Ratings – 4/5
Download Link