Monkey Slam is an arcade game for iOS devices from Chillingo Ltd. This game is similar to brick out games but instead of tossing around a ball, in this game you will need to destroy bricks and these bricks will drop you some fruit to collect. Chillingo Ltd is again in the action with a new game for iOS devices. Graphics of this game are very colourful with lots of details. Cool and unique feature of this game is throwing bananas. You can throw a banana that will explode and will give you more points. You can collect bananas in the game by breaking out the bricks. If you want to get more bananas then you will need to head towards In app purchases. So this game is a mixture of brick breaking games and current games. You can control this game by two methods. You can either drag around the screen or use the tilt based controls. There are four different worlds in this game to enjoy. Each world is having 16 challenging levels. If you want to score higher in the game then you will need to collect all three starts at each level.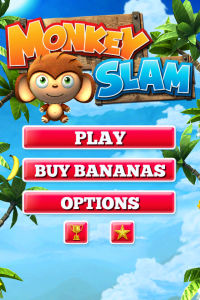 Features of Monkey Slam arcade game for iOS devices –
– Graphics of this iOS game are colourful and look good on iDevices.
– There are four worlds in the game and each world is having 16 unique levels.
– Different types of power ups are also introduced in the game.
– In app purchases can help you to progress faster in the game.
– All the levels in the game are designed beautifully to create some great gaming environment.
– Price of this game is also pretty cheap for a game like this.
Conclusion – if you love brick breaking games then this game can be a good addition to your games on your iOS device. It is surely another great game from Chillingo Ltd. Our Ratings – 4/5 Download Link